West Seattle Police Blotter week of 6-25-18
West Seattle Police Blotter week of 6-25-18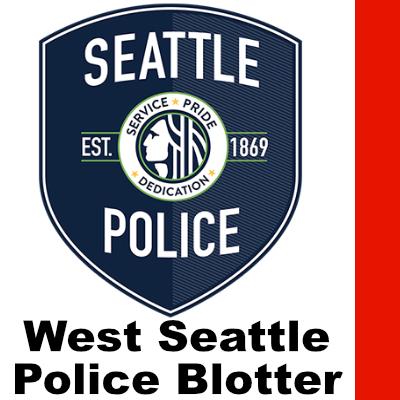 Mon, 06/25/2018
Domestic violence call ends in apparent suicide
A woman called 911 just after 10 a.m. on Friday, June 15 to report her 32-year-old ex-boyfriend showed up to her home in the 6500 block of 16 Ave SW and began firing shots at the house. Officers converged at the location and found the victim had escaped to a neighbor's house. Police searched the victim's house and surrounding area.  At approximately 10:50 a.m. another 911 caller reported finding a body in a nearby greenbelt. Officers went to the area and found the suspect dead of an apparent self-inflicted gunshot wound. Seattle Fire Department medics treated the victim at the scene for minor injuries she sustained while fleeing her home. Officers are still investigating the crime. If you or someone you know is the victim of domestic violence and you wish to get assistance please call police or the National Domestic Violence Hotline at 1-800-799-SAFE(7233).
Harassment at Delridge convenience store
A manager of a convenience store located in the 7300 block of Delridge Way SW called police around 9 a.m. on Monday, June 18 to report that a man threatened a cashier with a knife. Officers arrived in the area soon after and found the suspect, holding the blade in his hand. When approached, the suspect put the knife into his pocket. Officers said that the suspect smelled of alcohol. Two cashiers at the store said that the suspect came inside carrying the knife and glaring at them, then circled the store and the victims before leaving. The suspect was booked into King County Jail for investigation of harassment. The knife was placed into evidence.
Sleeping boyfriend leaves door open for burglary
Officers headed to the 4700 block of Charlestown St. after receiving a call about a burglary around 10:45 p.m. on Sunday, June 17. The caller said that she came home and found a man inside her apartment. When she yelled at him, he took off. The woman told officers that her boyfriend had been drinking earlier in the day with friends at her home. He fell asleep and left a back door open. She did not recognize the man she found inside later that day. He was holding her flat screen television and had disconnected it from the cables.
Burglary on Alki Ave
Officers headed to the 1700 block Alki Ave SW around 10:20 a.m. on Monday, June 18 to investigate a burglary. The crime occurred at a townhouse, which was part of seven under construction. The homeowners were starting to move in but had some finish work left to complete. An exterior lock box on the front fence contained spare keys. Someone broke into the box over the weekend and took the keys. The suspect then took a television and purse from one of the townhouses. The homeowners were on vacation. Offers recommended hiring a locksmith right away.