Quail Park Memory Care Residences hold open house; Facility will open Aug. 1
Quail Park Memory Care Residences hold open house; Facility will open Aug. 1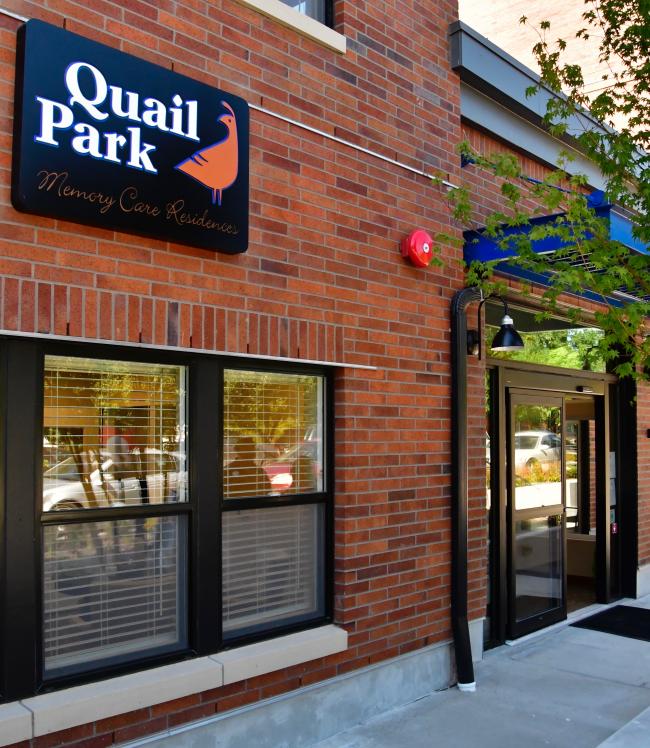 Thu, 07/12/2018
Quail Park Memory Care Residences held an Open House on July 12 to introduce the new facility to the community. Located at 4515 41st Ave. SW the facility is part of the Living Care Lifestyles with senior communities in Washington, Oregon, California and Texas. Quail Park will open on Aug. 1 with 18 residents and has a capacity of 66.
The facility has 46,300 square feet on four levels. The three residential levels each have their own central common area. Forty-five rooms have been built for dementia and Alzheimer's residents. There are studio, one bedroom and two bedroom units.
Spaces have been divided into "neighborhoods" that reflect the history of West Seattle and include large wall sizes photos, and thoughtful touches in central areas like old style phones, decorative cash registers, park benches, lamp posts and more. The lighting offers a clouds in blue pattern that goes dark in the evening with small lights around the edge of the ceiling providing soft illumination.
Administrative offices, utility spaces, a plaza and beauty salon are located on the street level.
On the second floor a rooftop terrace has a landscaped patio with seating, a barbecue, putting green and wandering path. A large common area separates the wings and looks down on the terrace. There are small theater areas, a dining area on each floor. Residents can go between floors but are generally likely to stay in their own "neighborhood" the company said.
Staff at Quail Park have been trained to be "culturally competent" regarding care for lesbian, gay, bisexual and transgender seniors.
The facilty will feature rolling media carts that can offer a large array of kinds of programming to help alzheimers and dementia patients and staff said the philosophy behind their approach is to tailor it to the individual rather than fit them into a regimented pattern. 
The staff at the facility showed of an animatronic cat that was surprisingly lifelike and has been shown to be very comforting to dementia patients. 
You can reach Quail Park at (206)633-2273 on online at https://www.qpmcwestseattle.com/contact/