Pecos Pit teams up with KIRO 7 CARES Toy Drive for Toys for Tots
Pecos Pit teams up with KIRO 7 CARES Toy Drive for Toys for Tots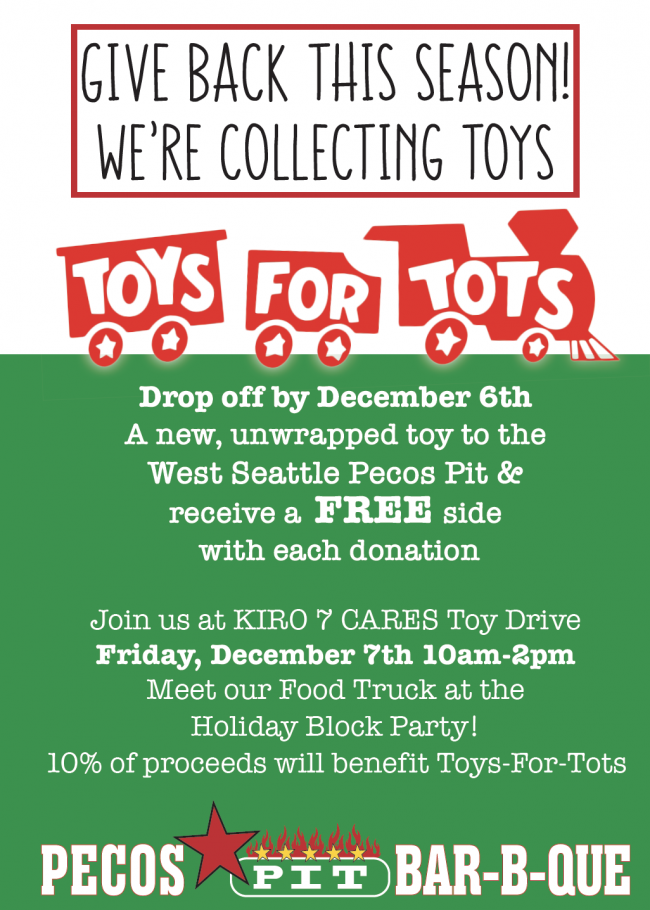 Mon, 12/03/2018
Pecos Pit is teaming up with KIRO 7 Television as sponsors for Drop Off Centers for Toy Drive, Food Truck to Deliver Toys and Proceeds for Toys for Tots Dec. 7th
The Pecos Pit Food Truck will be overflowing with Bar-B-Que, Toys, and Squeals of fun. 
Babies and preteen/teenager gifts for ages 9-13 are in highest demand. Items like sporting equipment, backpacks, books, and hand-held electronics are preferred.  
Donate a new, unwrapped toy and receive a FREE side dish at Pecos Pit in West Seattle, Pike's Pit in the Pike Place Market, at the Pecos Pit HQ in Kent or at KIRO 7 Studios.  
Then meet the food truck at the Kiro7 Holiday Block Party Friday, Dec. 7th from 10am-2pm to help raise proceeds for Toys for Tots. Pecos Pit will be serving up deliciously sloppy Bar-B-Que sandwiches and fixings for all to enjoy at the holiday event.  Pecos Pit's "Betty the Food Truck" will donate 10% of proceeds from the event to fill the Toy for Tots piggy bank. 
The closing date for toy delivery to Pecos Pit is by 9pm on Thursday, Dec. 6th.
For more information, reach out to info@pecospit.com for further event information, visit KIRO 7.
DONATION LOCATIONS:

Pecos Pit - West Seattle

, 4400 35th Ave Southwest Seattle, WA 98126

Pike's Pit - Pikes Place Market

, 1505 Pike Place Market Seattle, WA 98101

Pecos Pit Global Headquarters & Central Pit

, 7681 South 180th Street Kent, WA 98032

KIRO 7 Studios, 

2807 Third Ave Seattle, WA 98121