Camp Second Chance residents speak in state Senate hearing
Camp Second Chance residents speak in state Senate hearing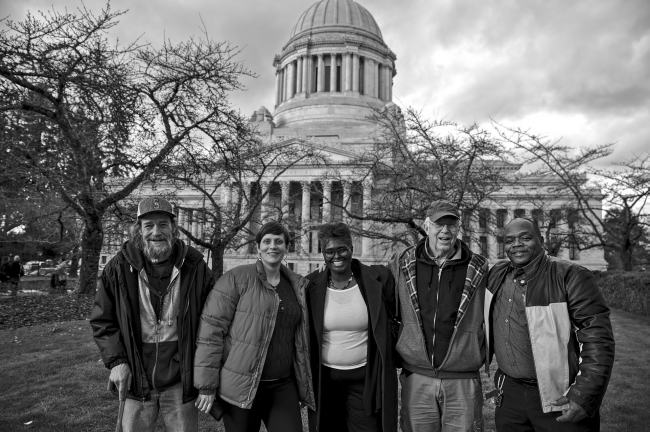 Tue, 02/19/2019
Camp Second Chance residents went on a field trip to Olympia based on an invitation from state Senator Joe Nguyen to attend a hearing on SB 5946 concerning the application of the state environmental policy act to temporary shelters and transitional encampments. Camp Second Chance is a clean and sober homeless encampment on Myers Way SW.
Advocate Tomasz Biernacki said, "If this passes (it has a strong chance it will) it will be a game changer in a good way for Washington communities to help the homeless. It was quite a historic hearing and the room was packed with overflow rooms used to handle the extra people. 40 people signed up to speak for the bill with nobody against."
Two year resident Zsa Zsa Floyd spoke about how coming to the camp helped her gain sobriety and that she is just about to transition to permanent housing. 
The bill states:
(1) Permit actions to site a temporary shelter or transitional encampment are exempt from compliance with this chapter if the facility meets each of the following standards:
(a) The facility is used for formerly homeless people;
(b) The facility includes no more than two hundred beds and the number of occupants is based on one person for each bed;
(c) The facility is used on the site for no more than three years; and
(d) The transitional encampment does not involve the erection of a new permanent structure.
(2) The definitions in this subsection apply throughout this section unless the context clearly requires otherwise.
(a) "Temporary shelter" means a use sited in an existing structure that provides temporary quarters for sleeping and shelter.
1  The use may have common food preparation, shower, or other commonly

2  used facilities that support temporary shelters.

3  (b) "Transitional encampment" means a use having tents or a

4  similar shelter, including vehicles used for shelter that provides

5  temporary quarters for sleeping and shelter. The use may have common

6  food preparation, shower, or other commonly used facilities that are

7  separate from the sleeping shelters and that support transitional

8  encampments.
The bill is currently in the Senate. The full text of the bill can be read here.
A video of the hearing can be seen here.
More photos from the day can be viewed here.