Beethoven's Symphony #9 being presented by NWSO at Holy Rosary March 16
Beethoven's Symphony #9 being presented by NWSO at Holy Rosary March 16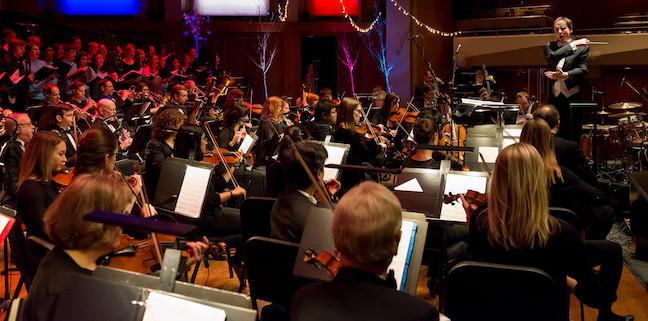 Mon, 02/25/2019
Northwest Symphony Orchestra, continues their season with two performances of Beethoven's Symphony #9 on Saturday, March 16, 2019 at 8:00pm at Holy Rosary Catholic Church and on March 17, 2019 at Bellevue Presbyterian Church.   This concert is part of the annual "Music for the Soul" series begun by the Northwest Symphony Orchestra several years ago.
Soloists include Alexandra Picard - soprano soloist, Nerys Jones - mezzo soprano Soloist, Tim Janecke - tenor soloist, Charles Robert Stephens - bass soloist.  Five choirs will sing the chorus part in this monumental work- ChoralSounds Northwest, Concord Chamber Choir, Con Brio Women's Choir, Cantabile Youth Vocal Ensemble and the Virginia Glee Club.
"Over 200 performers will participate in this monumental work- one of the greatest pieces of music ever composed, and we hope that you don't miss this opportunity to experience it." -NWSO Conductor Anthony Spain.
ABOUT NORTHWEST SYMPHONY ORCHESTRA
Northwest Symphony Orchestra was founded in 1987, and has received local, regional, and national acclaim, having been featured several times on National Public Radio and once on NBC's Today Show.  Under the incomparable leadership of Music Director Dr. Anthony Spain, the orchestra has grown into one of the Northwest's premiere orchestras.
Locations
Saturday, March 16 at 8pm- Holy Rosary Catholic Church- 4210 SW Genesee St. in West Seattle
Sunday, March 17 at 3pm- Bellevue Presbyterian Church- 1717 Bellevue Way NE. Bellevue, WA 98004
Tickets-
Tickets are $15- $20, and can be purchased at Brown Paper Tickets online at www.brownpapertickets.com, or by calling 800.838.3006