Time is ticking: Sound Transit hosts final West Seattle light rail extension open house
Time is ticking: Sound Transit hosts final West Seattle light rail extension open house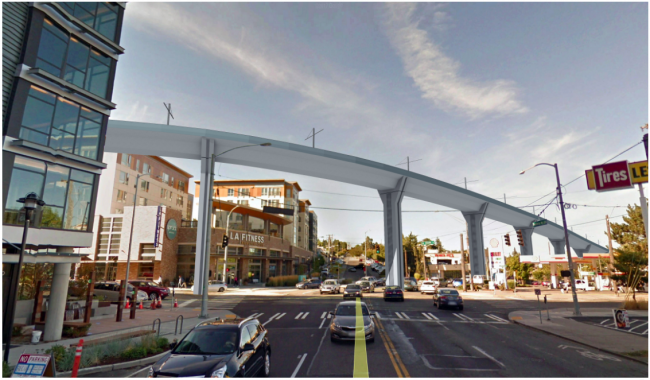 Sat, 03/02/2019
By Gwen Davis
Even though it might seem like light years away, light rail is coming to West Seattle. 
Both West Seattle and Ballard are slated to introduce light rail by 2030 and 2035, respectively. Sound Transit is in the final stages of collecting public feedback to develop, study and narrow down route alternatives before the environmental impact studies begin this spring. 
On Wednesday evening, Sound Transit hosted its last West Seattle open house to receive public feedback. The meeting took place at the Masonic Center in the Junction. 
The open house gave participants a chance to learn more about the alternatives, as well as submit their feedback, comments and questions. The room contained several tables with diagrams of the alternatives, as well as posters and charts of background info.
"We had about 260 people, which was a great turnout," Geoff Patrick, Sound Transit deputy executive director of communications told Westside Seattle. "We are pleased people are taking advantage of the opportunity to help shape the alternatives that are studied for the project."
Patrick said that the agency has received feedback so far specifically about where the stations will be located. Delridge residents are particularly concerned about which private properties would need to be acquired for the project, Patrick said.
Additionally, "there is a lot of interest in the configuration of the future project in the Junction area," Patrick reported.  
During the open house, Sound Transit also provided a 30-minute overview presentation of the alternatives. County Councilmember Joe McDermott, a member of the Sound Transit board, briefly spoke, as well.
According to current Sound Transit plans, the West Seattle light rail extension will add 4.7 miles of light rail service from downtown Seattle to West Seattle's Alaska Junction neighborhood, and will include five stations between the Stadium area and the Alaska Junction neighborhood.
The Ballard light rail extension will add 7.1 mils of light rail service from downtown Seattle to Ballard, including a new downtown Seattle rail-only tunnel. It will include nine stations between the International District and NW Market Street.
These two separate light rail extensions are part of the regional ST3 package that voters approved funding for in November 2016.
"People had a lot of interest in how work going forward can mix and match various elements of each alignment and their ability to offer comments on that," Patrick said.
View Sound Transit's end-to-end alternatives page for explanations and diagrams of the three alternatives that are being considered. To submit comments online, visit Sound Transit's participation page. Sound Transit will be taking feedback until March 18.