SDOT Open House set for Mar, 14 re; major construction on Avalon Way and 35th SW
SDOT Open House set for Mar, 14 re; major construction on Avalon Way and 35th SW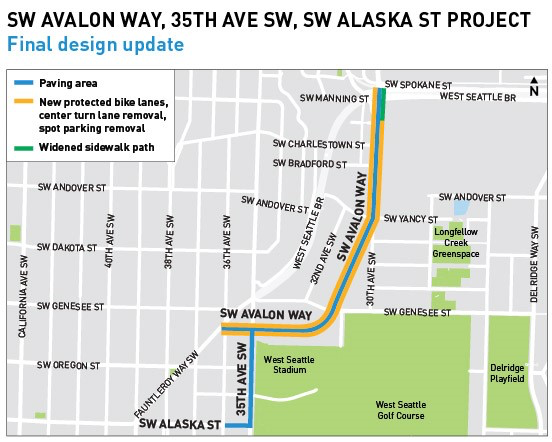 Wed, 03/06/2019
The Seattle Department of Transportation has scheduled a public open house for March 14 regarding some major construction work set to start in April. That work aims to improve safety and mobility along Avalon Way SW and 35th SW. The water main will be replaced to upgrade service reflecting increased demand. 
SW Avalon Way, 35th Ave SW, SW Alaska St Pre-Construction Open House

Thursday, March 14, 2019
5:30 - 7:00 PM
American Legion Post 160 of West Seattle
3618 SW Alaska St
Seattle, WA 98126
The work will start in April and extend to the middle of 2020 and will take place on a nearly constant basis. Since the road bed will be open it will require multiple closures of major intersections.  That will also mean temporary bus reroutes and bus stop closures. Some short term driveway and sidewalk closures will take place as well. 
Throughout the process there will be temporary water shut offs.
For those living in the area parking will be lost due to construction.
SDOT has a webpage on the project that contains the following information:
Project Overview
Paving
Our plan is to pave the following streets starting spring 2019:
SW Avalon Way: SW Spokane St – Fauntleroy Way SW
35th Ave SW: SW Avalon Way – SW Alaska St
SW Alaska St: 36th Ave SW – 35th Ave SW
Street redesign and rechannelization
We'll also redesign SW Avalon Way to add protected bike lanes and keep the inbound morning bus lane, and to remove some parking and the center turn lane.
Infrastructure upgrades
For all 3 paved streets, we'll make pedestrian improvements and other infrastructure upgrades on all streets including accessible curb ramps and sidewalks, and upgraded street crossings.
Where we are in the process: Design Phase - Final Design Update
January 2019
The planning and design phases for this project are now closed. We have our final design for these streets and the plan sets in place to pave and upgrade the infrastructure.
Since we last shared a design milestone update, we've made important design changes that will be included in the project we start building this year, including:
Closing 30th Ave SW at SW Avalon Way to people driving to reduce cut-through driving behavior
At our 60% design open house in August 2018, residents of 30th Ave SW told us about concerns with high-speed cut-through traffic. We will use plastic posts to close 30th Ave SW at SW Avalon Way to address these problems while still allowing emergency access and first responders to get to homes there quickly. In addition, we've done work for many years to make this complex intersection safer for people walking and biking. Removing one "leg" of this 5-way intersection will simplify it and make it easier and more predictable for everyone, especially people walking and biking along SW Avalon Way.
Adding new RapidRide transit island at SW Yancy St
The Seattle Bike Advisory Board requested full separation between people biking and transit instead of the proposed "mixing zone" on SW Avalon Way at SW Yancy St. Our final design includes a new transit island where people taking transit will board the bus on a concrete island extending from the sidewalk. People biking will ride in a separate bike lane behind the transit island. Learn about transit islands and see designs at this online resource.The transit island will feature such RapidRide amenities as a shelter, ORCA card reader, and real-time bus arrival information.Shifting northbound bus stop for routes 50, 55, and 21 at Luna Park
The northbound Metro bus stop at Luna Park by SW Charlestown St will be relocated about 150 feet north so it's opposite Luna Park Café at SW Orleans St. This will eliminate the bus-bike mixing zone proposed earlier in the design process, and add 2 new parking spaces, which were both things the community had requested. People biking northbound here will be routed onto the sidewalk, which will become a wider path, before the bus stop.
Reducing speed limits on SW Avalon Way and 35th Ave SW
Data shows that people driving on these busy streets are going faster than we want to see if we're going to meet our Vision Zero goals of no traffic fatalities or serious injuries by 2030. To make West Seattle streets safer for everyone, we 'll reduce the posted speed limit on SW Avalon Way from 30 MPH to 25 MPH, and on 35th Ave SW from 35 MPH to 30 MPH. The new speed limit will be in effect once new speed limit signs are installed. Experiences show that reducing speed limits by 5 MPH can lead to significant decrease in the percentage of people driving at higher speeds.
Installing skid-resistant surface treatment on SW Charlestown St and SW Genesee St
To address concerning crash patterns, we'll add a skid-resistant surface treatment to SW Charlestown St between 46th Ave SW and 47th Ave SW, and to SW Genesee St between SW Avalon Way and 26th Ave SW. Both streets are steep and people driving can lose control of their vehicles in cold or wet weather and when speeding.
Adjusting curb line and adding a new planting strip at 3246 SW Avalon Way
As part of the paving project, we'll move the curb line at 3246 SW Avalon Way south so it lines up with the curb lines of neighboring parcels. This means we can add new trees and a planting strip too.
Closing the slip lane from SW Avalon Way to Fauntleroy Way SW
To reduce crossing distances and institute a safety best practice, we'll close the "slip lane" at SW Avalon Way and Fauntleroy Way SW. This action also aligns with the long-term goals of the Fauntleroy Way Boulevard Project.
Installing a new water main
As part of street reconstruction, a new water main will be installed near project area. This will require temporary water shutdowns for some customers. Seattle Public Utilities will work with property managers and businesses to determine the best times for shutdowns and provide advanced notice to impacted customers.