High Point Play Area ribbon cutting set for March 23; Music, treats and a bike parade are planned
High Point Play Area ribbon cutting set for March 23; Music, treats and a bike parade are planned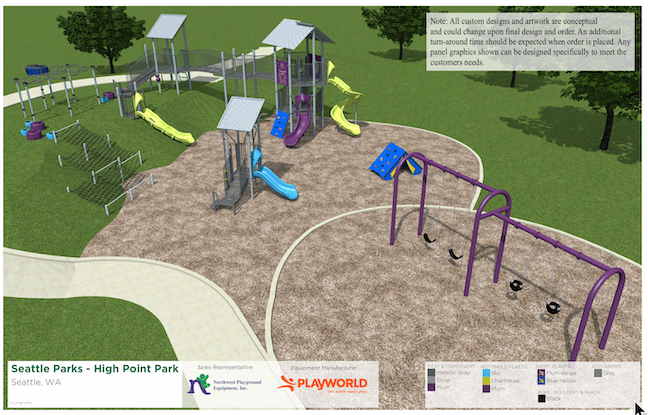 Wed, 03/13/2019
The public is invited to come to the ribbon cutting of the new High Point Play area on Saturday, March 23 to enjoy a few hours of fun and celebrate completion of the renovation.
Opening Celebration
Saturday March 23, 2019
2 - 4 p.m.
At the play area: 6920 34th Ave SW, 98126
This play area improvement project relocated the previous play area to the south open lawn area providing ADA access and increased safety by making the play area more visible from the street. The new play area size increased from 1,280 sf to 5,260 sf and upgraded it to the Parks Dept. standard size for a community center.
The new play equipment features swings, slides and many climbable features. The park features a rolling hill with net climber, and an overhead climbing structure. In addition to the play elements the project incorporates two new seating areas, one adjacent to the play area and another in the location of the old play area. In partnership with the Seattle Greenways Initiative, the project incorporates a bike path that connects the play area and Walt Hundley Playfield to a future Greenway proposed by SDOT at 34th Ave SW. The location of the old play area has been restored to an informal open lawn as requested by the community.
The construction contract was awarded to L. W. Sundstrom and work began in late August, 2018. 
The celebration will include music, face painting, treats and a chance to help design permanent street art.
Kids are asked to decorate their bikes and join in a kids bike parade at 3pm.