Adah Cruzen honored as Westsider of the Year at Chamber breakfast; Police Chief Carmen Best speaks
Adah Cruzen honored as Westsider of the Year at Chamber breakfast; Police Chief Carmen Best speaks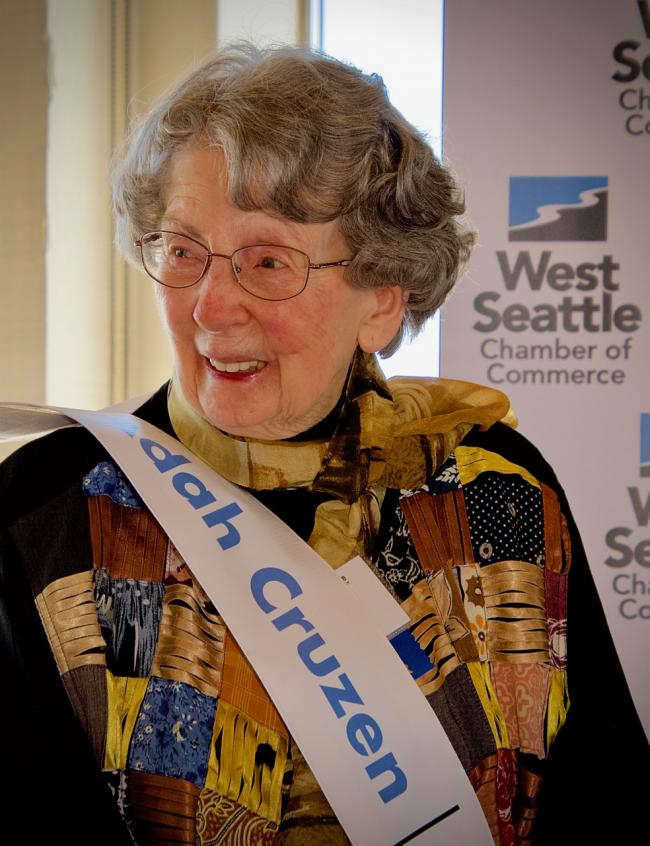 Tue, 04/30/2019
The Annual Westside Awards Breakfast, presented by the West Seattle Chamber of Commerce honored Adah Cruzen as Westsider of the year for 2019 on April 30 at Salty's on Alki. 
Adah has been a West Seattleite since moving here from Lafayette, Indiana inthe '50's with first husband Bob, for his job at Boeing. After he passed, she joined Fauntleroy Church and there she met Willard Rhodes and Earl and Virginia Cruzen. Willard and Adah married in 1975 and over the years Virginia and Adah became best friends. After Willard and Virginia passed, Earl and Adah were alone for many years before they married on his 80th birthday in 2000. Earl Cruzen was raised in West Seattle and his heart remained here to the end. He was once told "put your money where your mouth is", and he did. Adah has been carrying out Earl's wishes to continue to spread the love in West Seattle with many impactful monetary and physical donations. 
Also honored was ArtsWest Theater as Non-For-Profit of the year.
A vibrant center for both theater and visual arts, ArtsWest has stood as a beacon for artistic excellence in the Pacifi c Northwest. In the decades since its formation, ArtsWest has attracted thousands of visitors from across the globe to experience the work on stage and in the gallery, and along the way has highlighted West Seattle's unique, robust, ever-expanding neighborhood of shops and business. ArtsWest is proud to call West Seattle home, where it can fulfi ll its mission to produce artistic events that provoke conversation, incite the imagination and use live theater as a powerful agent of change.
Westside Emerging Business of the year was Verity Credit Union.
Verity Credit Union works to foster cooperative communities who dream boldly. They do this by volunteering thousands of hours a year, offering loans to support eco-friendly lifestyles and providing a special suite of products for nonprofi t organizations and their employees. It's because of partners like you, and their members, that Verity can continue to work on these community-focused initiatives. They've found another welcoming home in West Seattle with like-minded people, partnering in unique ways to do what is best for everyone who lives here. Verity Credit Union looks forward to continuing to drive and support change and community efforts in years to come and hope others will join with us.
Alki Lumber was named as Business of the Year.
In 1921, West Seattle was blessed with the start of Alki Lumber & Hardware. Family owned, multi-generational, and now woman operated by Lynn Sweeney; they are a pillar in our community. They are known for their good deeds in the community. Whether it's surprising a neighbor with snow removal or supporting local charities like WestSide Baby, West Seattle Fauntleroy YMCA or West Seattle Baseball; they are always giving back. Alki Lumber has been our local West Seattle lumber yard for over 98 years.
Seattle Police Chief Carmen Best spoke at the event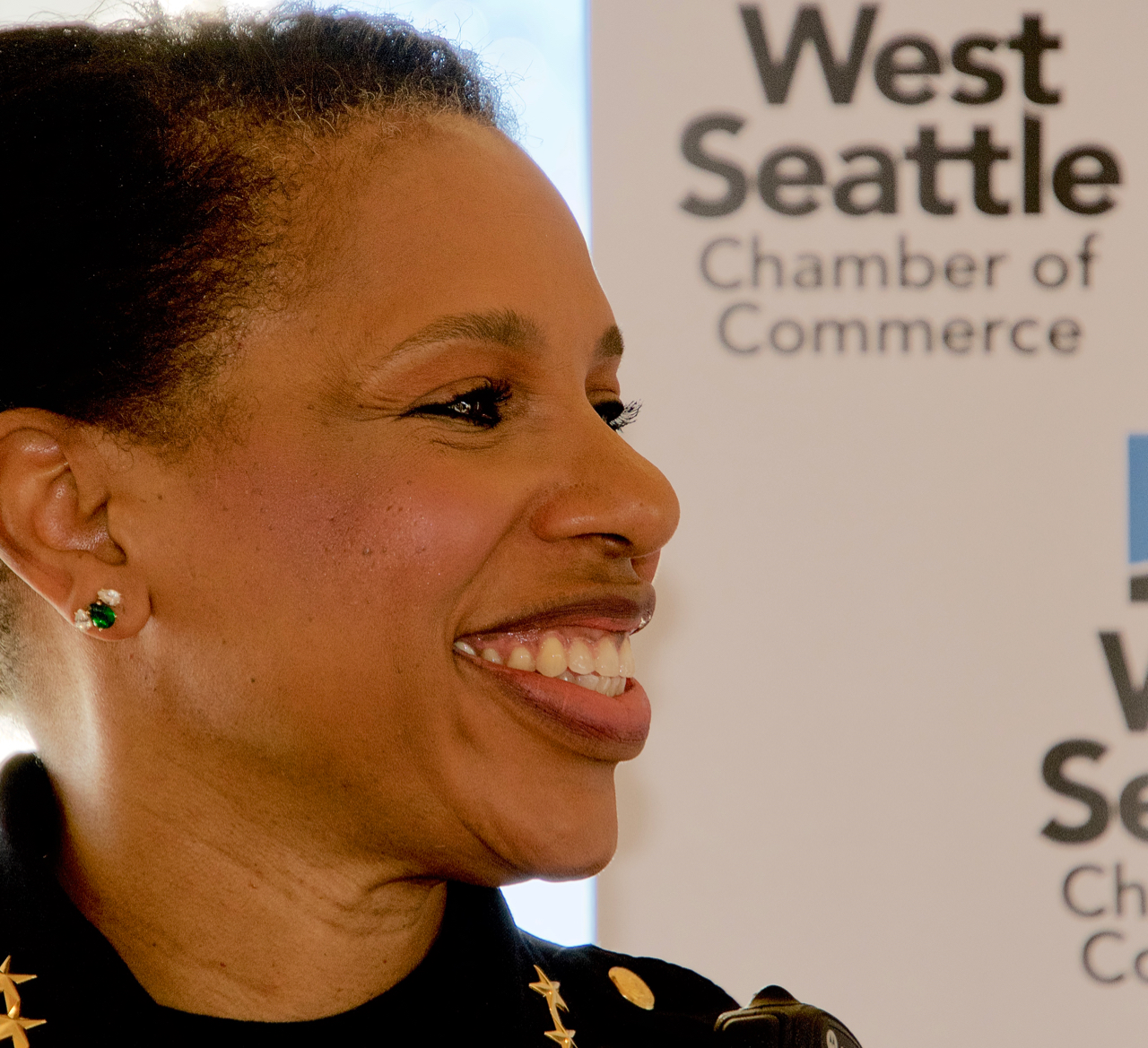 Chief Best spoke about the Seattle Police Department's recent accomplishments and her vision for the future. She noted that "We only have a limited amount of time to make a difference," and referenced author and speaker Simon Sinek whose TED talk on leaders inspiring action has been viewed more than 43 million times. She noted his third point of advice for leaders saying that "It's really not about you. It's about your position and what you do with it." 
She said that SPD has been under a consent decree since 2012 and in January 2018 Judge James Robards "declared us in full and effective compliance with that consent decree" and "today we are well underway in our two year sustainment period, which means we have to show we have to maintain that sustainment as we go forward."
She explained that "Our officers they are on the front line every day. Along with tragedy and unpredictability inherent in policing, it is a tough job. We're dealing with crisis, homeless, addiction, poverty and all sorts of other issues on a daily basis and they do it, in my opinion, very well."
Best pointed out that Seattle Police have multiple cameras on all the time and other measures to keep them in line. "If you had to do your job with a camera on you all the time with the amount of paperwork, you'd find this a tough job."
"Housing affordablity and homelessness have become one of the primary concerns of cities across the country," she said.
She offered a remarkable statistic. "Last year Seattle Police officers responded to 15,595 crisis calls," in Seattle. 80% of those calls were responded to by certified crisis intervention trained officers. "In less than 2% of those calls was any force used and most of that was just the minimum," she said.
Those calls, "Have surged. They are up 26% from last year."
She also explained that beyond the criminal 911 calls they respond to, the department "operates a 'Navigation Team' whose purpose is to get more people inside and create more resolutions to hazardous situations."
She used the term "holistic policing" in explaining that police work has entered a new era. "Officers are doing so much more than ever before...It's very different than it was 27 years ago when officer Carmen Best hit the streets looking to put bad guys in jail."
At the end of the day it is "Constitutional Policing" she said. "That is in fact the great equalizer."
"It's about service... our proactive work is up 38% so when i hear people say cops aren't policing, they ARE policing because I'm tracking what they are doing. Last year we made 10,212 arrests. The year before that it was in the 9000 range and the year before that in the 8000 range. They also made about 1000 referrals to other agencies... they are out there getting it done in a really tough environment."
She expressed pride in her officers and said "most officers are 30 year officers," and continued that they were trying to recruit, "the best of the best."
Community policing is about relationships she said, and thanked the community for all the support SPD receives. She pointed out that "My patch says 'Service, Pride and Dedication' and it starts at the top and from me to the rest of the organization. I absolutely believe that about the Seattle Police Department. We're here to serve you and we thank you for your support and appreciate the support we've recieved. Please know that we are absolutely committed to making Seattle the safest city it can be."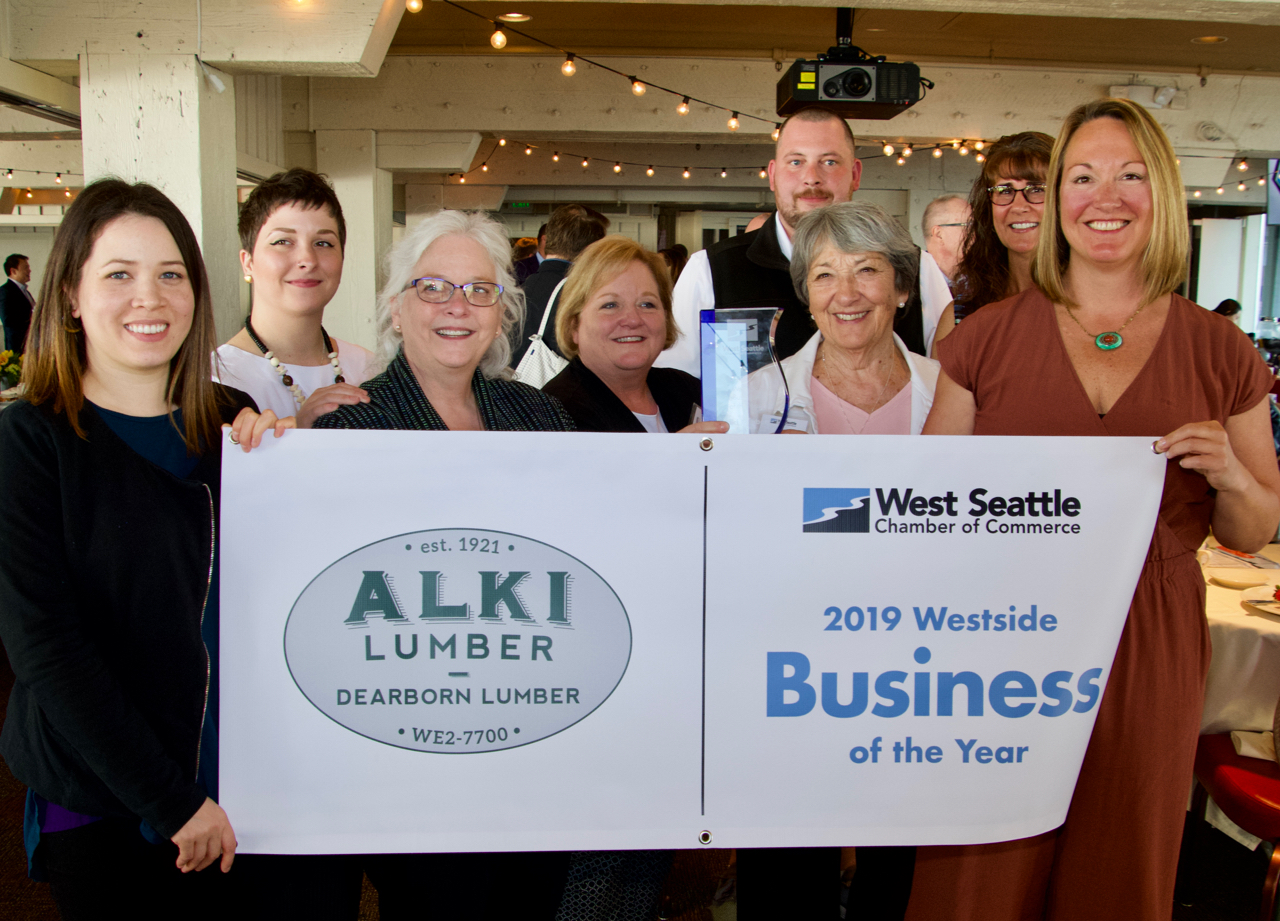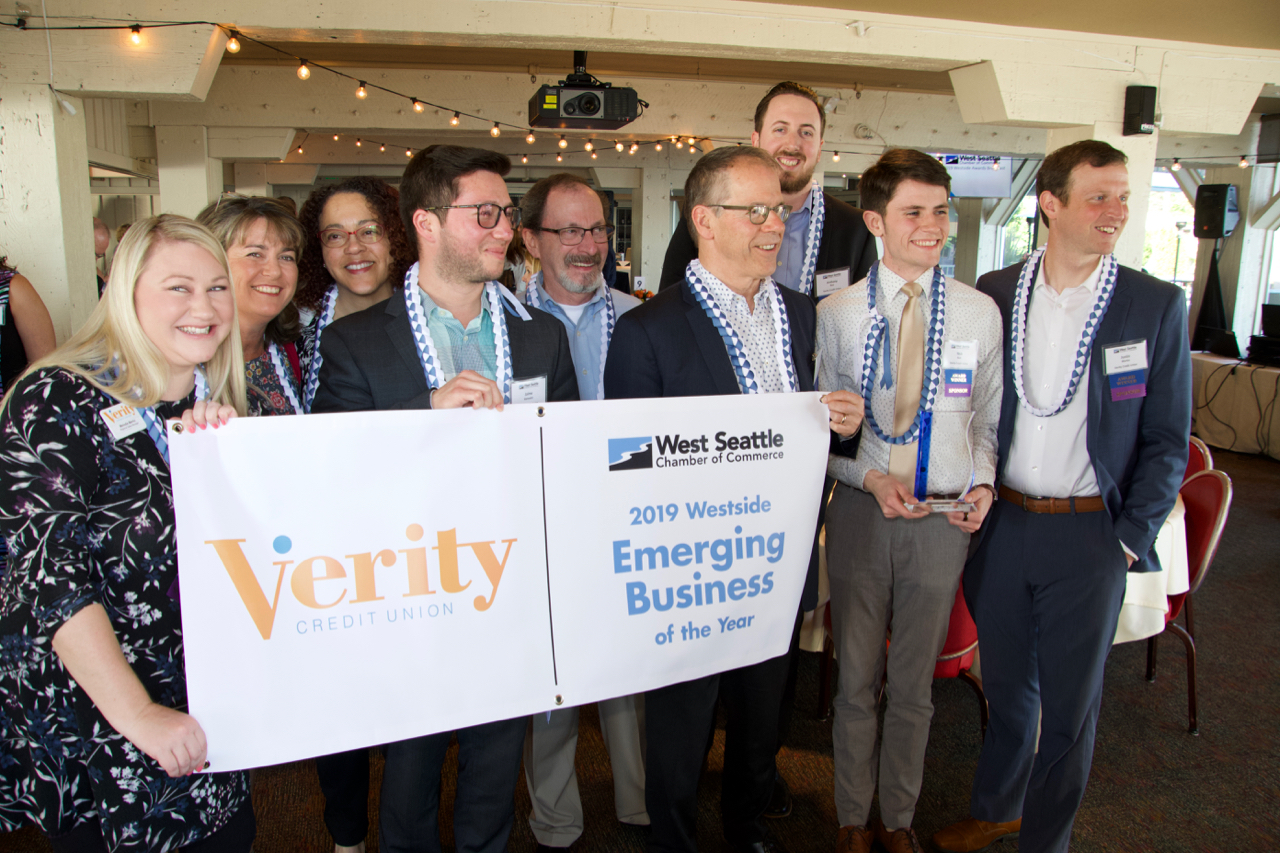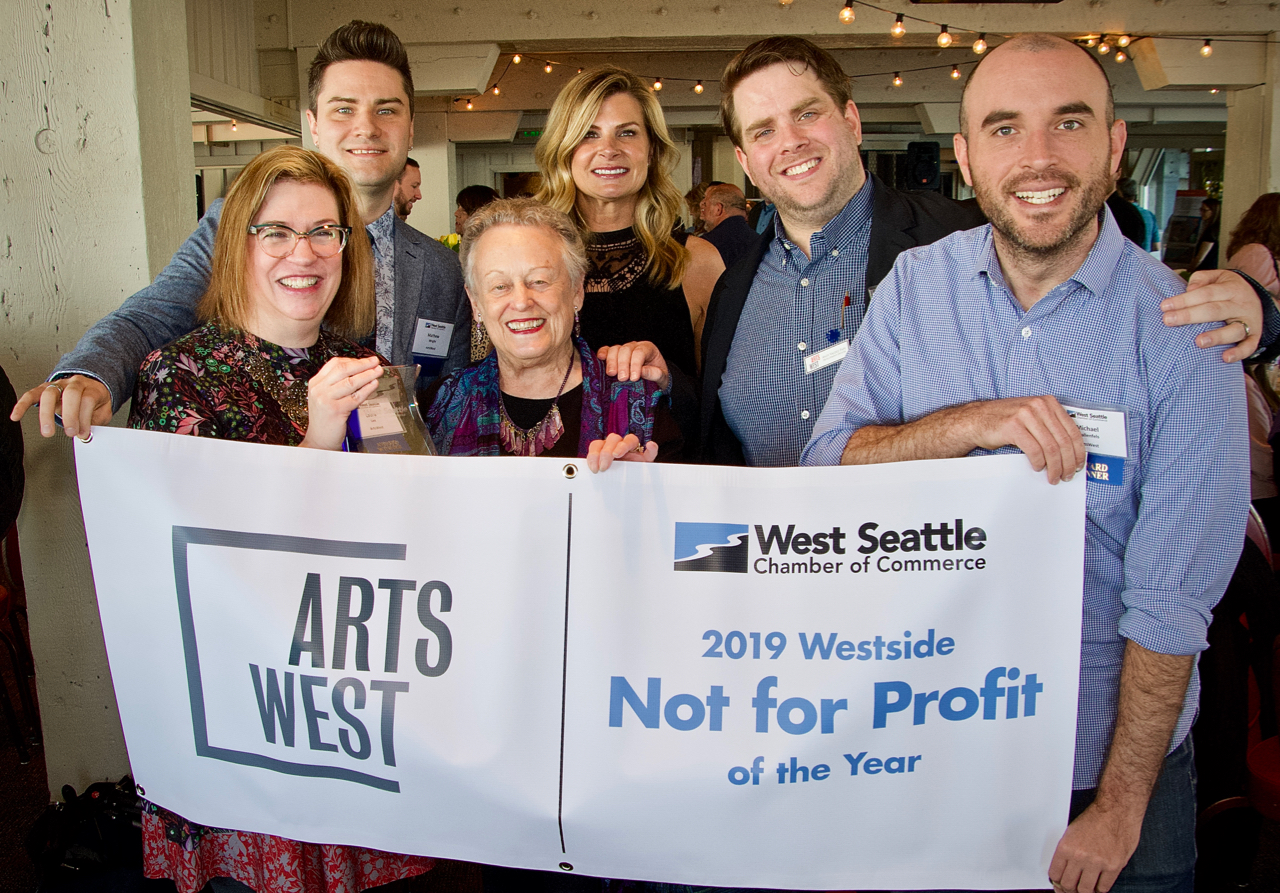 AUDIO: SPD Chief Carmen Best spoke at the Chamber breakfast
WestsideSeattle.com