The Kindness Quotient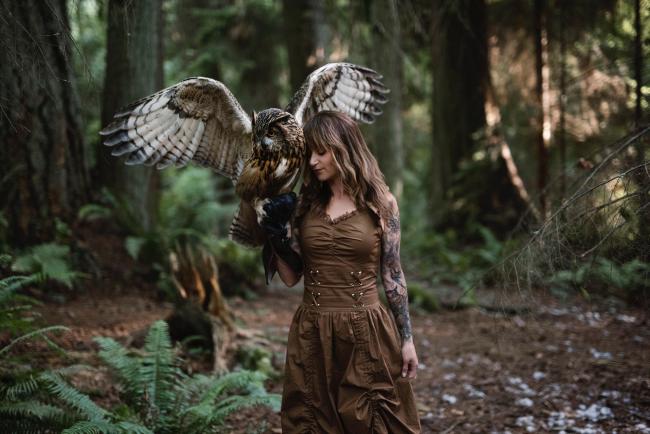 Mon, 05/13/2019
By Sarah Mackay – sjleadership.com
Dawndra Budd, one of West Seattle's hippest photographers embraces life's journey artistically by capturing humans within whimsical and wild landscapes. A woman perched on a rock surrounded by magical dark water or a surreal, Victorian era image depicting a young girl caught between space and time. Immensely soulful and expressive work fills Dawndra's creative spirit.
"I like to focus on the subject and environment, to capture what's important, the beauty of humans within the elements," she said.
Art was nonexistent in her childhood home. It wasn't until she attended Evergreen College where she found her passion and a world of like-minded people. She flourished and grew into the artist she is today. She's over-the-moon about photography and people.
Equally important to Dawndra is her daily business with the many beloved families and individuals she photographs for moments they don't want to forget.
With her thriving photography business, Dawndra graciously invites clients to leave out the static, to put aside the daily grind and to embrace the moment of which will be caught on camera. Maybe a cat dancing with a toddler nose to nose, a woman languishing in a river of leaves or the family embracing in the late afternoon surrounded by sunlit evergreens.
"Think of your family as its own work of art," she said.  "Seriously, as a unit, the family is a work of art."
She has a system of integrating gratitude within each client photography session; she begins with good news and deep breaths before every shoot, which naturally brings smiles to faces.
Part photography and part philosophy Dawndra asks clients to fully accept and treasure all that exists. "Sometimes people focus on what they don't like about themselves, I've always thought the lines on people's faces are so interesting and beautiful," she said.
As a young girl, many of her friends were elderly. Imagine Dawndra as a 3rd grader, same curious and creative spirit seeking adventure. She loved visiting her great grandmother's retirement home filled with eccentric and fascinating people. Her mode of transportation was a small, speedy motorcycle used to zoom across the dusty rural back roads to visit her great grandmother who could no longer remember her name.
"I think my upbringing made me the woman I am today, I came out a combination of tough and soft, compassionate and strong for myself and all others," she said.
The lens of the camera is held steadfast and true by Dawndra Budd who invites the subject to be exactly as they are… beautiful.
Comments
Dawndra is extraordinary. She has done the only headshot I've ever loved of myself. As an artist she is beyond her years and will be internationally known for her work. Get to know her now before she's so famous you may not have the opportunity.
Dawndra is one of the best photographers I know. She is amazing and has a certain magic about her. I hate have my photo taken, but she made me feel completely comfortable. She sees the soul behind the eyes.
Keep singing it girl!
Add new comment