West Seattle mural "The Old Mud Hole" now being restored; More donations needed to complete the work
West Seattle mural "The Old Mud Hole" now being restored; More donations needed to complete the work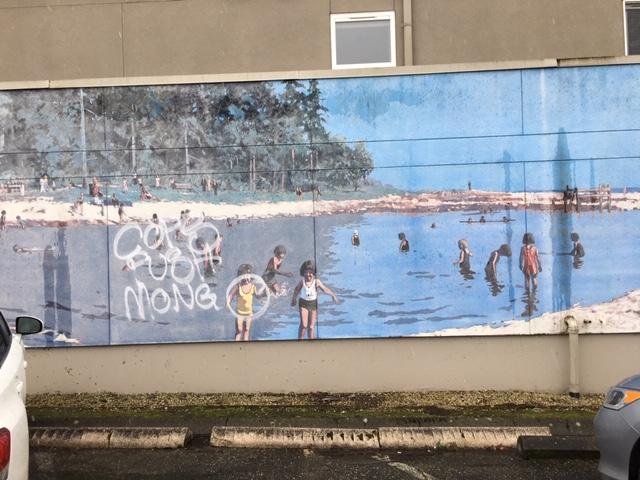 Thu, 05/30/2019
The restoration effort for West Seattle's well known murals is continuing with the latest work being done on the mural called "The Old Mud Hole". The mural has faded over time and lately was tagged with grafitti. The mural is located on the wall near the northwest Junction parking lot on 44th SW.
Lora Radford, Exec. Dir. of the West Seattle Junction Association said, "The graffiti has been painted out, first by a mystery artist (!), and then by our muralist Bob Henry.  We'll still need to restore the entire mural."
The restoration of the murals got a big boost from local philanthropist (and recent Westside of the Year) Adah Cruzen when she donated $100,000 two years ago. The effort to get all the murals restored however still has a way to go with the fundraising and Here's the fundraiser website.
Now through June 30th they are giving away inscribed mural fundraiser keychains for donations $50 or more.
Bob Henry has already begun work on the West Seattle Ferry mural.