Waste Management donates used trucks to South Seattle College's Diesel & Heavy Equipment Technology Program
Waste Management donates used trucks to South Seattle College's Diesel & Heavy Equipment Technology Program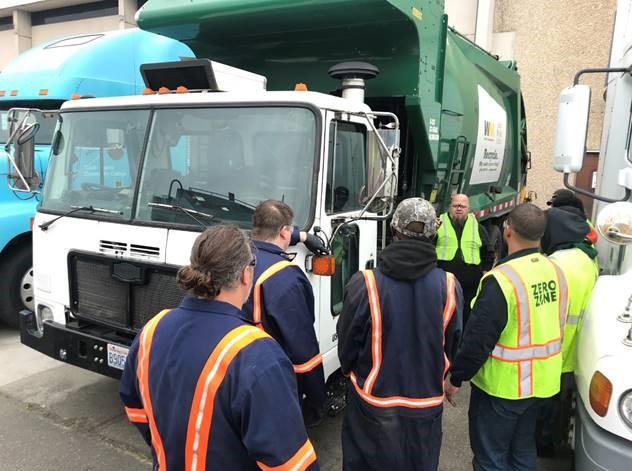 Mon, 06/03/2019
information from South Seattle College
 Waste Management has donated two used trucks to the Diesel & Heavy Equipment Technology program at South Seattle College (SSC), creating new opportunity for students to learn the ins-and-outs of these high-tech vehicles in preparation for careers servicing large engines that power buses, trucks, construction equipment and ships.
"The trucks donated by Waste Management will have a significant impact on our program," SSC Diesel & Heavy Equipment Instructor Jeremie Pitts said.  "They are perfect 'all in one' vehicles that can be used in each and every class we offer to students, as well as supporting our new Alternative Fuel class."  
Waste Management has released a new Seattle fleet of 91 vehicles powered by "gas from garbage," and 10 electric support vehicles, allowing for the older generation truck donation to SSC.
"The old trucks served the City of Seattle well for years," said Jason Rose, area vice president of Waste Management-PNW/BC. "Now they will help students learn skills that are critically needed today in industrial settings across the city and the region.  This donation is another example of Waste Management working to be the best partner we can be for the City of Seattle."
With the generous donation, students have expanded access to current electrical and electronic systems, automatic transmission assemblies and controls, compressed natural gas engine configurations, heavy system hydraulics and more to hone their skills.