The Kindness Quotient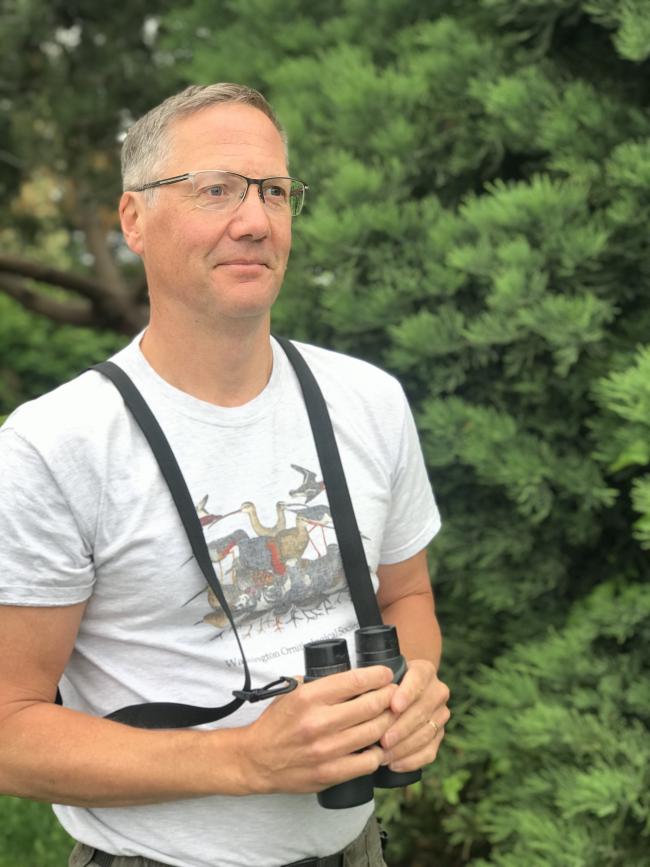 Mon, 06/17/2019
By SJ Mackay
Ladies and gentlemen we have an expert in our midst.   Without further adieu, Mr. Ed Swan, a gentleman fascinated with birds and equally enthusiastic about sharing his knowledge.  As a self-described Birder and Naturalist, Ed is every bird's friend; he's beyond curious about the interconnectedness between humans and birds within the ecological setting of the Pacific NW.
 "I just saw an Osprey," he said. His eyes wide, looking high above past the thick dark green treetops against a crisp blue morning. "You just missed an Osprey with a large fish in its beak," he said with sympathy.
A birder through and through; he and his wife keep two large trees front and center of their home in lieu of a killer view. In his opinion, they have what matters most to them, nature up close for observation.  "Just right there, you can see all of this activity, right outside our window," he said. The two trees; a Western Red Cedar and a Douglas Fir attract a plethora of birds, which he and his wife enjoy daily. Limb by limb and high above in the sky ninety species of diverse feathered friends sharing air and tree space; they're a medley of nature living together.
He's a bird advocate naturally, sometimes stopping mid-sentence, frozen in time to observe a bird perched in a tree, zooming past, dipping into the vast highway of the sky. It's this curiosity his Grandmother instilled in him, planted at an early age during long walks to the farm mailbox. Inherently reliant on nature as a farmer, yet in awe of the complexity and beauty it provided, she urged observation of which he's mastered. Ed's business, The Swan Company offers tours, home visits and advice about Puget Sound birds. Along with an impressive in-depth book about birds on Vashon Island filled with colorful photos showcasing their brilliance. The Birds of Vashon: A Natural History of Habitat Transformation is designed to encourage enjoyment and knowledge of birds and wildlife. "There's a lot we can do to make the habitat around us more conducive to birds," he said with hopeful encouragement.
For instance, he's aware of housing built for the Purple Martins. "Few Purple Martins inhabited the Seattle area mainly because there was a lack of appropriate housing. One bird lover created gourd houses as a new home for Purple Martins," he said. Like a cozy nook waiting a guest for a night's rest there are gourds for Purple Martins hanging delightfully from a trestle overlooking the Seattle skyline. (there's quite a few, I don't know the specific number)
Inclined to see from a bird's view, Ed naturally has perspective. "It's easy to think we are all alone and just stop seeing the beauty birds bring," he said. It's a fascinating world of which there's plenty to observe. Consider a world where crows might be bullying a bald eagle or a Tohwee singing it's sharp note followed by a trill - toweeee chatting amongst themselves in their language; a theme song of nature. We might not be aware of their music sometimes drowned out by life.
Ed cautions projecting human characteristics onto birds, our common ground is in our relationship with nature; it's the uniting element we draw from, a source of food, shelter and free space. In the balance of nature, when one element is removed or added it shifts the inhabitants of our region. Just the same, it's hard not to draw parallels in both the human and bird relationship to nature.
Thank you Mr. Ed Swan (such a fitting last name) for holding birds in high regard. We are all soaring a bit higher with your keen observations of our fair-feathered friends.