Mashiko is changing hands but not hearts; Founder Hajime Sato is leaving
Mashiko is changing hands but not hearts; Founder Hajime Sato is leaving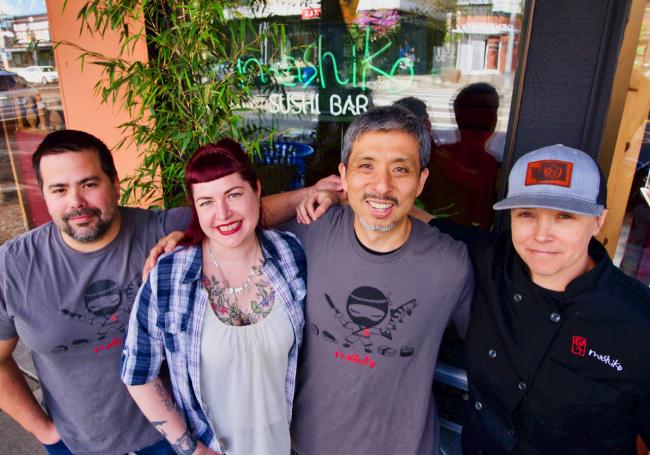 Tue, 06/25/2019
How do you follow Hajime Sato? The answer is with integrity, dedication and focus. Sato is leaving Mashiko, the sushi restaurant he founded in the West Seattle Junction 25 years ago to take care of his wife's health in her home state of Michigan. But he believes he is leaving his beloved restaurant in very capable hands. Employees Allison Hill, Brandon Wicks and Mariah Kmitta are the new owners but have decades of combined experience in the industry. They are also joined by chef Britney Payne in the kitchen
Sato said he will, "miss everything. The customers, the work, yelling at employees, the joy of seeing them get it right," and feels he has accomplished what he set out to do. Build a Seattle infused sushi style that his former employees will carry on.
The original sale of the restaurant fell through which prompted the trio to step up and take over. Wicks who has 24 years of experience in both fine dining and Sushi, and Kmitta with 19 years both said that the "integrity was the number one thing I learned from working here." Wicks said that many restaurants will use any kind of ingredients, unconcerned about sustainability, "because they just happen to like that fish." Kmitta said "some places put making a profit over what really matters, like taking care of your customer, and making a great sustainable product."
Hill, who has become one of the most widely recognized West Seattle restaurant faces having been with Locol, Admiral Benbow, Uncle Eddie's in South Park, the Feedback Lounge and for 15 years intermittently with Mashiko echoed their sentiments. 
"We have a lot of respect and love for the 25 years that Hajime has spent building Mashiko," she said.
"This community knows the level that Mashiko has always been and they know we are going to respect that and uphold it. So many people come that were just little kids that are now of drinking age," Hill said and Kmitta continued, "It makes me feel like part of the family and the community. i just like that people recognize me and recognize them and that I feel like what we do matters. It's not just about the food."
Wicks said he's excited about the change, "I can't work at another sushi place because I can't make unsustainable sushi. I'd rather flip burgers than do that."
"Our standards are so high because of Hajime," said Hill, "I think there's so much love and care that goes into it. It's not just that it's high quality. guilt free eating. There's so much talent, time and appreciation for each individual dish."
"I feel like some places treat sushi as if it's glamorous and high end and deceive people when they serve a sub par product," said Kmitta.  "I feel like ethically and morally its something I don't like. I want to be able to sleep soundly knowing I'm not denying a family in Thailand from having a future."
They all said they learned that working with integrity, respecting the customer and the product was the most important lesson gained under Sato's tutelage. 
"This is my life. If I could go on forever then I would. But unfortunately life happens and I cannot tell you one thing I will miss the most. I will miss everything. The customers, cutting onions, cutting fish, one customer times a thousand I'm going to miss. To be honest I'm going to miss yelling at those people, 'You're doing it wrong!' or 'Thank god you're doing it right!' I have such a mixed feeling about it."
"If I actually create another sustainable sushi restaurant say in Michigan I will want to think that I've gained something and not lost something. That's something I want to tell myself."
He's actually leaving in mid-august so there's time to go in and say goodbye and while there is no formal send off event planned at this point it's not out of the question. "Stay tuned" said Hill.
There will be a few minor changes but not many. Mashiko will be open seven days a week beginning in mid July, starting at 5:03pm seating the last customers at 9pm on weeknights and 10pm on Friday and Saturday nights. There will be a happy hour with some creative sushi samples offered.
Mashiko is located at 4725 California Ave SW in the West Seattle Junction. tel:(206) 935-4339
Comments
I try to get there every time I visit the West coast. Best of luck Hajime.
I used to work for Hajime I learned so much from him. I used to think he was being mean and yelling at me but after I left I thought about all the stuff I had learned from him. I now have my own restaurant and I understand even more what he was teaching. Thanks for everything Hajime you are an inspiration to food.
I love Mashiko!! Thanks, Hajime ?