Local crowds keep vendors coming back to West Seattle Summerfest
Local crowds keep vendors coming back to West Seattle Summerfest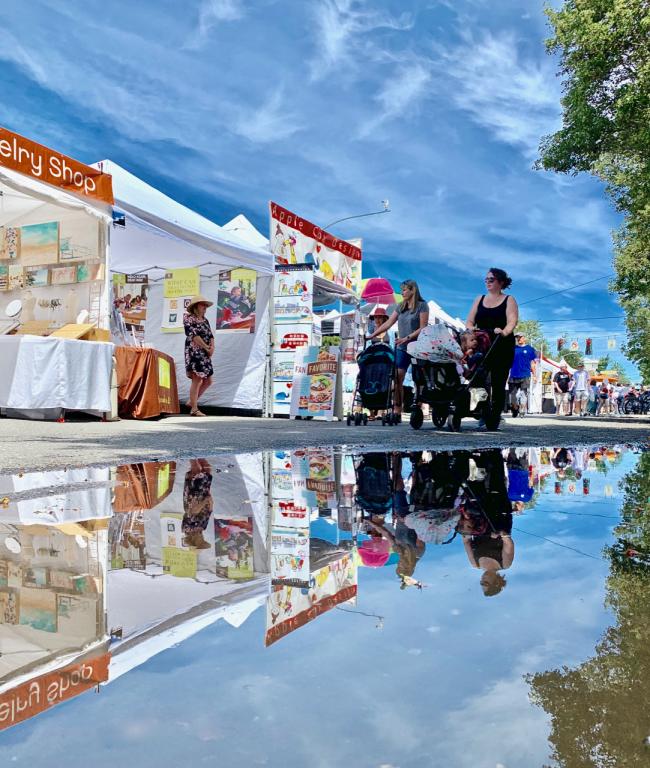 Wed, 07/17/2019
by Kristina Karisch
Reporter, Westside Seattle
The local support for small businesses is what keeps vendors coming back to Summerfest year after year for a weekend filled with live music, food and celebration — and a place to showcase their unique offerings to both local and visiting customers.
The 37th annual West Seattle Summerfest — which ran from July 12-14 — filled the West Seattle Junction with live music, food and local products this weekend. Dozens of local vendors and businesses set up tents along California Avenue, and local artists played on three separate stages.
Festival-goers flocked to the food trucks and outdoor seating areas for special deals and warm-weather fare — including, but not limited to, fruit kabobs, colorful cotton candy and bubble tea served in glass bottles shaped like lightbulbs. Kids could play on the bouncy castles in the children's zone and there was a beer garden set up for the adults near the biggest stage of the weekend. 
Live music included performances from Polyrhytmics, DJ Kurt Bloch, West Seattle Soul, School of Rock, FIX and many other local artists, while vendor tents lined California Avenue and local storefronts hosted sidewalk sales. Offering everything from jewelry to tea to garden decorations, visitors were sure to find something to catch their eye. 
The local vendors themselves set up shop at Summerfest year after year because of the community atmosphere and support for local businesses, said local jewelry artist Jennifer Forland, who has had her own booth at Summerfest for over four years. She said Summerfest is one of the only art shows she still attends every year, partially because of good sales, but also because of the people and the crowds.
"West Seattelites are supportive of their own," she said. "I see a lot of the same people every year and I love that."
Shannon Felix, of Avalon Glassworks, said she has been selling products at Summerfest for over 15 years. She's noticed a number of changes to the festival — from organization to the demographics of her customers — as she's attended over the years. "Ten years ago, it was just a free-for-all," she said.
Now, as Summerfest's organization runs more smoothly, and Felix said she's been able to tailor the items she brings to sell to the festival's unique audience. She said many of her regular customers come visit her booth and purchase popular items and get special deals, but there are many first-time customers and new faces. This year's extended Friday hours worked out well for Flynn, she said. She was still making sales as she was closing up her booth and packing up that evening.
"Not only do I get to sell, but I also get to touch my customers, as a local business," she said of Summerfest's unique draw for vendors. "You get outreach as well as actual sales. It seems that more than half of (vendors) are locals."
Another long-time vendor, Geri Flynn, who sells hand-sewn purses and travel organizers under the name jeri-oh's, has been at Summerfest for the past eight years. Every year she sets up her stand, the event gets better, she said. Of the 14 shows Flynn attends yearly, she said Summerfest boasts the biggest number of local supporters.
Lauren Tilden, owner of Good Sheila, a paper goods company, was a first-time vendor at Summerfest this year. Based in West Seattle, Tilden said she appreciated the local crowds and atmosphere. Her work — which features watercolor drawings of plants and florals, as well as hand-lettered calligraphy — is inspired by the area, and she said that selling at Summerfest was a "full-circle" opportunity.
"I've heard from some other of my maker friends that (Summerfest) was a great opportunity," she said. "I feel like people who are attending are excited about local artists and local makers and that the organizers did a great job."