Colman Pool, a decades-old West Seattle destination, keeps guests coming back
Colman Pool, a decades-old West Seattle destination, keeps guests coming back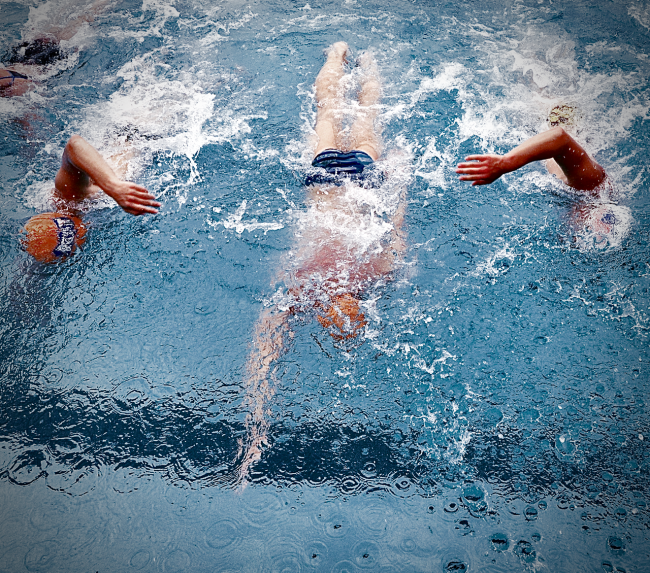 Mon, 08/19/2019
By Kristina Karisch
When Marica Nussbaum used to record the phone messages for Colman Pool, in which she'd tell guests the opening hours and reminding them of pool rules, she always introduced the facility in a very particular way.
"Thanks for calling the destination resort of Seattle," Nussbaum would say, before listing off the various amenities and activities the pool offers.
Colman is most definitely a destination. Tucked into the north end of Lincoln Park in West Seattle, the pool is hidden from view. But once guests either take a ten-minute walk along the shore or a short hike through the woods, they will be rewarded with an unobstructed view of Puget Sound and a secluded spot to spend a summer day.
The saltwater pool has been an institution in the city since the 1940s. Originally opened by the family of the late Laurence Colman, the facility has since been donated to the city and is run by the Seattle Parks and Recreation Department. It functions as one of the city's flagship pools.
Before the pool was constructed, it was a swimming hole, which would fill with water from the Sound through a sluice gate, said Wendy Van De Sompele, Colman's aquatic director. Once the water warmed up, guests could swim in it before it was drained again. In 1941, the actual pool opened, funded by the Colman family. The facility has remained much the same ever since — save for modernization and renovations to the pool itself — there are original benches on the deck and touches of the facility's decades-long history can be felt in every corner.
Now, the Sound not only provides Colman with its views, but also acts as a water source for the 500,000 gallon pool. Seawater is delivered by a 20-horsepower pump from three wells located on the beach, filtered and then heated when it flows into the pool itself.
A glass wall separates Colman from the edge of the water and the beach, but swimmers or lifeguards will often spot whales and other marine life out in the Sound and gather by the wall to see it swim past. Van De Sompele said gray whales, orcas and humpbacks have all swam past Colman, and seals, seal lions and porpoises are common.
"We have whales come by frequently, and other sea life," she said. "When we see them right off here, we make an announcement, everybody gets out of the pool and looks out the window."
This year, Colman opened its season on May 11, and the facility will close on Sept. 22. Van De Sompele said attendance is often weather-permitting, and with the cold start to this year's summer, there were fewer guests throughout the day. When the temperatures rise however, Colman is a popular destination.
Nussbaum said there are often lines on particularly hot days. Some guests will make a trip to Colman a whole-day affair, bringing food and drinks and taking advantage of the fenced in picnic area. On busy days, Van De Sompele said, attendance is in the high 800-900s. Her busiest day thus far counted 1001 guests.
In addition to eight swimming lanes, which are available for use during lap swim, Colman also features a diving board and a slide, which is especially popular with children.
For newer visitors to Colman, like Aimee Finn from north Seattle, the views and unique location were a draw. She said she and her family have only been to Colman twice, but that they would be returning.
"It's the prettiest pool in Seattle, with the views of Puget Sound," she said. "It's definitely worth the trip."
Nussbaum, who started at Colman in the 1970s as a manager, has worked in various roles at the pool ever since. She said it's the patrons who keep her coming back, as well as the unique environment Colman offers to its guests. Colman is only open during the summer months, weather permitting, but despite the short season, Nussbaum said she still feels welcomed there — and recognized — year after year.
"There are some folks that go every year, every single year," she said. "Families, single folks, married couples with no children, but you get to know who they are. And it's just great to see them every summer and see how people have changed."
She said she was recently recognized by a guest whom she'd taught to swim, and he introduced her to his own son.
To Nussbaum, Colman is a "fantastic" place, and to the guests who return year after year, it is too. And newcomers, she said, are often surprised by what they find.
"Once they're there," she said, they'll often say, "'Oh my goodness. Where have you been all my life? I know I'm coming back.'"