Students speak out for change, gun violence prevention
Students speak out for change, gun violence prevention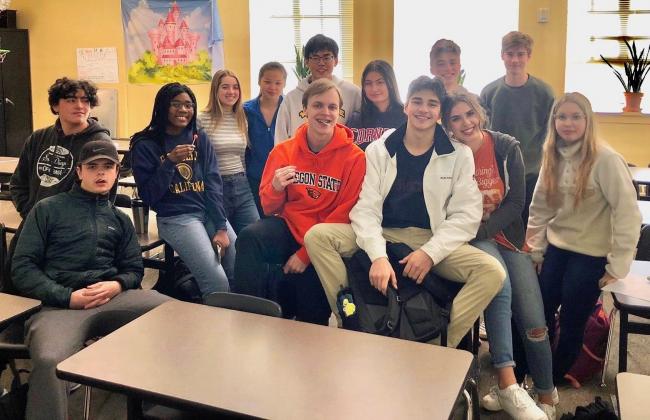 Mon, 08/26/2019
by Kristina Karisch
Amid a growing national discussion about gun violence and rising numbers of mass shootings, high school students in West Seattle are speaking out for change on the local and national level.
For many students from West Seattle High School's Gun Violence Prevention Club gun control advocacy has a personal connection. Keaton Dickinson, a rising senior and a member of the club, said the Jan. 18 lockdown at the school solidified just how important it is for students to speak up.
After police began a search for a man who had a warrant out for his arrest in close proximity to West Seattle High School, the school was placed on a precautionary lockdown. Students did not know what the threat was, but Dickinson said she remembers sitting under desks and listening to rumors floating around the classrooms as to what was going on.
"Our principal made one ominous announcement, 'This is not a drill,'" she wrote in a letter to Westside Seattle. "We had no other information. 'There's a gunman,' someone whispered from under their desk. I texted my mom: 'We are on lockdown. I think there's a gun, I don't know for sure.' She replied, 'I love you.'"
Although the man never entered the school, Dickinson said the uncertainty of that day and the fear students experienced sparked her involvement in gun violence prevention advocacy. She and her best friend, Flora Medina, who just graduated from The Bush School, have made it a priority to educate others on gun violence prevention.
Medina said it's crucial for students to advocate and provide their perspectives to lawmakers.
"It's generally our lives at stake, and so while we aren't necessarily the people who have the ability to vote on laws ... we would be the biggest advocates," Medina said.
According to data compiled by Vox, there have been 2190 mass shootings in the United States since the Sandy Hook Elementary School shooting in 2012, which left 26 dead, including 20 children aged six and seven.
Following the mass shooting at at Marjory Stoneman Douglas High School in Parkland, Florida on Feb. 14, 2018 — which killed 17 people and injured 17 others — students across the country have taken on increasingly larger roles in the national fight against gun violence. Parkland students organized the March For Our Lives, held in Washington D.C. shortly after the shooting, and young people across the country have been joining organizations like the Gun Violence Prevention Club at West Seattle High School or their local chapters of Students Demand Action, a national advocacy organization.
In Washington, legislators recently passed Initiative 16-39, which took full effect on July 1 of this year. The law implements restrictions on the purchase and ownership of firearms, including background checks, storage requirements and waiting periods for purchasing semiautomatic assault rifles, as well as increasing the minimum buying age for these guns to 21.
For Dickinson and other students, the law is an important step forward to ensure fewer shootings take place. Dickinson and Louise Schiele, also a rising senior at WSHS and a club member, both volunteered in efforts to get the law passed last fall.
Schiele sees Initiative 16-39 as a "common-sense" law that doesn't seek to take away guns, merely make them safer. Despite this, a number of local sheriffs and police chiefs have said they would not enforce the measure.
"I think it shows that they just don't care, or that they don't pay attention, because so many school shooters receive guns in ways that 16-39 would help prevent," Schiele said. "It has the minimum age, it has the safe storage, and both of those, if they are properly enforced, could really help the epidemic."
Nina Claflin, who graduated from WSHS this year, researched the ways to minimize mass shootings for her senior project. Through her research, Claflin said she learned that one of the most effective ways to curb gun violence is increased background checks and limiting access to firearms, of which there are an estimated 120.5 per 100 residents.
She said change needs to come from those in positions of influence, and a change in the mindset that many hold. Some of those who oppose laws like Initiative 16-39 argue that even with stronger checks, guns will still be sold illegally, rendering the law obsolete, but Claflin argues that more stringent legislation will still result in positive change in the long run.
"If we can start with the people that are in charge, and people that are handling and manufacturing, distributing these guns," Claflin said. "I think we can make strong strides. It might take a few years, but I think it will truly help the gun violence epidemic altogether."