Paws & Paint – Yappy Hour and Dog Adoption event set for Sept. 15
Paws & Paint – Yappy Hour and Dog Adoption event set for Sept. 15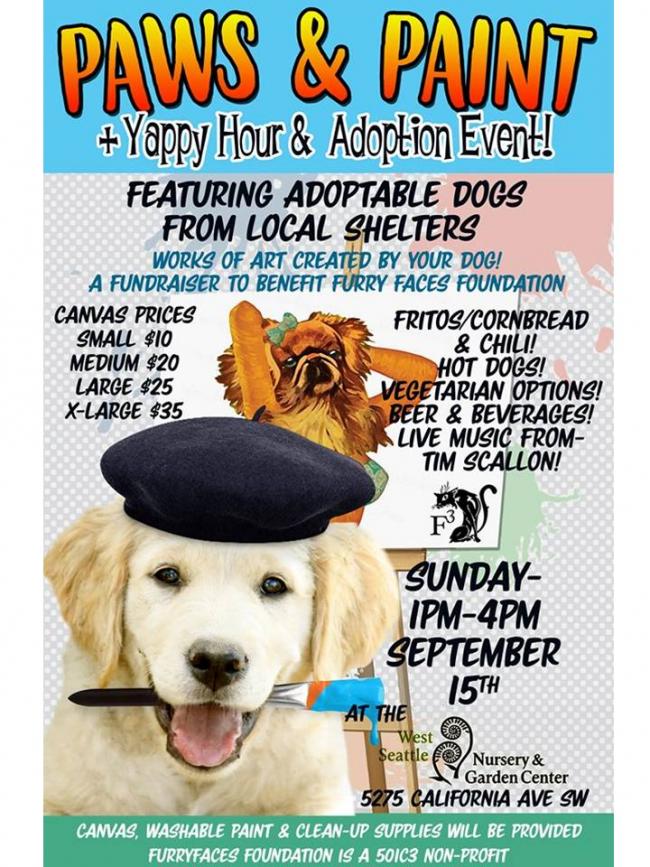 Thu, 09/12/2019
information from Furry Faces Foundation

Everyone's dog is a famous artist at Paws & Paint, creating a one of a kind masterpiece you will treasure for years to come! Yes, your dog really does get to paint! We have sponges; non-toxic, washable paw-paints; canvases; and you have your dog(s)! Four canvas sizes to choose from, priced at $10, $20, $25 and $35.

Don't eat lunch! Chili dogs, chili Fritos and chili cornbread will be available by donation. Need something cold to drink? How about a beer? Vino Verde? Or ice cold soda? 

Looking to adopt a new family member? Check out photos of local, adoptable dogs!  Can not adopt at this time, but interested in fostering or volunteering in another capacity? 

While you enjoy your food and company, take a seat in the beautiful West Seattle Nursery and listen to Tim Scallon's vocals, keyboard, and guitar. Then get up and pursue the Nursery, Gift Shop and Garden Center's Fall Sales.  It is impossible to walk out without a stunning plant or unique gift item. 
Paws & Paint – Yappy Hour and Dog Adoption Event
Benefiting: Furry Faces Foundation
Sunday Only! Sept 15, 2018, 1 pm – 4 pm
Location: West Seattle Nursery and Garden Center
Address: 5275 California Ave SW, 98136


https://www.westseattlenursery.com/


Music Guest: Tim Scallon
 
FB Event page: https://www.facebook.com/events/1390260921127105/