Seattle City Council Dist. 1 Candidate Forum set for Oct. 14
Seattle City Council Dist. 1 Candidate Forum set for Oct. 14
Herbold and Tavel will share their views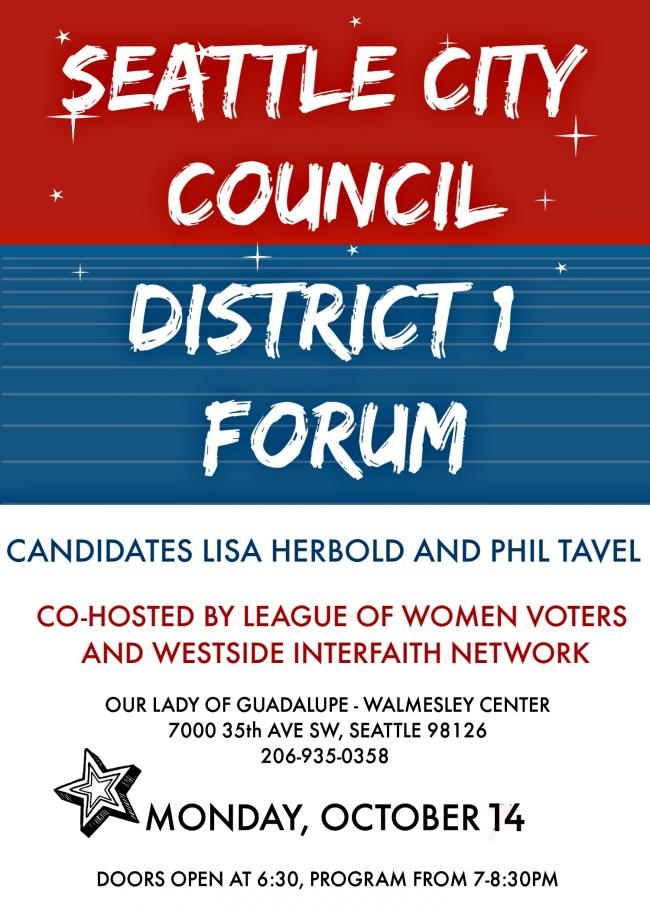 Fri, 09/13/2019
CITY COUNCIL DISTRICT 1 CANDIDATE'S FORUM
            6:30-8:30 PM on Monday, October 14th
                                    at
Our Lady of Guadalupe Church, Walmesley Center
             7000 35 Ave SW, Seattle, WA 98126
                  Off street parking lot available.
      ( Metro Bus 21 stops at 35 SW & SW Myrtle)
    Meet Candidates Lisa Herbold & Phillip Tavel.
 Learn their views on city issues & plans for our area.
    Have an opportunity to ask written questions.
               Become a more informed voter!
                    Most importantly:  VOTE!
6:30 PM - Doors open.  Campaign literature available.  Informal conversation
7:00 PM - Brief welcome & introduction of candidates  
7:10 PM - Opening statements from Candidates Tavel & Herbold
7:20 PM - Moderated forum of prepared questions
8:00 PM - Candidates respond to audience questions written on cards
8:30 PM - Closing statements
8:30-9 PM - Informal conversation until space closes doors at 9 PM.
      Written questions from the audience will be welcomed.
Co-sponsored by the Westside Interfaith Network (WIN)
& The League of Women Voters of Seattle-King County