Cycle Therapy coming to Alki; Bike shop has models for the whole family
Cycle Therapy coming to Alki; Bike shop has models for the whole family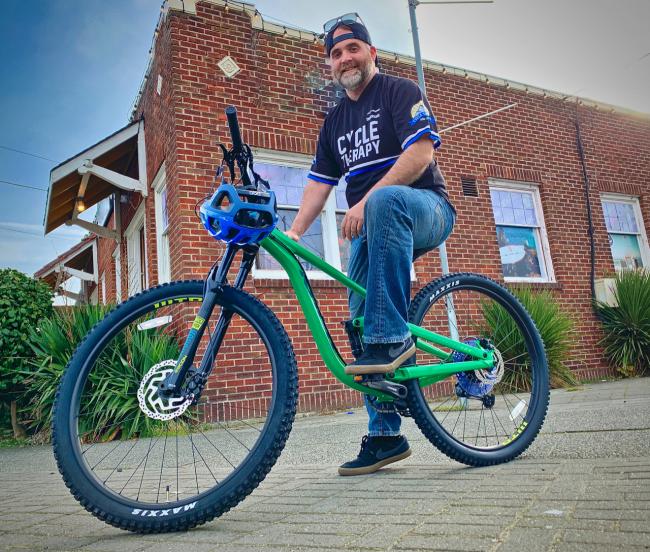 Fri, 11/08/2019
If you love cycling for commuting, exercise, fun, or just to clear your mind, there's good news. Cycle Therapy is coming to Alki. The long time Kent bike shop is moving into 2532 Alki Ave SW (formerly the home of Coastal Boutique which has moved up to the 3700 block of California Ave SW). 
The 1100 square foot space will carry bike brands like Kona, Marin, Niner,  Co-Motion, SE and Surly. Owner Ric Hutchens II is a veteran of cycling, starting when he was only 16 and finally opening his own store. The original location open since 1991 at 105 West Smith Street (the old Grainery building) in Kent will remain open, but Hutchens will be full time in the Alki location.
He named the shop because, "Any time I have a bad day I get on my bike and it's like my own therapy," Hutchens said, "I always feel much better and rejuvenated after." He said he primarily rides Kona bikes himself.
The prices range from $250 for a kids bike "all the way up to $8,000 for a racing bike", Hutchens explained.
The shop offers a unique Free Tune-Ups for life policy for all new customers. "You can buy a bike online of course, but we provide tuning, fitting, training and service. That's what sets us apart," said Hutchens.
"We have bikes for all abilities, and we started as a family bike shop." The shop will also offer bike clothing, and a full range of safety gear from helmets to lights and reflectors, putting an emphasis on cycling safety.
They plan on serving commuters, road bike riders, and will even have electric and folding bikes available. 
The shop will have a soft open Nov. 16 open at 10am and their Grand Opening on Black Friday.
If you've got an older bike Cycle Therapy will take trade-ins using a service called BicycleBluebook that gets your bike evaluated and sold.