SHOP LOCAL: Sleigh the Sales in the Junction for Black Friday
SHOP LOCAL: Sleigh the Sales in the Junction for Black Friday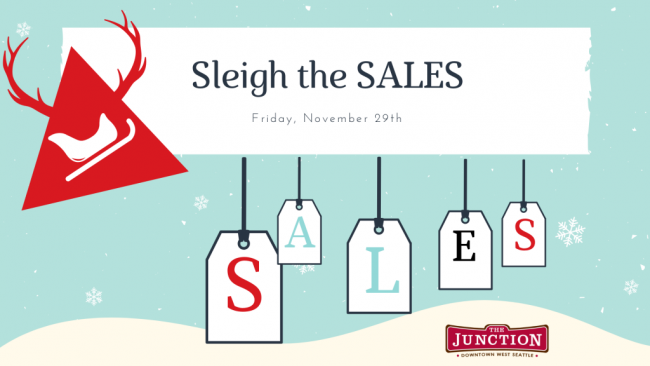 Wed, 11/27/2019
Sleigh the Sales is the West Seattle Junction's event to save you money and help you shop locally for Black Friday, Nov. 29
Fri, Nov 29th – Reign in some savings at one of the best days of the year to snag some sweet sales. Join the FB invite here.
At Bin 41 "Your Junction Wine Shop" – the bin is open from 11 AM – 3 PM with Apple Cider Mimosas and Bin Fizz sparkling cocktails, plus $1 off glass pour and sale on select items.
At Beer Junction Kicking off the 5th Annual Coffee Beer Fest during Sleigh the Sales! 20+ Coffee Beers on tap including ones from Holy Mountain, Best of Hands, and Skookum! Also on Friday, we're also doing the annual release for Goose Island Brewing's acclaimed Bourbon County Brand Stout (and Bourbon County Brand Stout Variants).
At CAPERS serving up hot beverages and enjoying the neighborhood.
At City Mouse Studio 25% off all Clothing and Shoes & up to 60% off all sale items!
At Easy Street Records its Record Store Day! – 7am Exclusive Record Store Day Black Friday titles, vinyl giveaways and we are releasing a very limited edition Easy Street x Mystery Made Coaches Jacket, available in-store ONLY 12/29.
At Elliott Bay Brewing Noale Holiday Ale is now on tap. We will also be selling 1/2 off growler fills on our house beers through Friday (Sleigh the Sales).
At Emerald Water Anglers BLACK FLYDAY PROMOTION* With a purchase of any single hand fly rod, you will receive a gift certificate for a 1hr single hand casting lesson from one of our expert casting instructors. The promotion is valid throughout the whole weekend (11/29-12/1) and can be redeemed for any of our single hand casting classes throughout the year. We want to thank all of you for shopping local this year for the holidays and always appreciate the effort to make it to the shop!
At Lika Love Boutique $30, $40 and $50 sale items available from 9-11.
At Nurturing Expressions 20% off selected items.
At Row House 50% off the first two months of unlimited and 8x monthly memberships for new members and 30% off retail sale.
At VAIN BLACKOUT SALE everything black in our store is 15% off.
At West Seattle Verizon $350 OFF all Samsung Note 9, Note 10 and Note 10 5G phones. Also all S 10 phones and 5G phones. No trade in Required. Must be on any Unlimited plan. $200 OFF iPhone XS MAX 64GB Silver ( limited Supply). Add any Apple watch and the discount raises to $300. No trade in Required. Must be on any Unlimited plan.