Controversial wood sculpture destroyed in car crash
Controversial wood sculpture destroyed in car crash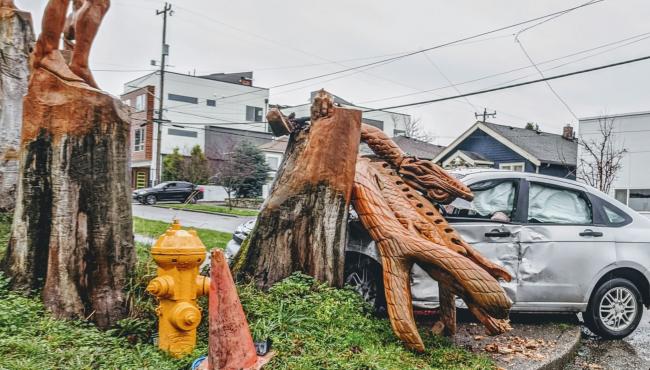 Wed, 01/29/2020
 A motor vehicle incident involving a van and a car, resulted in the destruction of a hand carved piece of public art at the corner of 44th SW and SW Brandon on Wednesday morning.
No person was hurt in the incident that involved a van and a car. The van was eastbound on Brandon street SW that hit the car that was northbound, sending it into the sculpture.
The sculptures now around ten years old have drawn both attention and controversy from passersby and neighbors. They were created from elm trees that were invaded by Dutch Elm Beetles. The city demanded he take them down. But the owner John Schlick knew that the beetles live in the bark of the tree so, he cut the tops off and took off the bark, leaving bare but still tall stumps. 
Schlick chose to have them carved into what the city has determined is public art.
They are controversial with some, especially a few of his neighbors, most likely because one of the figures is a naked female form albeit with six breasts.
"I felt that mythological/fantasy beings were a good match for the spirit of the trees that were being used. I wanted an edge of eroticism to them to foster conversation since we live in a very very very sex negative society."
That led to some unhappiness Schlick said, "I have one neighbor that calls the city to complain about me about once every two weeks."
Nonetheless, "In general, I think the response is %90 that people love it, and %10 hate it (due to the erotic subtext of it)."
Schlick said, "it might be able to be replaced for as little as $20,000" but suspects the actual cost would be far higher.
Schlick is no stranger to controversy of course since his home and yard have drawn attention for years. He has a sculpture atop his chimney and some unusual brickwork in it. He has slowly been making changes to the property over time. But some neighbors have made it clear they do not approve. He is not bothered by it at all and considers what he has done to be both interesting and compelling. "here is the thing I always wanted people to take away from the work I'm doing on the house...I want for people to say: Oh, progress has been made. And it's cooler now. Maybe I could do something to my own house. I want people to be inspired to do their OWN art. And sadly very few people take that message away from seeing it. It's also kind of a take on personal responsibility."
But beyond the car crash, according to Community naturalist and conservation specialist Kersti Elisabeth Muul, all the stumps are rotted including the one that fell. Muul has no problem with the art but recommends they all be cut down and displayed as sculptures in the yard. She said, if that "stump wasn't rotten it would have not fallen in the manner that it did."