Herbold: Delridge Way SW – RapidRide H Line Project: SDOT final report
Herbold: Delridge Way SW – RapidRide H Line Project: SDOT final report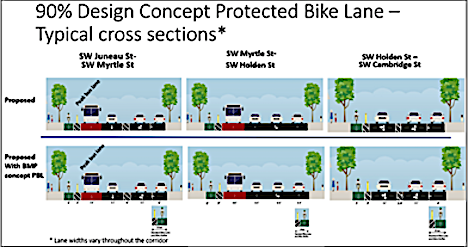 Mon, 03/02/2020
Seattle City Councilmember Lisa Herbold shared this update via her newletter to consituents:
SDOT has delivered a report the Council required for the Delridge Way SW - H Line project in a budget action. The report includes an update on SDOT's work on final design and construction schedule, and response to community suggestions, and why they were or weren't included.
The report requested SDOT report back on several items, including public outreach, feedback, changes from 90% to 100% design; status of funding; construction schedule; business outreach and engagement; pedestrian access and crossing at bus stops; decisions regarding 24/7 bus lanes; implementation of Bicycle Master Plan (included in last week's newsletter), and consideration of a traffic diverter and speed humps where cut-through traffic is occurring.
Project work is scheduled to begin in early summer of this year, and continue through late 2021 or early 2022. In September 2021, bus route 120 is planned for conversion to the Rapid Ride H Line. The project includes re-paving of the roadway from SW Orchard to SW Andover.
Changes included in 100% design compared to 90% design include reducing the level of pavement restoration between Andover and the West Seattle Bridge, to avoid the need to remove new pavement if Sound Transit builds a Delridge station at that location; adding an emergency cut-through for Fire Department emergency access north of SW Hudson Street; and improvements for bicycle safety on the Delridge Neighborhood Greenway on 26th Avenue SW.
SDOT outreach to organizations and businesses is included in an appendix.
Here's a link to the report.