UPDATE: Welcome to West Seattle sign defaced with spray paint; Volunteers show up to get it clean
UPDATE: Welcome to West Seattle sign defaced with spray paint; Volunteers show up to get it clean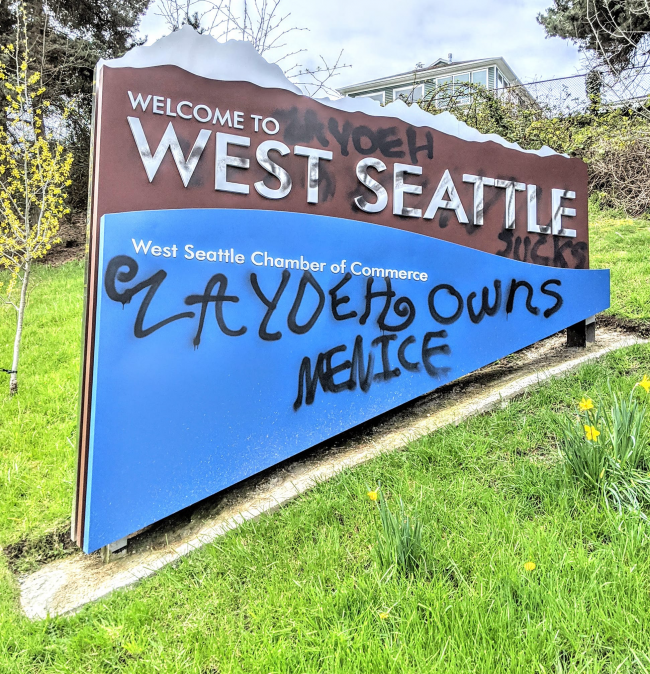 Mon, 04/06/2020
Update 2 on April 6
It's CLEAN! thanks to Abinadi Hezezuky Velazquez the welcome sign is now clean. He said on Facebook "went through a bottle of Krud Kutter. Now all this needs is a pressure wash!!"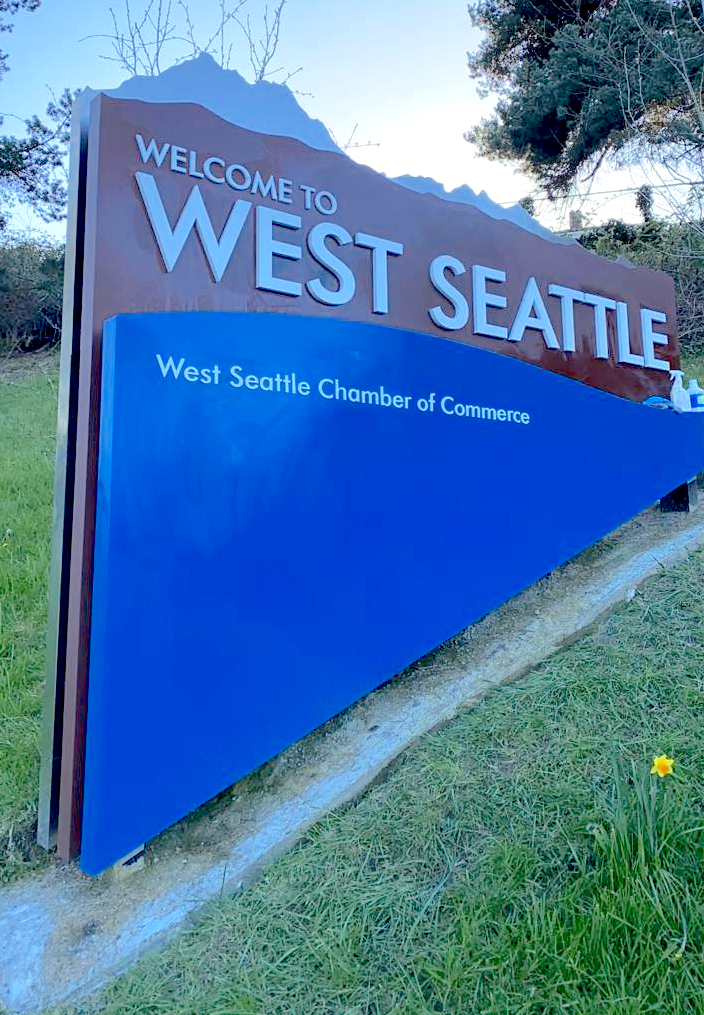 Update April 6
After seeing our story and understanding the need to remove graffiti as soon as possible, Shawn Millard of West of Chicago Pizza took it upon himself to go the site of the Welcome to West Seattle sign on the West Seattle Freeway, west of the now closed West Seattle Bridge, and clean the sign. It had been badly tagged with black spray paint. Julia Jordan, Exec. Director of the West Seattle Chamber of Commerce said, "SHOUT OUT and a huge THANK YOU to @Shawn Millard of West of Chicago Pizza Company for coming to the rescue! Knowing that VOY Home Services can't get out there until tomorrow, he started the process to restore our sign to its original beauty!!!!! There is such love ❤️ in this city!!! This is one of the MANY REASONS, West Seattle is the BEST SEATTLE!!!!!!!!!!!!"
The sign still needs more cleaning but it will be restored soon.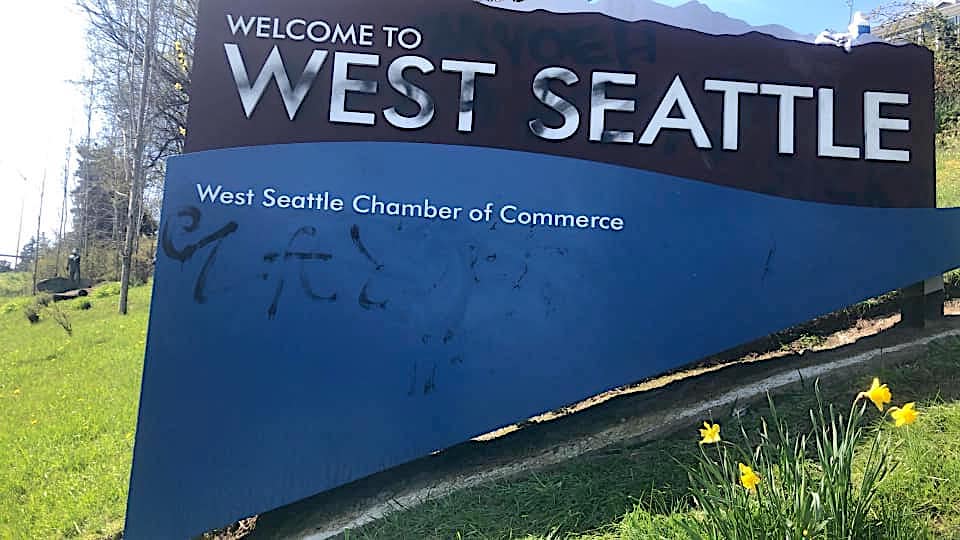 Original post April 5
Installed less than a year ago the Welcome to West Seattle sign has been defaced with graffiti. Reported by Christopher B. Barnes, on Sunday, the sign has been tagged with black spray paint. Drivers of course cannot see it. But some people have been walking down to the road, even walking on the bridge, frowned on by the Seattle Police who stop them and remove them. The bridge was closed on March 23 since serious cracks had formed and grew quickly which prompted an immediate closure. SDOT is working on a plan for repairs.
The sign was set in motion by Lynn Dennis at the West Seattle Chamber of Commerce in 2018  and funded by local philanthropist Adah Cruzen. Julia Jordan, now Executive Director of the  Chamber who finalized the project installation of the sign said, "I am absolutely saddened and dismayed to see in a time when the community needs each other the most that someone would deface this beautiful sign into the gateway of our West Seattle. Times like these we need to be good neighbors, to pull together as one community, support our businesses and do the best we can to overcome these obstacles."
Jordan said this will be addressed immediately and assured the community, "We have a coating on the sign for easy removal of graffiti."