OP-ED: The bridge is history; It's time for an Immersed Tube Tunnel
OP-ED: The bridge is history; It's time for an Immersed Tube Tunnel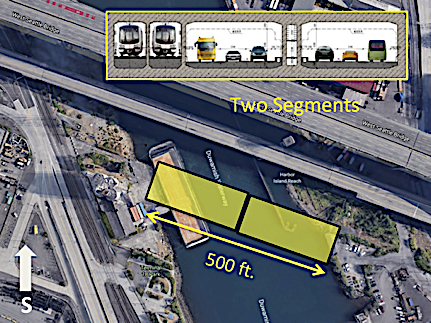 Fri, 04/24/2020
By Bob Ortblad
Civil Engineer (ret), MBA, CPA
All the king's horses and all the king's men

Couldn't put Humpty together again.

 
The West Seattle-High Level Bridge is a shallow arch bridge supported by two box girders. These box girders have a thin concrete shell. Restoring the strength of these cracked girders can be compared to super-gluing a cracked egg. Cracks have crossed the box girder floors and climbed up the walls at 45 degrees to within inches of their roofs. 
These cracks are forming a 200-foot long, 4,000-ton upside-down keystone.
Even if the bridge is somehow repaired, it will be forever crippled. Nevertheless, the city plans to spend a stopgap $33 million to shore it up and prevent a complete collapse.
History doesn't repeat itself but it often rhymes
Let's not repeat past mistakes. The current West Seattle Bridge was built on fill and loose alluvial soil. To support the bridge, 200-foot pilings were driven into firm glacial deposits. Pile caps and 150-foot bridge piers were built on these pilings. Then a 15,000-ton, 590-foot concrete arch was built between the center bridge piers. An earthquake would liquefy much of the fill and loose alluvial soil, leaving the heavy center arch swaying 350 feet from solid glacial ground. The current bridge was also built with a 6% grade making it dangerously slippery during wet and icy conditions. This grade also increases traffic danger by slowing heavy trucks and transit vehicles.
Let's consider a safer alternative that can be far less expensive and faster to build.
In 1956, three decades before the West Seattle Bridge was built, British Columbia built the George Massey Immersed Tube Tunnel (ITT) under the Fraser River. Before SDOT spends millions on bridge consultants, they should travel through this tunnel under the Fraser River to Vancouver.  Every day 80,000 vehicles use this 4-lane tunnel. The tunnel is now beyond capacity and in a unanimous vote, Metro Vancouver's board of directors has backed a task force's recommendation to parallel the aging George Massey tunnel with a new eight-lane immersed tube tunnel, with six for vehicles, and two for light rail.
Metro Vancouver considered a high-level bridge but rejected it.
After British Columbia, SDOT should fly to Japan and travel through Japan's 25 earthquake resistant ITT's. Stop in Hong Kong and travel by car or train through the five ITT's that connect to the mainland, then drive to Macao through the world's longest ITT (4.2 miles).  Fly to the Netherlands and tour their 30 ITT's.  The Dutch are the most prolific builders of ITT's and world leaders in their design. 
Rotterdam's Maastunnel was completed in 1942 was Europe's first ITT and is the model for 150 others worldwide.
Washington State has a long history of casting concrete boxes and using them to create floating bridges across Lake Washington and Hood Canal. The Duwamish River is only 30 feet deep and about 500 feet wide. Two 250-foot long concrete boxes could be cast in Tacoma or Aberdeen and floated to the Duwamish, then sunk in a dredged trench. East and West down ramp trenches of about 1,000 feet long would connect to the tunnel.
An ITT can be built much faster and cost less than a new bridge. The George Massey Immersed Tube Tunnel built in1959 is four-times longer and almost twice as deep, and was built in two years and two months.  An ITT needs no costly piles, bridge piers, or complex, heavy, long span center arch. An ITT is an ideal soft ground solution. Its natural buoyancy, makes it almost immune to earthquake liquefaction.
A tunnel offers a simple and economical design for light rail. One of Sound Transit's proposed routes to West Seattle is north of the swing bridge.  It would be an ideal location for an ITT because construction could start even while the current bridge is being shored or later demolished.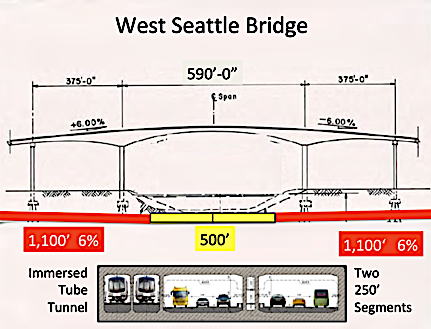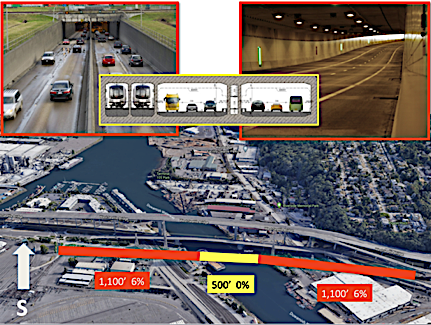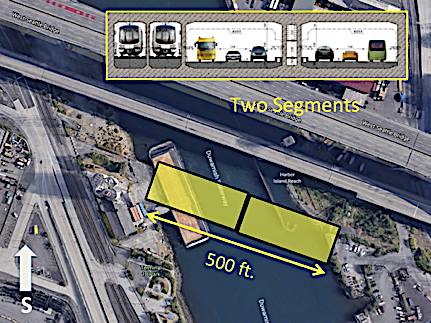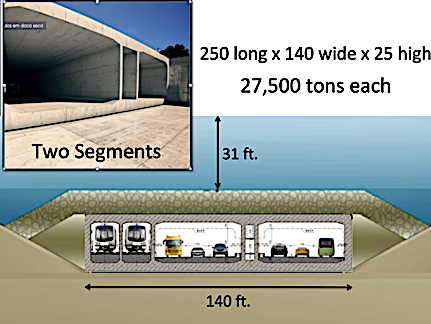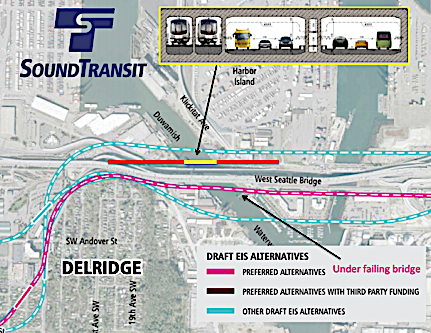 Reference YouTube links:

George Massey Crossing – Tunnel Concept

TEC immersed tunnels

Construction of the George Massey Tunnel 1957-1959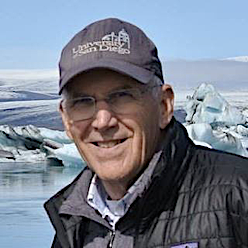 Bob Ortblad is a retired Civil Engineer, MBA and CPA. He teaches a University of Washington class on the history of infrastructure and recently presented "Who Built Seattle" at Seattle Town Hall. He has lived on Capitol Hill for 40 years.