Herbold: Highland Park Way/SW Holden safety project update; Take the survey
Herbold: Highland Park Way/SW Holden safety project update; Take the survey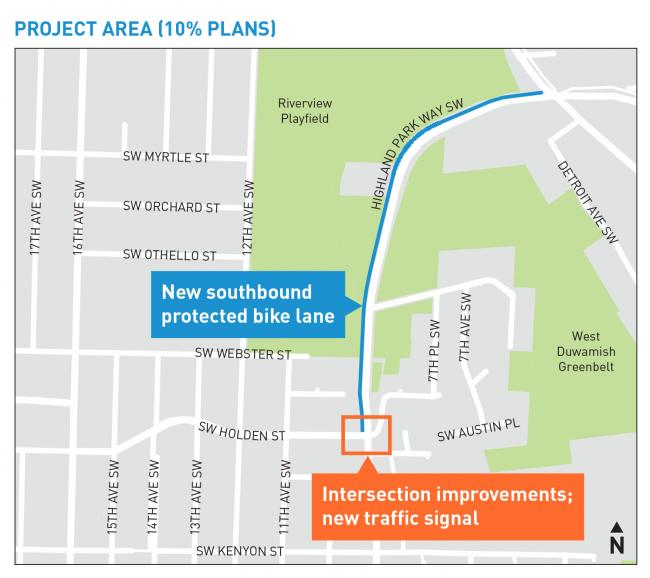 Sat, 05/23/2020
Seattle City Councilmember Lisa Herbold shared this information in her constituent newsletter
After the closure of the West Seattle Bridge, SDOT installed a temporary traffic signal at the intersection of Highland Park Way SW and SW Holden Street.
Before that, however, work had begun on permanent improvements to the intersection. Funding for early planning and design was first obtained in 2017; during the 2020 budget, the Council adopted funding for a permanent signal, or a roundabout. SDOT has now reached 10% design for a signal, and other improvements (funding is not sufficient for a roundabout).
SDOT's 10% design is available at the Highland Park Way SW and SW Holden St Safety Project website. You can fill out a survey there and share your thoughts about the proposal, through May 31st.
There is a presentation on the website; here's a link to the presentation slides. The presentation notes the increased traffic seen at the intersection shortly after the closure of the West Seattle Bridge, and down the hill at West Marginal Way. SDOT has indicated they will continue to monitor traffic levels.
Proposed improvements in the project area (which goes beyond just the intersection) include a permanent traffic signal with left turn phasing at the Highland Park/Holden intersection; concrete curb bulbs and sidewalks, and widening the existing path that goes down the hill on the east side of Highland Park Way SW. SDOT also notes a potential southbound protected bike lane; the presentation notes it will be re-evaluated when traffic volumes normalize. The proposed improvements slide also notes evaluating 16th and Holden for left-turn signal phasing. A Your Voice Your Choice funding grant is funding adding a left-turn lane at the signal on 16th.
A design update and review meeting is planned for fall 2020, with implementation for neighborhood traffic calming in the 4th quarter of 2020, and construction in the 4th quarter of 2021.
You can take the project survey here; translation services are available at 206-727-8697.
Highland Park Way project presentation
SDOT