Salty's on Alki set to reopen July 2; West Seattle's biggest restaurant returns after 108 days
Salty's on Alki set to reopen July 2; West Seattle's biggest restaurant returns after 108 days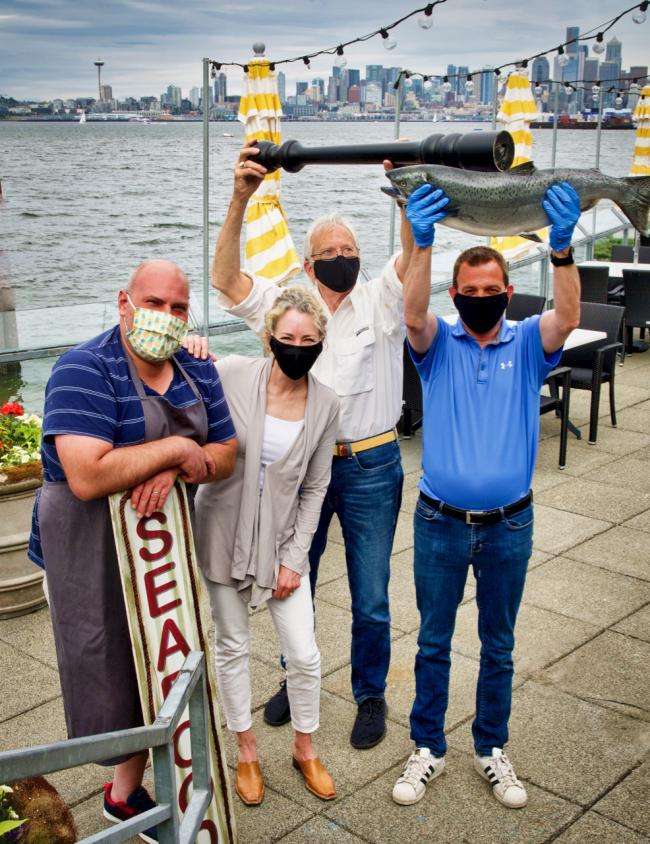 Sat, 06/27/2020
Salty's on Alki, West Seattle's largest and arguably most famous restaurant has been missing in action during the pandemic. Other restaurants have struggled with take out and and limited staff but Salty's owners Gerry and Kathryn Kingen chose to stay closed. The 18,000 square foot facility, with "The best view of Seattle in Seattle" has for nearly 40 years been a place for what Gerry calls, "Fun dining" which blends great food, top notch service, an upbeat atmosphere and that world class view of the Seattle skyline. That means Salty's has always been in large part about the experience.
They will open on July 2, operating from 2pm to 9pm with a "greatest hits" style menu featuring Salmon, Halibut, Treasure Cove Oysters, Clams, Crab Legs, Coconut Prawns, Lobster, their famous Seafood Chowder, Steak of the Day, Caesar Salad, Presidential Salad and White Chocolate Mousse Cake. The complete menu is still being finalized but will be around twenty items total, though, through mix and match could be larger. "We're going to have a lot of fun specials," said Chef Paolo Carey-DiGregorio, "And some items that are more lunch centric that will carry over well into dinner."
During the closure, they have not been idle. Kathy said, Oh my god there's a million things to take care of so, we've refurbished the restrooms, done a lot of painting, a lot of cleaning and a lot of rethinking about how we do what we do."
Two weeks after the opening Salty's plans to offer a series of cocktail kits and take-out items that will be appropriately packaged in the Salty's style. Blood Mary, Mimosa, Watermelon Margarita, and more.
One of Salty's most famous meals, their Sunday Brunch is returning too. General Manager Chris Dartz said firmly, "Brunch will be back," though it's exact form is still being worked out. "It may be individual chef stations where they handle the serving duties," said Gerry, "but we are absolutely bringing it back. People love it."
Chris said he expects given the large space they have, to be able to serve 290 people at a time, all with appropriate social distancing. Menus will all be viewable through your phone accessed with a QR code. The crew will be wearing masks, gloves and doing careful cleaning on a regular basis. But it's clear that there is pent up demand for something better than eating food from a bag at home.
"When people go out they are looking to scratch an itch," said Chris, "They are looking for the dining experience. It's more... 'I just want to get a cocktail and relax' so we are looking to build off that. "Remember how great it was to sit around and talk with your friends? Let's do that...We want to be open for a lot of different reasons. For us it's more about... the world is sideways, we've all been at home too long, there's nothing nice in the news. Everybody needs to go back to doing something they love. So let's get the building open, let's get our employees back doing what they love, and get people in here who love coming here and work from there."
Their plan is to bring back as many employees as they can too. 
As a restaurant chain (they also operate Salty's of Redondo and Salty's in Portland, Oregon) they have a regional reputation. But the pandemic closure was only amplified by the more recent closure of the West Seattle Bridge. it's changed their marketing calculus. "Losing the cruise passenger business was tough," said Chris but even after the pandemic ends, the downtown hotels who would regularly send guests to Salty's will find it much more difficult. 
"We are proud West Seattleites," said Kathy, pointing to their 37 years here, and Gerry, Kathy and Chris all said they are looking to the local community for support. What if the virus comes back in bigger wave? They will weather the storm, said Gerry, even though "That would be an economic disaster," but added that Salty's remaining as one of West Seattle's crown jewels "is a safe bet."
Darst concluded, "We are going to be offering a clean, safe environment. But once you are here we want to you relax. Turn off the news, put your phone down, and enjoy yourself."
Salty's on Alki is located at 1936 Harbor Ave SW. Phone 206-937-1600