Herbold: July update on West Seattle Bridge short term repair process
Herbold: July update on West Seattle Bridge short term repair process
Thu, 07/02/2020
District 1 City Councilmember Lisa Herbold shared this update on the West Seattle Bridge repair process:
Next week SDOT will be releasing a draft "Reconnect West Seattle Mobility Action Plan" on their website.  This will include specific neighborhood plans for four areas: Highland Park/Riverview/South Delridge/Roxhill, South Park, Georgetown, and SODO; it will also include modal plans such as freight and bicycle. There will be a public comment period about which projects within the plans to prioritize; feel free to send comments to me as well. The plans will be presented to the West Seattle Bridge Community Task Force on July 8 and 22.
SDOT has begun stabilization work on the bridge, which is a necessary step whether rebuilding the bridge or removing and replacing it. SDOT notes, "Though our recent analysis indicates that repairing the West Seattle High-Rise Bridge may be possible, we still do not know how much repairs would cost, how long they would take, how many lanes could be restored, and whether repairs would last long enough to be a worthwhile investment."
Some of the stabilization work will involve "hydro-demolition" of concrete (similar to high power pressure washing) to open holes without damaging the rebar or steel tendons (that's why a drill isn't being used). Crews will open over 100 holes, which will take at least two weeks.

After the holes are created, work platforms can be hoisted up from a barge. This will allow work to be done from both the top and underside of bridge, so that stabilization measures can proceed; initial carbon fiber wrapping could begin as soon as late July with external post-tensioning to follow.
Below is a diagram of post-tensioning strands and anchor bolts located in the bridge girder. They won't be visible from the outside except where they anchor to the bottom of the bridge: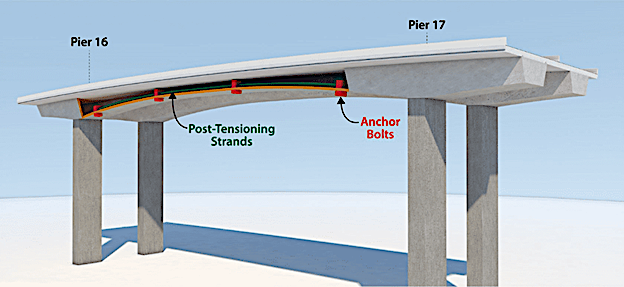 SDOT indicates the initial carbon fiber wrapping will take around 10 weeks. Post-tensioning strand installation will begin shortly after, and take a week or two. After these stabilization measures, work on releasing the bearings on Pier 18 take place. After that, SDOT will complete carbon fiber wrapping and post-tensioning.
During the last week, I attended SDOT's monthly meeting with employers and businesses, as well as a town hall with Amazon, which has numerous employees who live in West Seattle.
As part of the Mayor's proposed adjustment to the 2020 budget, in response to the COVID crisis, the City Budget Office sent a memo that estimates bridge repair costs in 2020 to be $22.8 million:
West Seattle Bridge
While not specific to COVID19, funding the emergency repair activities for the West Seattle High Bridge will put additional pressure on the SDOT budget. SDOT estimates 2020 costs for bridge repair to be $22.8 million. To help fund 2020 costs for emergency repair work, SDOT will take on additional debt supported by an interfund loan in 2020. More funding will be required in 2021 and 2022.
Yesterday, the House of Representatives voted to pass H.R. 2, the Moving Forward Act, a $1.5 trillion critical investment in our infrastructure, including roads and highways, ferry and rail programs, and bridges all across the county.  My office has been working with Congresswoman Pramila Jayapal to make sure she has the best information about our West Seattle Bridge funding needs.  She has made the case to her colleagues that passage of H.R. 2 is "especially important as we work to ensure that our community has the resources necessary to repair or rebuild the West Seattle Bridge." The legislation that passed the House will now go to the Senate.
At the Community Task Force meeting last week, SDOT indicated they are seeking a declaration of emergency from the Governor; this requires first a declaration by the Mayor.  Because this will assist with funding and possibly permitting and contracting, I have been advocating for a declaration of emergency since the March closure.
Traffic counts continue to be high on West Marginal and Highland Park Way SW, and continue to increase above pre-COVID thresholds on the South Park Bridge and South Michigan Street; SW Roxbury is also above pre-COVID traffic counts: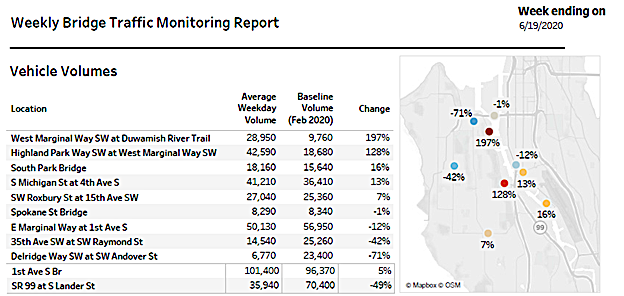 Here are the most recent travel times: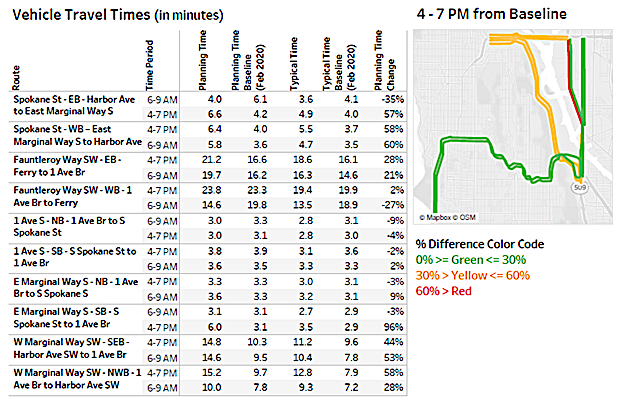 Beginning July 12, the 1st Avenue South Bridge will be closed overnight for up to 14 days in order to replace some of the grid decks. WSDOT operates this bridge. Closures will take place from 10 p.m. to 5 a.m., Sunday through Thursdays.
The Spokane Street (lower) bridge at the northern end of the peninsula is now open to general traffic between 9 p.m. and 5 a.m.