Short term repairs get underway on West Seattle Bridge; Multiple funding options discussed in Task Force meeting
Short term repairs get underway on West Seattle Bridge; Multiple funding options discussed in Task Force meeting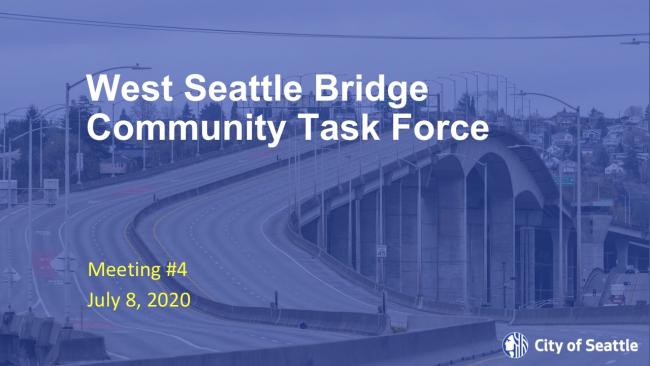 Wed, 07/08/2020
As crews got going with the short term stabilization repairs to the West Seattle Bridge, the Seattle Department of Transportation held its fourth Community Task Force online meeting July 8. The meeting was abbreviated as they attempted to do  "breakout" sessions for the Admiral area and South Park. But attendees had trouble accessing what they labeled an experiment. Former Mayor said his breakout session was "terriffic: and very different  from the larger meeting. Paulina Lopez who led the South Park group said it was "super helpful."
The meeting did bring up some new information.
Matt Donahue, said that SDOT was beginning the process of stabilization on the bridge and that they were already engaged in the cost/benefit analysis of repair or replace options with consultant WSP and the Technical Advisory Panel. 
Donahue mentioned that the tunnel option was going to get added to the cost/benefit analysis instead of waiting to do a type/size/replacement study in the future. They've asked WSP for a scope, schedule and fee estimate to add that option, "very high level" to the mix of potential paths going forward. He suggeted that as they finalize that work they will have more information for the Task Force in the weeks to come.
"We are excited to be on the bridge and doing this work to stabilize it," Donahue said. Kraemer, the construction contractor is, "actively on the bridge with a hyrdo dynamic demolition unit, cutting holes in the bridge so that we can take wire rope hoists that are mounted to steel frames. Hoist them on top of the bridge drop those wire ropes down through the holes that we cut for access and then pick up lifting frame that's currently sitting next to the bridge on Pier 17 on the high bridge and Pier 7 on the Swing Bridge. 
SDOT's Heather Marx reviewed some funding issues.
Repair or Replacement Will Be Expensive
The upcoming Cost-Benefit Analysis (CBA) will compare repair and replacement scenarios using a broad range of criteria

Draft criteria will be presented to the Community Task Force in August

No matter which path we select, we will need to explore every funding option

It is unlikely that any one funding option will be enough, so we will have to pursue many options

SDOT is taking necessary steps to be ready to take advantage of funding opportunities
Exploring Many Ways to Pay
Funding – money we could receive
Re-purposed SDOT funds from other programs

Direct Federal Appropriation

State and Federal Grants

Loans, such as Transportation

Infrastructure Financing

and Innovation Act (TIFIA) Loans

Partnershipswithotherlocal

authorities
Finance - how we could pay it back
• A municipal bond sale – also known as "debt financing"
• Tolling
• Public-Private Partnerships
• Voter measure (property tax, lid lift) • Value Capture – Local Improvement
Districts, user fees, impact fees
The breakout sessions brought up a range of issues.
Group A discussed:
The tunnel conversation should get more attention
Lower bridge access communication should be more clear
A potential toll will be divisive
Concern about things taking so long
Timeline more important than the cost
Direct bus access to downtown
Port has their own priorities but could be helpful with land use
Real estate is being affected
Traffic on West Marginal Way was of concern
More transit trips were advocated
Longer task force meetings were suggested
Clarifying timelines on what we are trying to acheive
Other neighborhoods need to be included in conversation
Coordination with SDOT Blog information distribution
Group B discussed:
Group B had double labor representatives and double legislative respresentatives
What is the status of motorcycles on the low bridge?
Speeding in South Park is of concern
The amount of traffic in Highland Park makes getting on the road difficult
SODO people say their businesses are essential and operating but frieight is being impacted
Lander overpass will likely open in the Fall
Georgetown is slammed with traffic
Who is missing? Building trades are not in the discussion
Funding models were discussed
Make sure that high labor standards are maintained
WS Junction was talked about with Covid 19 and bridge both impacting it
Conversation with Dow's office will use all channels to get all information out
Eileen Cody said people are eager for people to make decisions and not over think it
Mayor Nickels said you never have all the funding right up front
Congestion pricing was discussed
Might be easier to do the whole replacement at once
Giving people the ability to plan their life by offering a vision of how it could be
SDOT shared much of their thinking in a press release that preceded the meeting.
We are continuing to pursue all options to reopen the West Seattle High-Rise Bridge as quickly as possible.
Last week, our construction crews began work on the initial bridge stabilizationwhich is a necessary first step toward either repairing or replacing the bridge. Meanwhile, we are still working to better understand whether repairing the bridge could be a feasible and advisable investment, and simultaneously moving forward with our search for a team to design a replacement bridge or tunnel in case repairs are not the best option. We will also evaluate various methods for accelerated project delivery that gets us the best product in the shortest possible time.
In every scenario, one of the most important steps we must take to restore travel across the Duwamish River is securing the needed funding.
We have begun the process of looking into all possible funding options to carry out this work. Today we want to provide you with an overview of what those options look like and might entail. 
There are three components to funding:  
First: Most importantly, what is best for West Seattle and the surrounding communities will drive our decision-making when it comes to repairing or replacing the High-Rise Bridge. We must also be poised to meet the financial requirements as data and close examination by the Technical Advisory Panel and the leadership of our Community Task Force bring into relief the best path forward. Considering all funding options now is essential so that we will be ready to continue moving quickly throughout the project.
Second: It is very likely that any repair or replace scenario would exceed the City's financial means without outside funding, even in the very best of economic times. This is all the more true now, in the midst of an economic recovery and diminished revenue streams.
Third: Like every major city in the United States, Seattle is stepping up to the challenge of maintaining our aging infrastructure in the face of grossly insufficient funding support from the federal government. Federal infrastructure investment in relation to gross domestic product has fallen by half over the last 35 years, leaving a disproportionate bulk of this burden to state and local governments to deal with a $123 billion backlog of unfunded bridge rehabilitation needs. Despite these challenges, we continue to prioritize the safety and resiliency of our transportation infrastructure while simultaneously making the new investments necessary to keep our city moving as our population grows at unprecedented rates.
Acknowledging these three realities early on, we began having conversations internally, with other government agencies, and elected officials about funding almost immediately after the bridge was closed. Moving forward, we will continue these conversations as we work to better understand our options and the needs of the project. 
At this point, we are still working to research how realistic each option would be, but have not made any final decisions.
Just because a funding option is being researched, discussed, or noted here does not indicate that we think it is a probable source of funding. For now, we are keeping all options on the table and will not discontinue their consideration until the door has been fully shut. It is also very unlikely that any one option will cover all of the costs for this project, so a variety of funding sources will be necessary.  
Ultimately, these kinds of funding decisions will need to be based on an open public process along side local elected leaders, regional, state and federal partners, and the West Seattle Bridge Community Task Force.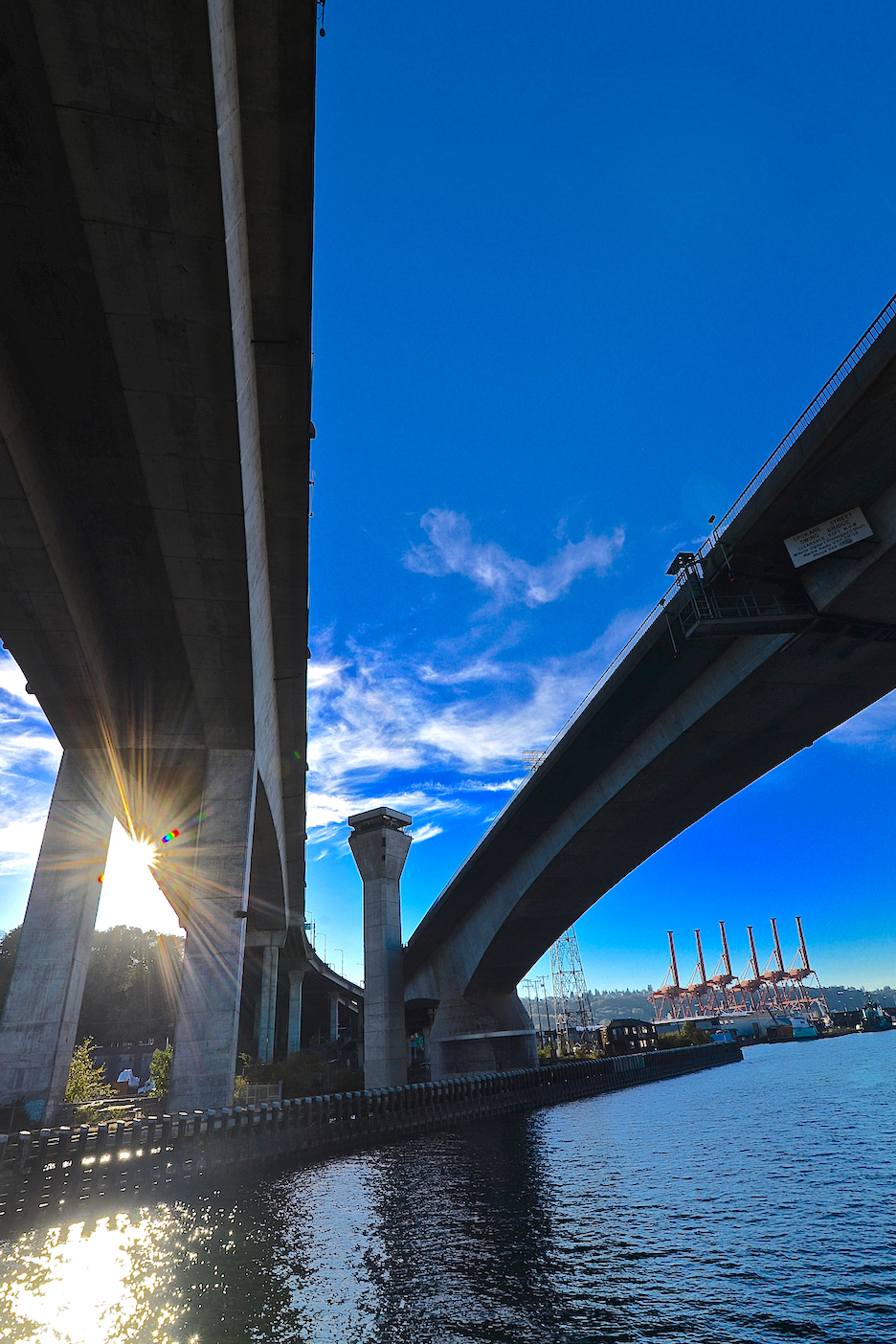 Photo of the West Seattle High-Rise Bridge and lower bridge by Patrick Robinson
Here is an update on all the possible funding options we have been considering or pursuing: 
Federal and State Funding Options:
We began having conversations with federal agencies and elected officials as soon as the bridge was closed in March. Some of the possible funding options we have been looking into include state and federal grants, federal loans, and close partnerships with our Congressional delegation. 
State and Federal Grants 
The majority of federal assistance for maintenance, repair, and replacement of bridges comes through the Federal-Aid Highway Program administered by Federal Highway Administration (FHWA). Nearly all of the funding in the Federal-Aid Highway Program is distributed by state department of transportations, who play a large role in determining how those resources are spent. The federal funds that flow through the Washington State Department of Transportation (WSDOT) to local jurisdictions can play a critical role for large transportation projects like repairing or replacing the High-Rise Bridge. 
In addition, United States Department of Transportation (USDOT) has federal grant programs that provide funding directly to grant recipients, including the INFRA (Infrastructure for Rebuilding America) Grant and the BUILD (Better Utilizing Investments to Leverage Development) Grant.
The INFRA Grant emphasizes projects that generate national or regional economic, mobility, and safety benefits.
The BUILD Grant supports capital projects which repair bridges or improve infrastructure to a state of good repair; projects that implement safety improvements to reduce fatalities and serious injuries, including improving grade crossings or providing shorter or more direct access to critical health services; projects that connect communities and people to jobs, services, and education; and, projects that anchor economic revitalization and job growth in communities. 
Federal Loans  
We are also exploring loans from the federal government through the Transportation Infrastructure Financing and Innovation Act (TIFIA). The TIFIA program, administered by the Department of Transportation's Build America Bureau, provides long-term, low-interest loans and other types of credit assistance for the construction of surface transportation projects. Just like applying for a home mortgage, it would be necessary for us to have a strong plan to repay these loans over time with local funding sources like gas taxes, tolls, or other local revenue. 
Close Partnership with Federal and State Elected Officials  
Securing federal funds and pursuing a federal loan will require a close partnership with our federal and state elected officials. When the High-Rise Bridge first opened in 1984, the project benefited greatly from a close partnership between our local elected leaders and our Congressional delegation to secure what's known as an "earmark", a practice that enables legislators to directly specify the project place, purpose, and funding amount in a bill or bill report language. While federal earmarks are no longer permitted, there are grant programs in USDOT that provide direct funding to local agencies, in addition to the federal transportation and infrastructure dollars allocated by formula and administered by federal agencies and WSDOT.  A close partnership with Washington's Congressional delegation and state elected officials has and will again play a critical role. As there are many avenues for securing federal assistance, advocacy and leadership in (the other) Washington and in Olympia will be critical and is already underway.
Local Funding Options:
We are also looking into local funding options. The entire City of Seattle is facing a significant budget shortfall due to COVID-19, so we must consider additional ways to supplement our current transportation funding.
Some examples of local funding methods used to pay for other Seattle bridges and transportation improvements have been bonds, property taxes, gas taxes, parking taxes, or local improvement districts.  Most recently and concretely, we've identified mitigations for West Seattle and the Duwamish Valley neighborhoods as a critical component of the proposed Seattle Transportation Benefit District (STBD) funding measures Mayor Durkan transmitted to Council yesterday.
Before we make any decisions about new local funding, however, we would need to study how much revenue could potentially be raised and make the decision alongside local elected leaders and the West Seattle Bridge Community Task Force. Some of these options, like the Seattle Transportation Benefit District or a property tax, could also require a public vote. 
We know that since we closed the High-Rise Bridge, some voices in the community have speculated that a toll could be part of any funding or financing strategy. While there are tolled state highways in Seattle like the SR 99 Tunnel and SR 520 Bridge, the City of Seattle currently does not operate any tolled roads. We know that there would be many questions around the possibility of tolling, such as how much a toll would be, how tolls would affect traffic on alternative routes, and what the impacts to individuals and communities would be. These questions deserve the same clear and transparent exploration we have provided from Day 1 of this project.
At this point we do not have enough information to answer these critical questions and have a transparent, informed, public dialogue. A first step in the near future will be conducting an "Investment Grade" Traffic and Revenue Study to better understand how much revenue could potentially be raised from tolling, including what various policy approaches would mean for toll rates and revenues. 
Very critically, this kind of study is also a necessary requirement to pursue other funding options, like federal TIFIA loans. This approach has been successfully used recently, from the Tappan Zee Bridge replacement in New York to the Ohio River Bridges project between Indiana and Kentucky to just across the pond by the City of Bellevue. To be pragmatic, to be prudent, we must pursue this option, and it starts by conducting this Traffic and Revenue Study. We expect to start our search for a consultant to conduct this study in the coming weeks. 
Conducting this kind of study does not lock us into any particular path, it just helps us understand the realm of possibilities and how things will change in the future.  
A Traffic and Revenue Study will also provide valuable insight into several other important questions beyond funding. For example, it will provide a comprehensive model of the types of trips which people in West Seattle need to make, and how transportation demand will shift over the next several decades in response to planned transportation projects like the future LINK light rail line to West Seattle. 
Another important outcome of this study will be to understand how people's travel habits would adjust in reaction to –tolls – like how many people would choose to change their route or take transit instead of paying a toll. This helps us make realistic financial predictions, and also helps make sure that we wouldn't create unintended consequences.
This study will be one important part of our decision-making process, but it will by no means be the only factor to consider. Specifically, any conversation about local taxes or tolling would need to specifically look at race, equity, and the financial impacts for families who already carry a heavy burden due to the unexpected bridge closure.
Right now, our goal is to thoroughly consider every option to pay for repairing or replacing the bridge.
These steps will help ensure that we can continue moving forward quickly when the time comes, remain flexible, and keep all our options open.  
Visit our West Seattle High-Rise Bridge website to stay up-to-date on the bridge, see frequently asked questions, view inspection reports, and find links to our West Seattle Bridge blogs.