Do you know these men? They pulled a smash and grab robbery at Wyatt's Jewelers in Westwood Village
Do you know these men? They pulled a smash and grab robbery at Wyatt's Jewelers in Westwood Village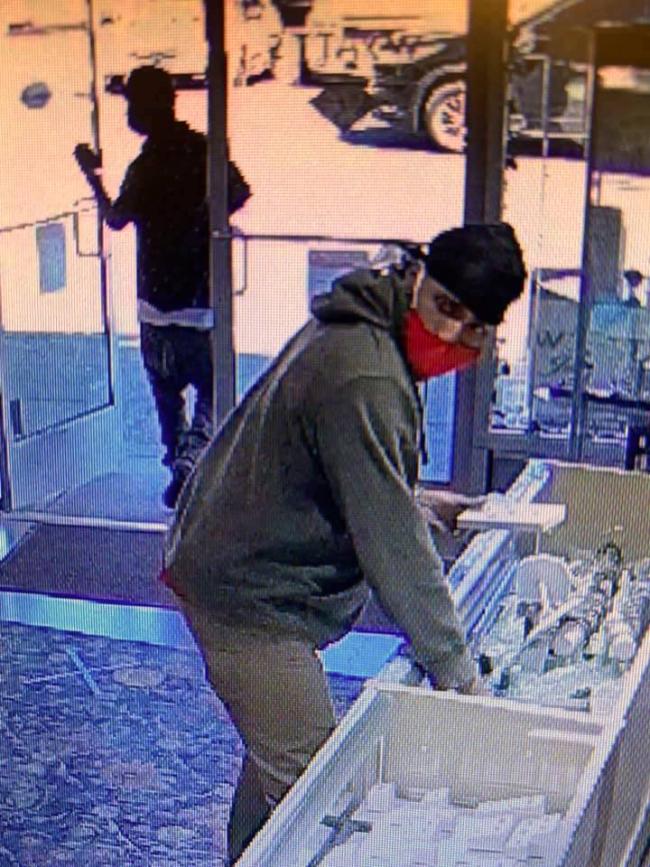 Mon, 07/20/2020
Crime takes no holidays and is happening around us all the time. It happened to the new owners of Wyatt's Jewelers in Westwood Village on July 14, when they were the victims of a smash and grab robbery.
Lauren and her husband Tyler have owned the store since November of last year and have been steadily expanding their business. But this was their first experience with such a blatant and violent act.
Lauren writes:

"Around 2:30pm on Tuesday July 14th, two young men walked into the store looking for a gift, one short and one tall. The shorter man had on a dark blue button up, black Air Jordan baseball cap, and yellow gold watches on both wrists.

The taller man had on a doo rag, a North Face hoodie, khaki pants, a watch on his left wrist, and Adidas sneakers. The shorter man was talking to the employee on the floor, asking for help. The other man kept his hands behind his back while looking at the jewelry on the other side of the store.

The shorter man kept changing his mind on what he was looking for and eventually found his way by the window case near the entrance of the store.

The shorter man then started to run out of the store as the taller man proceeded to pull a metal object out of his pocket and smashed into our men's jewelry case. He was able to grab a few trays of diamond / gold rings and a couple trays of fake alloy metal bands, then ran out towards the main street."
She filed a police report of course and is hoping that someone will recognize these men and call 911 to report their whereabouts. 
Comments
I was looking at the job posted for Junction location and saw this. 1 year ago and probably still stings! Jerks! I hope they caught them!