Seawolf class nuclear attack submarine comes home to Bremerton
Seawolf class nuclear attack submarine comes home to Bremerton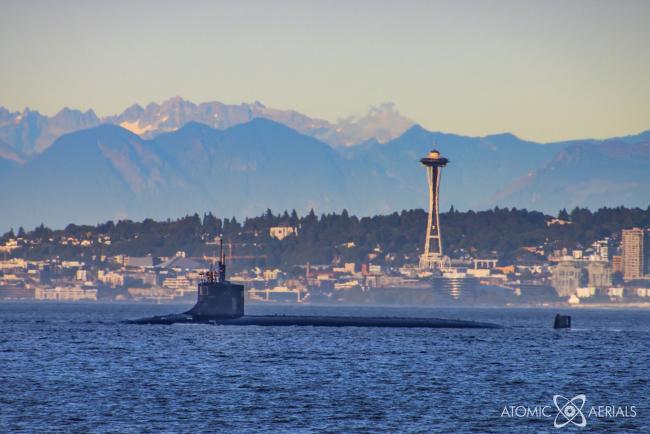 Thu, 09/03/2020
By Kevin Henry
A Seawolf class nuclear attack sub made its way through Puget Sound to its Bremerton base on Wednesday and could be seen from many spots on the west side.
Originally developed during the Cold War as a successor to the Los Angeles attack class, initially 29 Seawolfs were ordered at a cost of $3 billion each. Only one boat launched before the collapse of the USSR, and with the Soviet navy seemingly evaporating overnight, all but three of the submarines were cancelled.
The US Navy chose instead to build 66 Virginia-class multirole submarines at a cost of $2.8 billion each.
Unlike the enormous Ohio-class "boomer" subs that carry nuclear-tipped ballistic missiles, attack submarines are armed with conventional weapons like Tomahawk cruise missiles for land attack, Harpoon anti-ship missiles and conventional torpedoes. Whereas Ohio boats are just 50-feet shorter than the Space Needle is tall, the Seawolf is considerably smaller coming in at 350 feet in length and crewed by 140 sailors.
Submarines are unique yet not wholly-uncommon visitors to Puget Sound; all three Seawolf boats are homeported at Kitsap Naval Base, eight Ohio ballistic missile subs are stationed at Bangor, and subs of all types have visited Puget Sound Naval Yard over the years.
Between the substantial stockpile of nuclear weapons, nuclear submarines have long been characteristic of the Pacific Northwest. America's largest operational stockpile of nuclear weapons exists just 20 miles from downtown Seattle at the Strategic Weapons Facility Pacific facility, central and eastern Washington were dotted with more than 20 nuclear ICBM launch silos through the 1960s, and as recently as 1974 Seattle was ringed with short-range Nike nuclear missiles designed for shooting down aircraft.
Today you can visit Magnusson Park and see The Fin Project, an art installation of 22 dive planes from decommissioned Sturgeon-class submarines arranged to resemble dorsal fins of orcas.
Kevin Henry owns Atomic Aerials in Seattle an aerial imaging service