Stabilization work continues on West Seattle Bridge; Epoxy injections will continue
Stabilization work continues on West Seattle Bridge; Epoxy injections will continue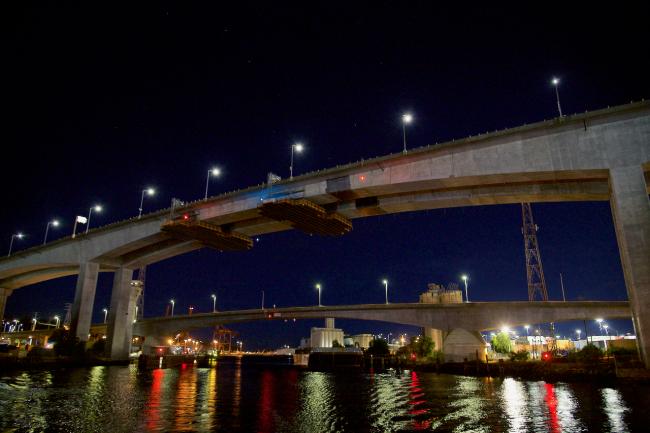 Fri, 09/04/2020
Kraemer North America, our contractor for the stabilization work, is working Monday through Saturday from 6 AM to 4:30 PM to stabilize the bridge. The stabilization work, which includes carbon fiber wrapping weakened areas of the bridge, adding post-tensioning inside the girders, and epoxy injecting cracks wider than 0.3mm is expected to continue for the next several months. The epoxy injections don't stabilize the bridge, but help to prevent further deterioration by protecting the post-tensioning steel inside from corrosion. 
Next week, the contractor is planning to:
Complete the first phase of filling cracks with epoxy
Begin the second phase of crack injection towards the middle of the bridge
Continue to inspect cracks
Place carbon fiber wrap around recently filled cracks
Continue installing the post tensioning system
During this work, you will see some crews working on top of and under the bridge. You will also see scaffolding and crews working on platforms suspended under the bridge. There is additional work taking place inside the bridge – including monitoring cracks and preparing for the installation of the additional post-tensioning strands – that you will not be able to see. We do not anticipate any additional traffic impacts from the West Seattle High-Rise Bridge construction work over the next few weeks.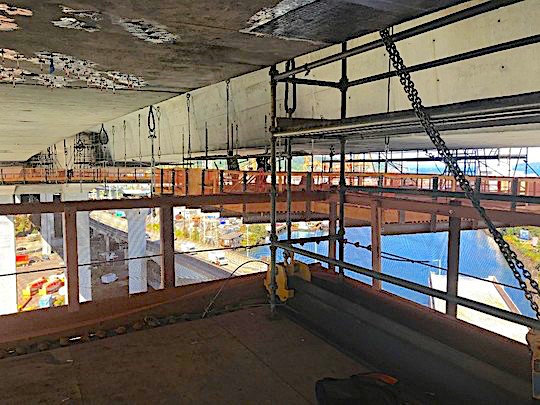 Crews use the work platforms already in place to build additional scaffolding. The scaffolding will be used to reach the exterior sides of the girders to apply the carbon fiber wrap.
Upcoming Work
Over the next few months, the contractor will continue stabilization work listed above and will also work to "release" the restrained bearing at Pier 18.
Work will occur on weekends, from 6 AM to 6 PM and could begin as soon as the weekend of September 19-20. While the majority of the traveling public will see little to no traffic impacts with the Pier 18 work, there may be lane reductions on Klickitat Ave SW and SW Klickitat Way on the west and south sides of Harbor Island. Our teams are coordinating closely with the Port of Seattle to mitigate traffic impacts.
This fall, we will make the final determination as to whether we will move forward with repairing the current bridge or replacing it with a new structure. With our replacement consultant HNTB on board, we are ready to pivot to designing the demolition and replacement structure, should it be determined that it's in the public's best interest to replace rather than repair. 
Past Work
Crews have been working hard since SDOT closed the bridge. They have: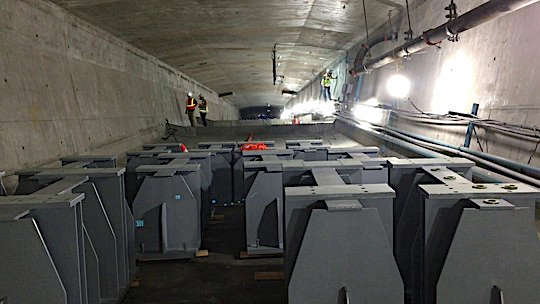 Crews work inside the High-Rise Bridge. In front, the post-tensioning brackets that will be used to reinforce the concrete can be seen.