4-story, 56-unit apartment bldg coming to 4800 40th SW
4-story, 56-unit apartment bldg coming to 4800 40th SW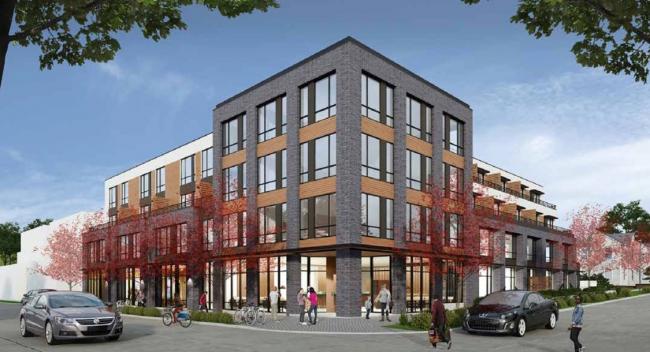 Tue, 09/08/2020
The site of Origins Cannabis at 4800 40th SW is set to be completely changed by yet another apartment building in West Seattle. The Seattle Department of Construction and Inspections has published a notice of a Land Use Application permit to allow a 4-story, 56-unit apartment building with 4 live-work units and retail. Parking for 44 vehicles proposed. The existing building will be demolished.
The proposed project consists of 56 residential units located on 4 levels above grade and 4 live-work units. The lobby, live work and commerical (5,656 SF) uses are located on L1, residential units on L2-L4, and one level of below grade parking (44 parking stalls) located on P1 accessed from the alley. There is a roof terrace and green house for residential amenity use.
For now called Braseth 40 the project is being designed by Clark/Barnes Architects.
From the Design Packet by Clark Barnes Architects
The project site, located at the southeast corner of the SW Edmunds St. and 40th Ave SW. The site is also located at the southern edge of the West Seattle Junction Urban Village. The Seattle 2035 neighborhood plan has targeted this area to aid in creating 'a small-town community with its own distinct identity comprised of a strong single family residential community and a vibrant mixed-use business district serving the surrounding residential core.'
The site is near the intersection of Fauntleroy Way SW and SW Alaska St. which is the first major hub when entering West Seattle from the West Seattle Bridge. This hub area has seen major density development and our site is on the buffer between the commercial and residential zones. SW Edmunds St. borders our site to the north and is "an important pedestrian connector" between the major thoroughfares of California Ave and Fauntleroy Way SW. This is a commercial corner that needs to aid in the transition from the commercial area of the Alaska-Fauntleroy hub to the north and the residential zone to the south by targeting future densities and establishing human scale elements, interest and activity along the street frontage.