Metro to resume fare collection Oct. 1; Mask wearing mandatory
Metro to resume fare collection Oct. 1; Mask wearing mandatory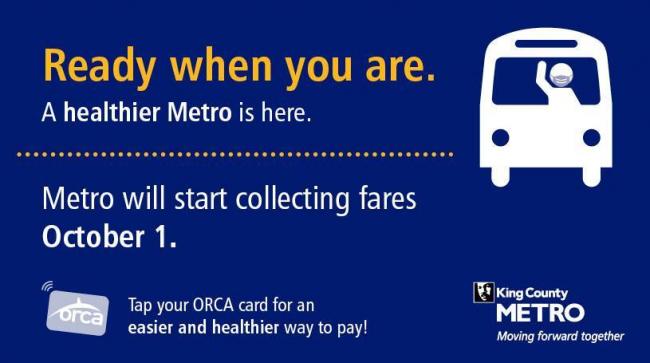 Fri, 09/25/2020
Metro will resume charging fares on Thursday, October 1.
While Metro has added several new safety measures, tapping your ORCA card is the fastest and healthiest way to pay your fare.
Please wear a mask, and abide by posted safety guidelines.
Current Metro service 
On September 19, Metro's fall service revisions began. Information is also available in the Special Rider Alert brochure and in new purple timetables.
Revisions include expanded transit service and improved mobility in the south and southeast areas of King County, modified service reductions in response to the ongoing impacts from the COVID pandemic and continued safety innovations and guidelines in preparation for the resumption of fare collection on October 1.
See below for information about Metro's fall service revisions, safe bus riding, service reductions in response to the COVID-19 pandemic and additional information resources. Visit Metro's service change page for complete information.
Route revisions
New routes: 160, 161, 162, 165 & 184.

Deleted routes: 

158, 159, 164, 166, 169, 180, 186, 192, DART routes 908, 910, 913, 916 & 952, & custom school bus routes 824, 823, 886, 887, 888 & 889.

Routes with routing or stop revisions: 118, 119, 148, 150, 168, 183 & DART routes 906, 914 & 917.

Other routes have minor schedule revisions; check timetables.
The fall service change period includes several holidays that affect bus service:
Community Ride & Rideshare
Community Ride is a reservation-based, on demand transportation service that travels within a service area instead of along a fixed route.
Sammamish Community Ride and Juanita Community Ride resumed operating with the fall service change.
Visit RideshareOnline.com to find a vanpool or carpool match for your commute.
Ride safely 
In accordance with King County Public Health guidelines, and for the safety of all transit riders and employees, Metro thanks riders for following safety policies and guidelines, including:
Wearing a mask or face covering is required in public places, on transit vehicles and at transit stops.

Stay home if you are sick.

Maintain 6 feet of distance from others.

Observe and abide by directions provided by posted signs and decals.
Watch for new or changing information.
Information
Transit service may be disrupted by planned or unexpected events 
In areas where there are crowds, traffic, weather or civic events - whether scheduled or unexpected - disrupting normal travel patterns or activities, transit riders are advised to be aware of conditions in their immediate vicinity, such as street closures or detours, and be prepared for delays or to make revisions to travel plans, such as using a different bus stop or a different route, based on specific circumstances.
Be prepared for unexpectedly revised traffic or routing, and for delays in transit service. Transit riders are encouraged to know the alternate stops or routes that may be near their starting points and destinations.
Depending on the time and the nature of such events, Metro may not be able to provide real-time information or service updates via email or text.  Event start and end times and other details may be subject to change.
For non-transit traffic or other local updates, check media sources, follow 
@seattledot 
or visit 
- https://twitter.com/seattledot 
- https://twitter.com/SeattlePD
Know before you go
During events that disrupt transit service, online customer information planning tools and third-party apps may be inaccurate. While these tools will be updated to reflect fall service change schedules, they may not reflect all temporary schedule changes. 
These systems may still provide useful information, such as maps and bus stop information.
Check to see the status of a trip by using 'Next Departures' in Metro's 

Trip Planner

, or 

Text for Departures

 by texting your stop ID to 62550.
Riders can also contact Metro Customer Information at 206-553-3000 Monday through Friday, 6 AM-8 PM, or reach us on the web using our 

comment form

 for assistance.
Sound Transit's Link and Sounder rail services and some ST Express bus routes may also be reduced. Transferring riders should check 

Sound Transit's service alerts

.