Mark your calendars for 10 days of Junction Harvest Fest Oct. 21-31
Mark your calendars for 10 days of Junction Harvest Fest Oct. 21-31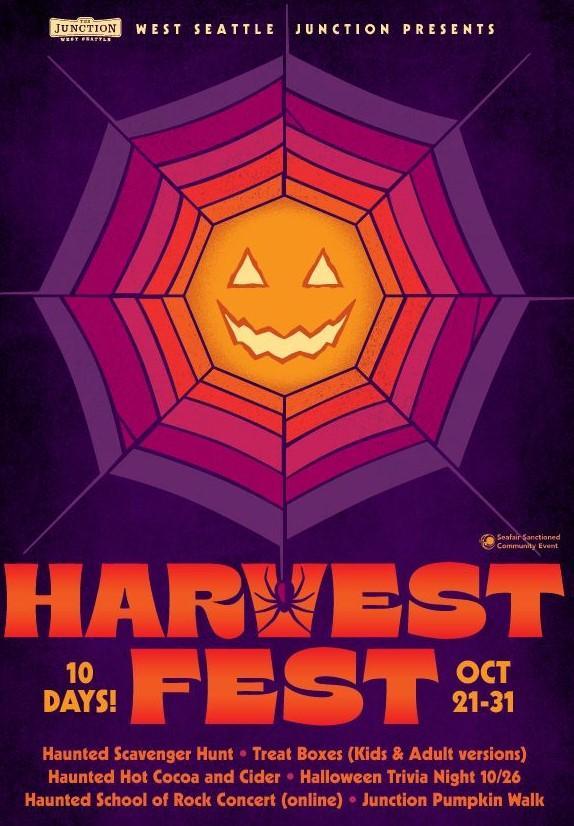 Sat, 10/10/2020
Quickly becoming a West Seattle beloved fall event, Harvest Fest will look different this year, but that won't stop the community donning costumes (kids, adults, and pets welcome!) for 10 days of Harvest-y fun. The West Seattle Junction can't close down California Ave for this fantastic fall festival, so your downtown is bringing Harvest Fest to you.
Harvest Fest Haunted Hunt Scavenger Map
Let the map be your guide! Little monsters and ghouls will be delighted to hunt around the Junction searching for the hidden treasures. Once you've found the item, cross it off the map then go to the shopkeeper for your special treat or prize. Double the fun by wearing costumes! This is great for families or adults (who are kids at heart).   
Harvest Fest Box for Kids
The Junction is bringing the joy of Harvest and Halloween in one special box. Each box has a seasonally-themed or musically-themed craft, individually wrapped Halloween treats, and a special surprise from the Junction! 200 boxes available $25 each - for kids ages 5 to 8. Purchase now through the Harvest Fest page!
Harvest Fest Box for Adults
The grown-up version of the Harvest Fest Box, this treat brings you all the local and cozy feelings of the season full of Junction ghostly delights.100 boxes available $45 each - $60 value - 21+ ID required. Purchase now through the Harvest Fest page!   
Haunted Hot Cocoa and Cider Trail
Take a sip of the season with a haunted hot cocoa or warmed apple cider, these potions are made with care from your local wizards and witches at Junction coffee shops. 
Pumpkin Walk in the Junction 
Take a stroll around the Junction to experience the gourds and decorations dotted throughout the Junction and displayed in windows. 
Haunted Concert (online) School of Rock
Join together online as the local bone rattlers shake and shimmy to some of the season's best howling good times. Halloween night! Saturday, October 31st.
Trivia Night hosted by Pegasus Book Exchange
Trivia Night the Monday before Halloween (October 26 from 7:30-9 pm). $25/team (up to 6 people, on Zoom). Prizes for every team that enters. Grand Prize is a choice of any rare book on our $300 (and under) wall or a Pegasus BOOk Flight for every team member, the winner chooses what they want. There will be extra prizes for Best Team Name, Best Costume(s), and Best Decorations. The 3 rounds will (most likely) be about books, movies, and candy (maybe Halloween history too!).