Menashe lights will be 10% of normal due to Covid-19 this year
Menashe lights will be 10% of normal due to Covid-19 this year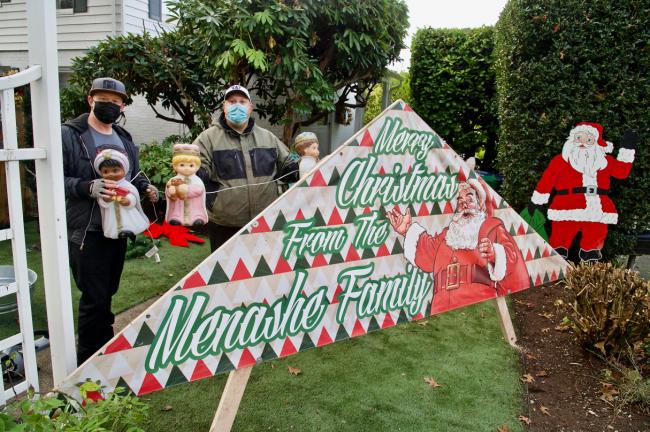 Sun, 11/29/2020
The  Menashe family Christmas light display so iconic it made it on national television will, of necessity be less this year, "about 10% of normal" according to family member Josh Mensahe. "We have so much in storage and so much we normally do, but this year we need people to be aware that it's just safer this way,"
The display, normally featuring tens of thousands of lights, animated displays, inflatable characters, and the reindeer on the roof will not have the same look. "We are going to use spotlights and floodlights to keep the display more controlled," said Menashe.
The entire collection often spreads out to their backyard on Beach Drive SW but most of it will be in storage until the pandemic passes. "I'm already dreaming up how to make it even more special when we come back next year, " he said.
In a message to the whole community the Menashe family said.
"Dear West Seattle Neighbors and friends,
Jack and Josh Menashe and family here. We want to thank you all sincerely for the many years of support, encouragement and participation with our annual holiday display. It's been an honor and a privilege to present it every year and see the enjoyment it brings.
This year however, we must do something different. In light of the pandemic and out of interest in public health we will be presenting a much more limited display.
It will be roughly 10% of our normal display. We know for some this will be disappointing. But we care so much for all of you we must scale it back this year.
In years past we have had many people stop, and park and see the handiwork of our helpers, led by Josh at our home on Beach Drive. We must ask you this year to just enjoy the lights from your car and remember we wish it was more.
We plan to be back next year, bigger and better than ever before. So, till then please have the happiest of holiday seasons. We thank you again for all your love and support.
Sincerely,
Jack and Josh Menashe and the entire Menashe Family"