SDOT provides a December update on the High-Rise Bridge Stabilization process
SDOT provides a December update on the High-Rise Bridge Stabilization process
Sat, 12/05/2020
information from Seattle Department of Transportation
We're close to concluding the emergency measures that we've been constructing since May to stabilize the bridge and prevent further cracking. This was necessary whether we chose to repair or replace the bridge. In the past two weeks, we installed the new lateral bearings at Pier 18 and continued to install carbon fiber wrapping.
Pier 18 bearing replacement
Last month, we released the damaged bearings at Pier 18, located on the east side of the Duwamish Waterway. Pier 18's neoprene lateral bearings were compressed and bulging, locking together two critical parts of the bridge that typically are independent of each other. This was creating additional pressure and preventing the bridge from moving as it should. 
Last week, we finished pouring and curing the concrete that will hold the new lateral bearings in place. We then released and removed temporary restraints to begin clearing the work site.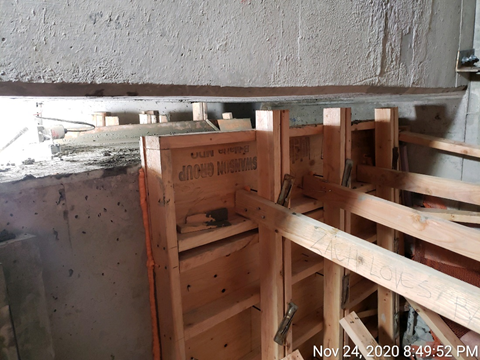 Carbon Fiber Wrapping
We're making progress on the last round of carbon fiber wrapping, and we're on track to complete it in mid-December. Carbon fiber wrapping helps support the now-stable and strengthened bridge. This is the last step in the stabilization project, and, once it's done, we'll lower work platforms. Following the conclusion of the stabilization project, we'll begin work on design and planning for the next phase of repair.
Upcoming work
Good news! We're on track to complete the stabilization work by the end of this year. As soon as the end of December, all work platforms will be lowered onto barges and temporary work structures will be removed. We'll continue 24/7 monitoring and regular visual inspections after stabilization work is complete.
Stabilization sets the stage for upcoming repairs of the West Seattle High-Rise Bridge. Stabilizing the bridge after we closed it to traffic was crucial to preventing further crack growth and preserving the structure's integrity. We've been implementing stabilization measures that will facilitate a smooth transition to repair.
Construction impacts  
Kraemer North America, our contractor for the stabilization work, is working Monday through Saturday from 6 AM to 4:30 PM to stabilize the bridge. People driving may see lane reductions on Klickitat Ave SW and SW Klickitat Way (on the west and south sides of Harbor Island).
Past work  
Stabilizing the High-Rise Bridge is necessary to preserve public safety and the integrity of the bridge as we continue the full bridge repair work. Check out our blog for information on the progress we've made since we closed the bridge in March.