A wistful childhood memory inspired a painting
A wistful childhood memory inspired a painting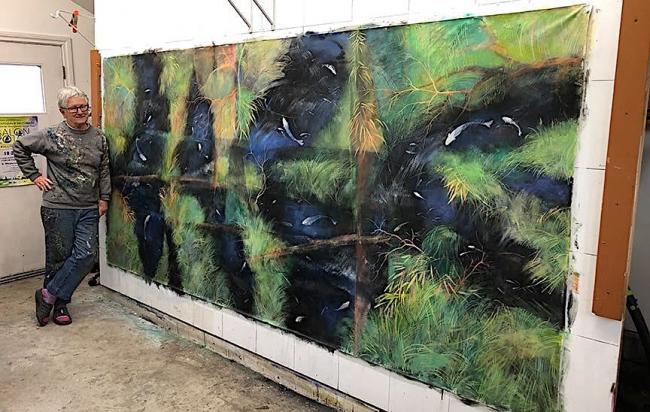 Sun, 12/20/2020
By Jennifer McCabe Carrasco
Finished! I carved out a week before Xmas this year to attempt a 10x6 foot vertical painting. No commission requisites, no ordained subject matter from on high, no style requirements nor painstaking designing and drawing……just my own personal work, which I have named "Fishing for Trout". The fish shapes are painted with pearlized iridescent paint, not white.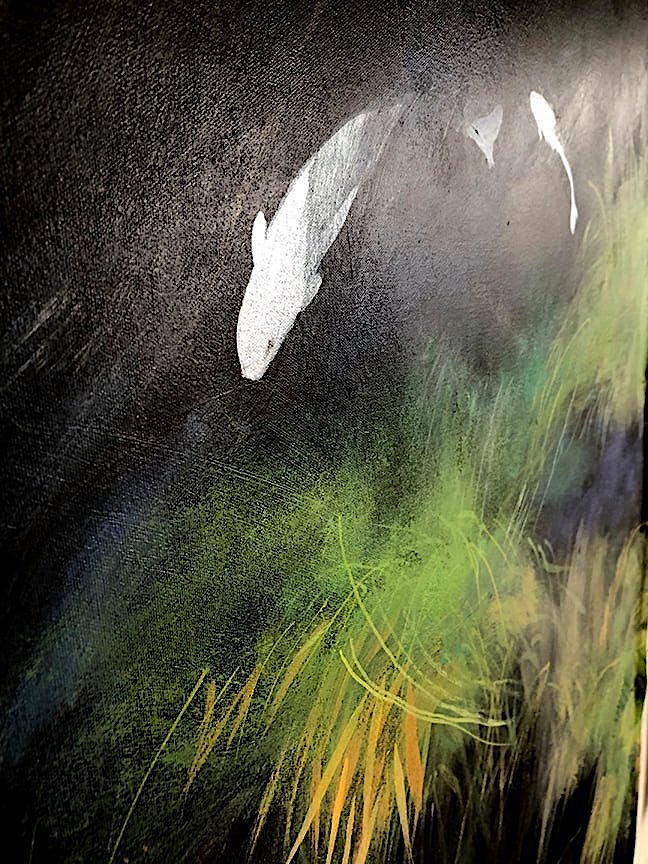 My vague plan was to use big brushes, lots of paint, draw on my themes of water in the landscape and let 'er rip. I can't express how engaged I was, how exultant I felt when I finished last night. This is the best gift this crappy year has given me.
Frankly, I wasn't sure if I could pull it off on a vertical canvas anymore.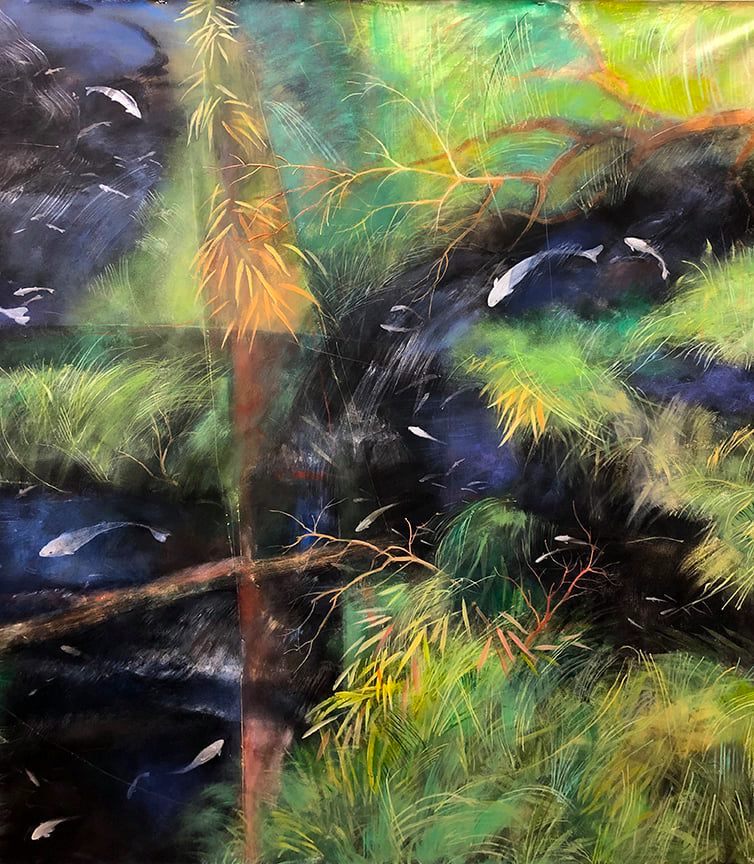 As I started laying in the first colors and division of space on my canvas, I remembered my summers of my days sloshing up and down the little Pataha creek in Pomeroy, Washington with my can of worms or jar of grasshoppers and my fishing rod…dropping my baited hook into a promising eddy, hoping I could catch a really big trout to take home and show to my Dad (an avid fly fisherman.) Dad had worked with the State hatchery in the Tucannon valley to supply the creek with fat hatchery rainbow trout, provided that the Pomeroy city commission stipulated only kids under 14 could fish the creek. My dad and I even helped the hatchery one spring with their yearly stocking of the stream. The fish were transported in a tank truck that looked like a milk truck….and a big long flexible tube attached to the tank as we stood on the upper banks of the Pataha (right behind the grain elevators) and the rainbow trout shot out into the water…Thrup! Thrup!
There were little native rainbows in the creek too, and they were a lot smarter than the tame hatchery fish, who \swam downstream and would take the bait no matter what.
This experience marked me forever. From the age of 8 to 14, I was basically a feral child in the summer. Mom would pack me a lunch and I was gone all day, until I heard Daddy's far reaching whistle to call me to dinner. (5 minutes to high tail home…no excuses!) I learned where the nettle patches were, the spearmint for Mom and Daddy's juleps, how to keep and cook the occasional crawdad, and where the beavers and the muskrats, and yes, the rats wandered. I learned how to clean and gut fish (you cleaned what you caught in our house) All this in days of quiet water sounds, the hum of insects, and dappled sunlight through willows and cottonwoods .
Years later, It made me sad to see the Pataha a mere trickle, and clogged with weeds to the point where it almost disappeared in places. Because it occasionally caused floods in the town, the city built a concrete channel to funnel the water so it wouldn't go onto the flood plane. Ergo, no place for the fish to hide and eat and breed. The water is almost gone. I suppose people are helping themselves to it for irrigation. And people are throwing trash into it. One time when my middle sister Megan and I were walking around in Pomeroy, we saw a TV thrown into the water, right in the place where Daddy and I helped stock rainbow trout.
Jennifer McCabe Carrasco is an artist and teacher in West Seattle. Her website is Carrasco Studio, https://carrascostudio.com/