A Look Back: Dr. Jill Biden visits SSCC at Boeing Field to promote Community College to Career
A Look Back: Dr. Jill Biden visits SSCC at Boeing Field to promote Community College to Career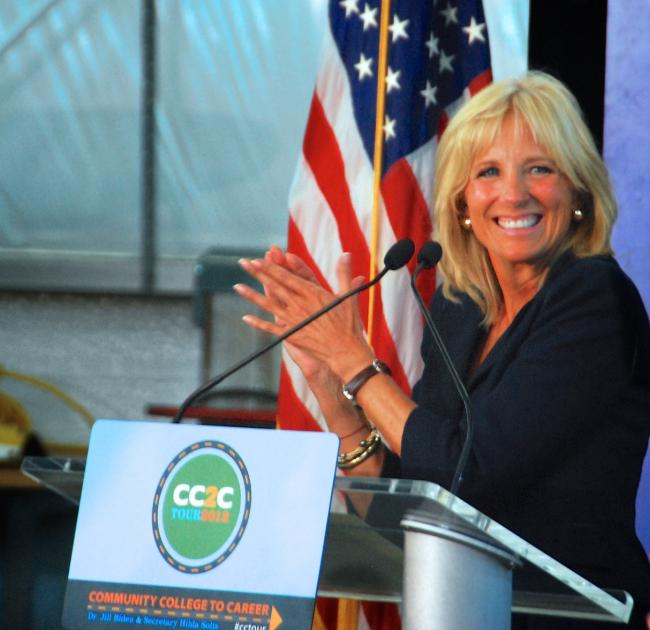 Patrick Robinson
Wed, 01/20/2021
EDITORS NOTE: This story that was published on July 9, 2012, is about our new First Lady Dr. Jill Biden. She came to Seattle to promote an education and career program and spoke at the campus of South Seattle College (formerly South Seattle Community College) located at Boeing Field.
The 2nd lady of the United States, Dr. Jill Biden paid a visit to the South Seattle Community College Boeing Field campus today, July 9, to promote a program called Community College to Career. She was joined by students from the SSCC Aviation Technology program and a panel of special guests including SSCC President Dr. Gary Oertli, Chancellor Dr. Jill Wakefield, Washington State Ferries Assistant Secretary David Moseley, Tim Copes, VP of manufacturing and quality for Boeing and students selected to share their stories for the event.
The program, initiated in February, hopes to train two million workers for high demand industries. The $8 billion Community College to Career fund provides funding for colleges and states to partner with businesses for training purposes.
Dr. Biden joined faculty and students where she spoke about the importance of community colleges in preparing people for the work force. She heard comments from several students who relayed their experience in gaining an education and then finding work.

One student Jason DeBuys a US Navy veteran where he worked on F-18's, talked about what it takes to get through the AMT program. He's part of it starting early at 7 a.m. then goes till noon, gets some rest, then heads to Boeing for his 10:30 p.m. to 6 a.m. on-site training job. He called SSCC "the perfect fit for me," and the father of two said, "Every day I wake up and it's kind of surreal that I'm doing this. I can only do this because of Boeing and the help of South Seattle Community College because I couldn't do it on my own (...) I just started a journey that's going to take me all kind of places in the aviation field." He shared that he just received his air frame license, which drew cheers and applause from the crowd.
Dr. Oertli, said, "It's really exciting that Dr. Biden has chosen us because we've received two of the Federal Department of Labor Grants and we're probably one of the only community colleges in the nation to receive part of these grants. One for $20 million that we share with other colleges in the State of Washington and nationally to train people for aerospace jobs. It's all about putting people back to work. We will train almost 200 students this year in our aviation maintenance program and in our composites technician program with about a 90% placement rate. They have jobs waiting for them. In fact, Boeing has been offering jobs to some of the students before they even complete the program." Oertli said enrollment is strong and the aviation maintenance program is running, "almost 24 hours a day." In his prepared remarks he noted that South is sharing in another $20 million grant that is helping prepare a national composites technician curriculum.
Dr. Jill Wakefield, who is the SSCC Chancellor said, "We're so excited to have Dr. Biden with us. She's a community college faculty member and I can think of no one who has promoted community colleges over the last four years more than she has. She really believes in the workforce mission. Part of her goal is to promote the great job community colleges are doing working with businesses to meet the skilled worker shortages."
Vice President Joseph Biden and Dr. Biden came to Seattle aboard Air Force Two with the VP here to headline a fundraiser for Democratic U.S. Sen. Maria Cantwell.
Dr. Biden said, "The common thread that I see through all the stories is that the students that have come through these programs really love their jobs (...) I feel like I was in the right place at the right time because my husband was chosen to be Vice President and I'm a community college instructor (...)There's so many options that community colleges offer."