West Seattle vs Cleveland this Saturday at 5pm; Watch the game online
West Seattle vs Cleveland this Saturday at 5pm; Watch the game online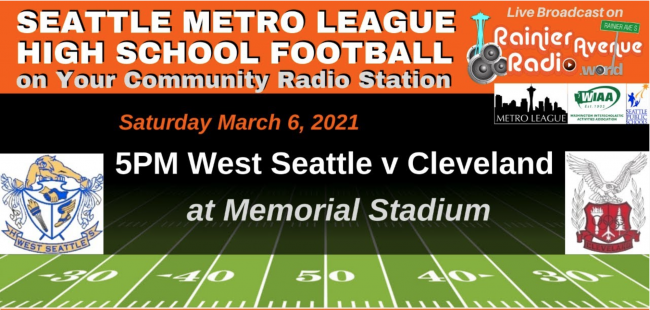 Wed, 03/03/2021
The West Seattle Wildcats will face off against the Cleveland Eagles in a Metro Leauge conference football game this Saturday March 6 at 5pm. The game will be played at Memorial Stadium in Seattle.
You can actually watch the game courtesy of RainierAvenueRadio.world on YouTube.
or hear a live webcast via the TuneIn app and your phone, tablet or smart speakers by going to RainierAvenueRadio.world 
Next week the Wildcats will play Chief Sealth at 7pm.
The Metro League season begins on Friday March 5 after a delay due to the pandemic.
Here's their schedule: