Giomi, Sarver gear up for tournament
Giomi, Sarver gear up for tournament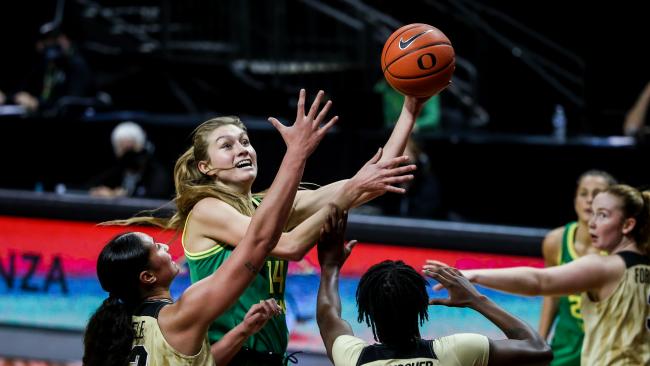 Fri, 03/19/2021
By Tim Clinton
SPORTS EDITOR
Two West Seattle High School graduates have been invited to the Big Dance.
One has been there and participated once before, was sidelined by injury twice and was invited another time but didn't get to go.
For the other it is her first invitation and trip.
Both are now in the San Antonio area for the NCAA women's basketball tournament.
Lydia Giomi is a 6-foot, 6-inch redshirt senior forward for the perennially present University of Oregon team.
Grace Sarver is a 5-8 sophomore guard for a Washington State University squad that is making its first appearance in 30 years.
Giomi was injured and did not play in the tournament even though her team went in 2016-17 and 2017-18.
She played in 2018-19, and the team was ranked No. 2 in the nation and ready to go last year when the tournament was cancelled by the Covid pandemic.
So, for her, it's unfinished business this year.
"I definitely think so," she said.  "But it's a super different team and they're all excited to be going.  We've got a lot of young talent.  I think we're the youngest team here.  Two times I've been on the youngest team."
Oregon enters the tournament with a 13-8 overall record and is paired with a 19-5 South Dakota team in a 7 p.m. Monday game.
But Giomi says to not let the record fool you.
"We have all the tools, and March is that time when things change," she said. "You're playing for so much more. We've got so much young talent. It's impressive."
Even though Giomi has been to the tournament before, this trip is different for her, too.
"It's very different with Covid and the protocols and everybody is in the same place," she said.
The entire tournament will be played out in and around San Antonio.
"We haven't seen too much of it yet," Giomi said.  "We're in quarantine here.  The River Walk is beautiful.  I can see it from the hotel.  The weather is beautiful.  It's much better than Eugene.  I didn't pick a college for the weather.  There's not a whole lot of difference there from Seattle."
But Giomi is happy with her choice.
"It has not gone as expected in any way, but I've learned a lot and grown a lot," she said. "I wouldn't change it.  I've earned my undergraduate degree and am working on my master's degree in education. I loved the school aspect.  It combined the two things that are most important to me, school and academics and playing basketball."
On the court one of the people she learned from was her post position coach, Jodi Kaczor Berry from Federal Way High School.
"She's great," Giomi said.
Berry played guard at Federal Way and Western Washington University, and was shorter than most guards at that.  But now she is working with tall players like Giomi.
"It's pretty funny, actually," Giomi said.
Sarver also found Giomi to be someone to look up to when she was a freshman and Giomi was a senior at West Seattle.
"I just remember she was great to play with and helpful on the court," Sarver said of Giomi.
Washington State stands at 12-11 overall and is going up against 18-3 South Florida at 6:30 p.m. Sunday.
"I definitely think it will be a tough game, but I have faith in my team," Sarver said.  "I definitely think we're ready to take South Florida."
The Cougars are in their first NCAA tournament since their only previous appearance in 1991.
"We're all just super excited to go and just super excited to experience everything," Sarver said.
Like Giomi and the Ducks, "everything" for the Cougars has not included sightseeing in San Antonio.
"We haven't seen a lot," Sarver said Thursday by phone.  "We just got in last night and are in quarantine for a day.  It's nice and sunny, which is a good change from Pullman."
And why did Sarver choose to play in Pullman for the Cougars?
"My AAU coach really liked it, and I just loved what they talked about (at WSU)," she said.  "I picked it because I fell in love with the coaches.  I love it.  I came in with two other freshmen so I really liked it."
Washington State's invitation to the tournament was not a given going into Monday's selection show, but the Cougars were announced as going only 40 seconds after it started.
"We had a watch party in the football complex to hear our name get called and none of us were ready," Sarver said.  "It was funny."
Sarver is going for a double major in marketing and finance.
"I'm just so excited and grateful to be here," she said.
Comments
Great article Tim Clinton!