HERBOLD: Sound Transit realignment scenarios update
HERBOLD: Sound Transit realignment scenarios update
Sat, 04/03/2021
District 1 Seattle City Councilmember  Lisa Herbold offered this update in her week newsletter to constituents
Last week the Sound Transit Board heard an update about what the agency is calling "program realignment" scenarios for the ST3 program approved by voters in 2016. The ST3 program involves projects throughout the tri-county region included in the ST3 ballot measure, including light rail from Downtown to West Seattle.
In January, Sound Transit's Board heard a briefing about reduced revenues resulting from the COVID pandemic and increased cost estimates.
The most recent presentation includes a number of scenarios based on four tiers, with differing impacts in delays on light rail to West Seattle, as well as for Ballard, the Graham Street station in south Seattle, and other ST3 projects.
The presentation lists potential realignment categories: Tier 1: Develop, Tier 2, Plan and Prepare, Tier 3 Plan, and Tier 4, Keep ready, and Suspend. The presentation then shows the schedule delay impact by the four tiers, based on whether new funding is available.
Senator Patty Murray is currently pursing $1.9 billion for Sound Transit projects, and President Biden has proposed the American Jobs Plan to invest $2 trillion in infrastructure.
Scenarios include Connect Centers, First Segments, Delay Parking, Equity + Phasing, Equity + Early Investments, Hybrid – Integrated Network, and Hybrid – Centers emphasis.
For West Seattle, some scenarios involve building to Delridge and to the Alaska Junction in different phases; some call for building directly to the Alaska Junction as originally planned, and one scenario involves building to SODO first, then to the Junction in a subsequent phase. Scenarios for Ballard are similarly phased, or done as originally planned.
Below is just one of the examples. It rates Delridge in Tier 1 (and the first phase of the Ballard line), and Delridge to the Alaska Junction in Tier 2, along with the rest of the Ballard line, and the Graham Street Station.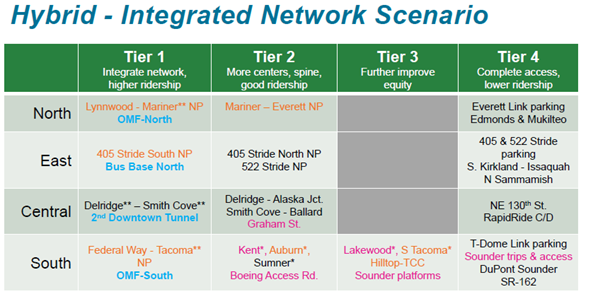 The potential schedule delay is listed below.  This scenario would result in reaching Delridge 2 years late with no new revenue, and the Alaska Junction 6 years late with no new revenue, or 2 years late with $4 billion additional revenue (with similar delays for the phases of the Ballard line):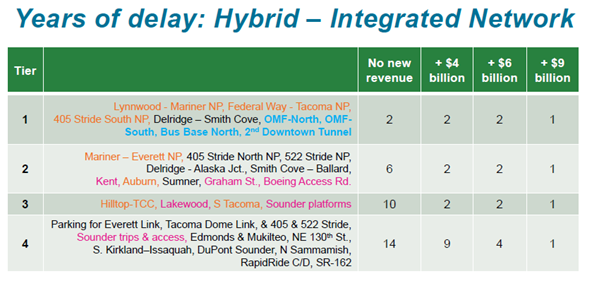 Sound Transit has indicated that due to COVID, projects are delayed one year.
Here's a link to the presentation, which includes the other scenarios.
Here are next steps planned by Sound Transit: