HERBOLD: West Seattle transit updates
HERBOLD: West Seattle transit updates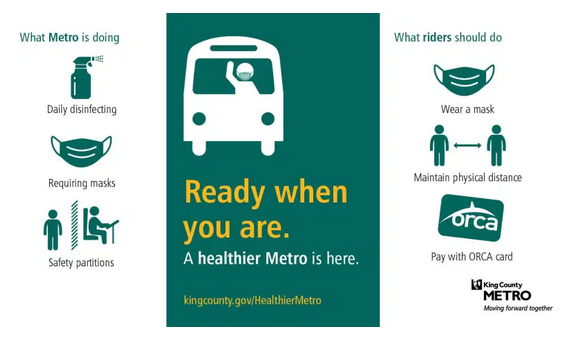 Fri, 04/16/2021
Metro will begin gradually increasing passenger limits on buses.
On Saturday, April 17, Metro will allow 40% of pre-COVID capacity (50% seated capacity). This means the passenger limit will move from 12 to 20 riders on 40-foot buses, and from 18 to 30 customers on 60-foot buses.
This increase in load limits is in step with other transit agencies and in line with Governor Inslee's guidance for public transit agencies. King County entered Phase 3 of the Healthy Washington – Roadmap to Recovery" plan on March 22.
Metro notes that "If conditions allow, our intent is to increase our capacity limits to 70% of pre-COVID levels in early July, or earlier if our county enters Phase 4 sooner. We would then aim to retire reduced capacity levels prior to the service change on October 2."
Secondly, the West Seattle Water Taxi will begin operating on the Summer sailing schedule beginning on Monday, April 19. The Water Taxi will:
Be in service seven days a week from Pier 50 downtown to Seacrest Park in West Seattle
Include late evening sailings every Friday and Saturday
On weekdays, there will be sailings leaving the dock every 35 minutes during peak commute hours and every hour mid-day
The Water Taxi is accessible by transit; riders can take free Metro shuttles to and from the Water Taxi landing at Seacrest Park. Route 773 serves the West Seattle Junction. Route 775 serves the Admiral District and Alki.