HERBOLD: West Seattle Bridge Rehabilitation: Post-Tensioning explained
HERBOLD: West Seattle Bridge Rehabilitation: Post-Tensioning explained
Updated cost estimates and schedule will be shared in July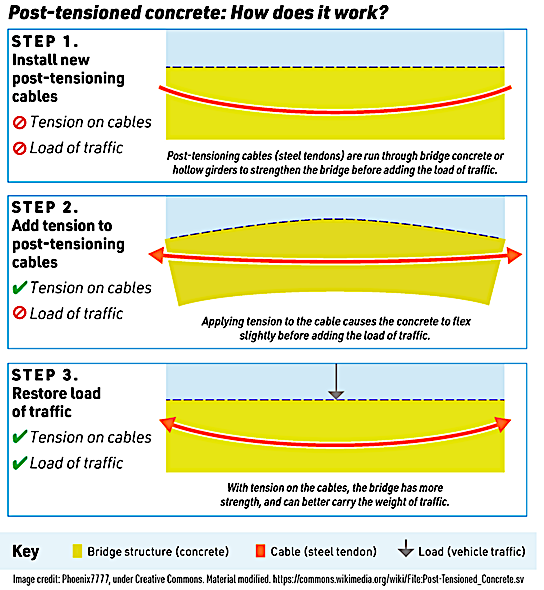 Fri, 04/23/2021
District 1 City Councilmember Lisa Herbold shared this information in her weekly newsletter to constituents
One of the key elements for stabilization work done to date, and forthcoming rehabilitation of the West Seattle Bridge, is the installation of new post-tensioning steel cables, which reinforce the bridge structure and help prevent it from cracking. Some cables were included in the original bridge.
In case you haven't seen the update to SDOT's West Seattle Bridge Repair website,
The visual above shows how it works.
Here's a visual showing a cross section of the bridge showing where post-tensioning and carbon-fiber wrapping will be located:

Phase 1 in the visual above refers to the stabilization work done to date; Phase 2 is the rehabilitation work currently being designed; the next design threshold is 60%, anticipated for July.
Here's a side view of where the Phase 1 stabilization work took place:

Here's where on the bridge span Phase 2 rehabilitation work is planned:

The next design threshold is 60%, expected in July. At that time SDOT will have updated cost estimates and schedule.