Expect delays on West Marginal Way as SDOT builds sidewalks near the Duwamish Longhouse
Expect delays on West Marginal Way as SDOT builds sidewalks near the Duwamish Longhouse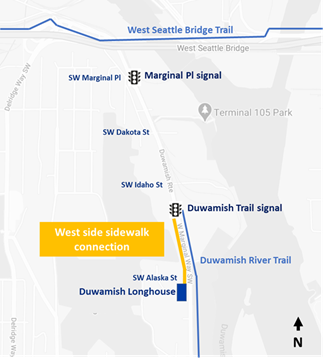 Fri, 04/30/2021
information from the Seattle Department of Transportation
For the next few weekends, SDOT crews are building sidewalks on the west side of West Marginal Way near the Duwamish Longhouse. This is one of a several projects to provide safer and easier access to the Duwamish Longhouse.
There is currently a dirt path at this location. A new sidewalk will provide direct access for people in wheelchairs who are rolling to the Duwamish Longhouse from the parking lots on the east side of West Marginal Way SW. The new sidewalk will also meet Americans with Disabilities standards.
Where: On the west side of West Marginal Way from the Duwamish River Trail crossing signal and the Duwamish Longhouse.
When: Weekends, starting the weekend of May 1 through Sunday, May 30. Work hours are 8 a.m. to 3 p.m.
What to expect: People driving can expect potential delays when driving through the area. One southbound lane and at least one northbound lane will be maintained during construction.
This work is weather permitting, and we will share updates if the schedule changes. If possible, we ask you to please plan your weekend travels accordingly to detour around this work and avoid the work areas.
For more information or if you have any questions, please contact 206-684-7623 or 684-ROAD@seattle.gov. We appreciate your patience during this work.