HERBOLD: Reconnect West Seattle quarterly report
HERBOLD: Reconnect West Seattle quarterly report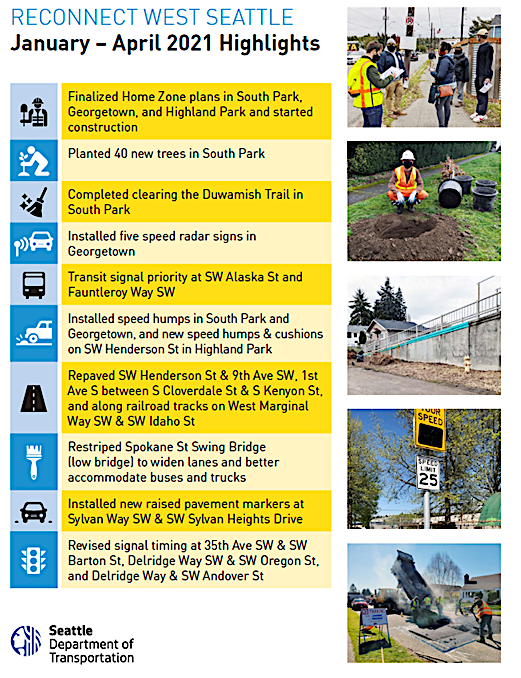 Sat, 05/08/2021
District 1 City Councilmember Lisa Herbold shared this update on the Seattle Department of Transportation's efforts to reconnect West Seattle
SDOT recently released the a Reconnect WS quarterly update report for the first quarter of 2021. Reconnect West Seattle projects are designed to ameliorate the closure of the West Seattle Bridge. The report includes updates on recent work completed, upcoming work, how SDOT is tracking goals, and a status report on each of the 64 identified projects (the "Home Zones" in Highland Park, South Park and Georgetown are listed as one project each, though they all include  numerous implementation projects).
From the SDOT report page:
Reconnect West Seattle was borne out of the unexpected closure of the West Seattle High-Rise Bridge, which dramatically impacted West Seattle and the nearby Duwamish Valley communities.  
Through Reconnect West Seattle, we have a vision to restore travel across the Duwamish to similar levels seen before the high bridge closure. At the same time, we want to reduce the impact of detour traffic in the Duwamish Valley neighborhoods like Highland Park and South Park.    
Each quarter (January-March, April-June, July-September, and October-November), we're sharing a mini-report focusing on what we've done recently to help Reconnect West Seattle and what you can expect next. 
Some highlights: Over the past few months, our focus has been on the Home Zone projects in South Park, Georgetown, and Highland Park. 
In March, we we finalized Home Zone Plans in partnership with the community and started construction.  Through the Home Zone Program, we develop traffic calming measures like  speed humps and cushions, crossing improvements for people walking or biking, and new walkways by centering the voices of the communities. In partnership with you and your neighbors, we implement changes to make streets safer and more accessible through this program. Construction of most of the Home Zone improvements in these neighborhoods will happen in 2021, and some work will continue into 2022. 
We've also focused on a number of projects in South Park, including paving (also in Highland Park!), building new speed humps, tree planting in partnership with the Duwamish Youth Corps, and clearing the Duwamish Trail.  
Keep up to speed on Reconnect West Seattle projects in your neighborhood: