HERBOLD: West Seattle Bridge Community Task Force Update 
HERBOLD: West Seattle Bridge Community Task Force Update 
Sat, 05/22/2021
District 1 Citycouncilmember Lisa Herbold shared this update with her constituents via her email newsletter:
Bridge Repair Remains on Schedule for mid-2022 completion 
Last week the West Seattle Bridge Community Task Force met for the 19th time since the closure of the West Seattle Bridge.  
The most important update is that the repair of the West Seattle Bridge remains on schedule for mid-2022 completion (June 30th). SDOT staff indicated that currently they could be a few days, or up to a week, ahead of schedule. 
The latest key schedule milestone is the hiring of a contractor to carry out the repairs of the West Seattle Bridge. On Wednesday, SDOT announced the selection of  Kraemer North America. They had the best-scoring proposal based on technical merit, total price, and interview. They were selected from three finalists that were interviewed. Their contract will also include work to rehabilitate the Spokane Street (lower) Bridge.  
Hiring the contractor now is an important step in keeping the schedule on track. SDOT is using the GCCM (General Contractor/Construction Manager Manager) construction method. In GCCM, the contractor is involved in the design, to ensure constructability, and prevent unnecessary schedule delays and expensive contract change orders.  
Hiring now allows the construction contractor to participate in design work moving toward the milestone of 60% design in July. The traditional approach is to complete design first, then bid for a contractor. That takes more time.  
The stabilization of the bridge was completed in late 2020, and stopped the growth of cracks on the bridge; it is performing as expected. Design work for a repair has been proceeding since then; the Technical Advisory Panel expressed confidence a repair could last 30-40 years. 
The next steps for keeping the project on schedule are listed below.  
An issue constituents have asked me about is the visibility of repairs to the bridge.  
Most repairs will be done inside the girders, to strengthen the bridge with high-tension steel cables. This prevents cracking of the bridge. 10 miles of taut steel cable went installed inside the bridge during stabilization. 
During stabilization work, a platform was built below the bridge that allowed work crews to safety access the exterior of the bridge to add carbon fiber wrapping and epoxy. The platform was removed after stabilization was completed.  
Another question that comes up is whether the bridge can be opened for use by emergency vehicles, or other traffic.  
SDOT notes each end of the bridge is locked for safety, and while stabilized, the bridge is not at a level where it can accommodate traffic without risking additional cracking: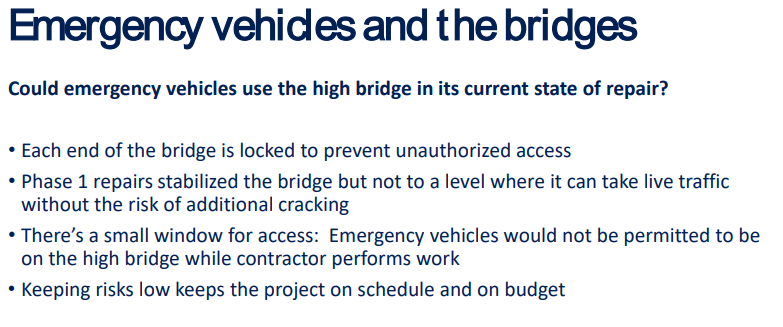 Low bridge access update 
SDOT has now approved 60 users to access the lower bridge who are  receiving lifesaving medical treatments. They are also processing over 600 applications for bridge use. You can apply here if you are an eligible user:  
On-call medical workers (traveling to and from an on-call work shift only) 

All West Seattle restaurants and retail businesses (limited to urgent trips to pick-up equipment or supplies) 

Rideshare vehicles (vans, shuttles or official carpools with a state-issued rideshare license plate; This does NOT include Uber/Lyft) 

People traveling to and from lifesaving medical treatments (authorization from your medical provider required) via West Seattle; includes driving to treatments via the Fauntleroy Ferry. 
If you need assistance in completing the application or have questions, you can call (206) 400-7511 and leave a voicemail or email WestSeattleBridge@seattle.gov. Provide your name, contact info and language need and someone will return your call.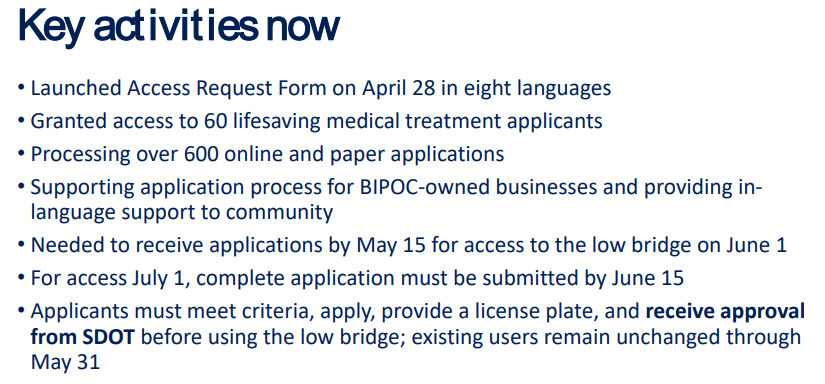 Up to 10 roundtrips per month are available to qualifying businesses: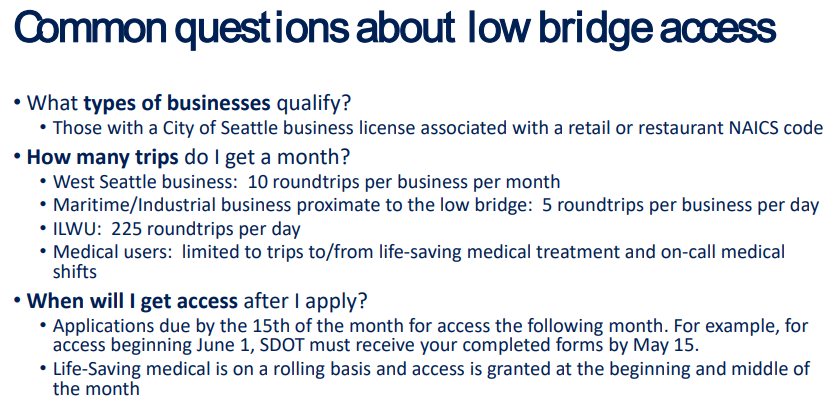 Additional information about low bridge access is below: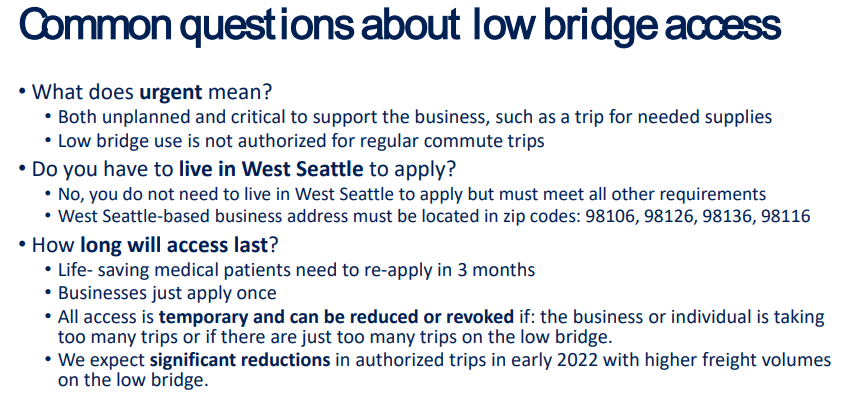 SDOT is monitoring relevant data, including bridge volumes, number of violations, and issues such as how long it takes traffic flow to recover from bridge openings. Daily and monthly permitted trips could be adjusted upwards or downwards based on use of the low bridge.  
Below is a comparison of monthly traffic volumes citywide compared to pre-COVID levels. At the beginning of  the pandemic in Seattle, the left of the chart shows March and April 2020 with a significant drop compared to 2019. 
At the right of the chart, monthly volumes are compared to 2019, since 2020 volumes are within the COVID period. April 2021 volumes were 28% lower than 2019, compared to April 2020 volumes, which were 60% below 2019 levels.  

It's likely this trend will continue as vaccinations proceed and more re-opening takes place. KC Metro ridership reports lag compared to traffic data, but ridership is increasing as well.  
Work to implement traffic and pedestrian safety Home Zone projects continues in Highland Park, South Park and Georgetown: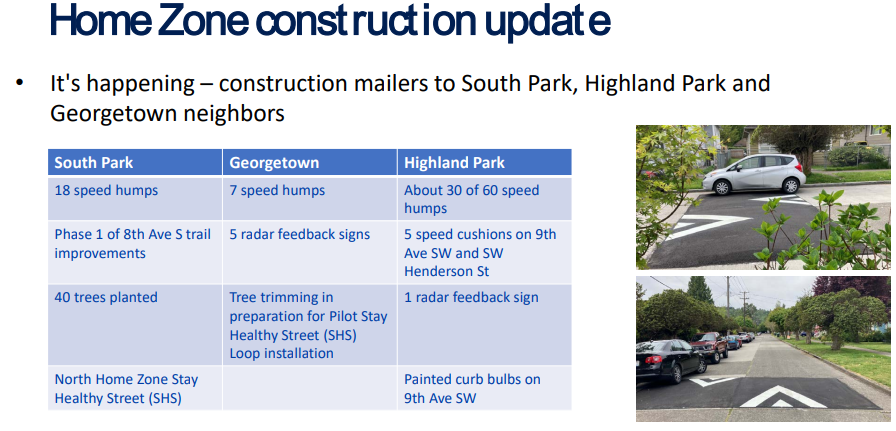 Here's a link to the most recent traffic and travel time data, through the week ending May 14. Traffic volumes remain very high at the Highland Park Way and West Marginal Way intersection compared to pre-COVID levels.  
(Note: the Spokane St bridge was out of service on Wednesday, 5/12 from approximately 3:30-5:30 AM. This likely accounts for the dip in total daily bridge volumes for that day). 
Comments
Lisa Herbold is a national joke. She is a disgrace to our community and will leave a legacy of failure.
Add new comment