Fire destroys carport in Fauntleroy in suspected Arson
Fire destroys carport in Fauntleroy in suspected Arson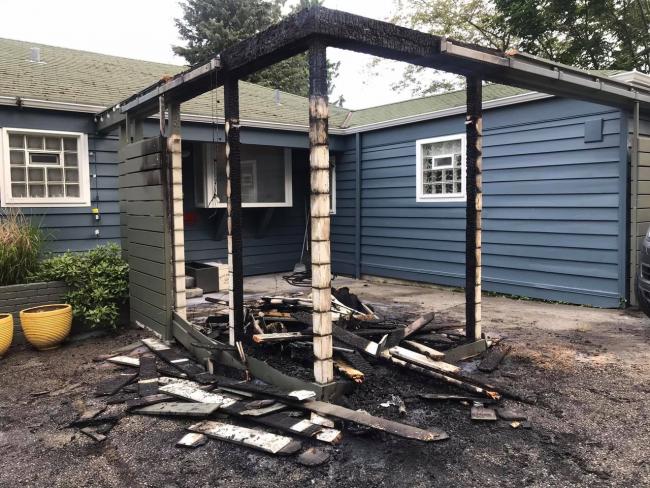 Fri, 06/04/2021
A fire that broke out in a carport in the Fauntleroy/Seaview neighborhood around 3:15 AM on Friday June, 4 is suspected of being arson, according to the post on Facebook by the resident, Pia VanHanen.
If you have any information on a potential suspect please call 911 and send your information to her at pia.vanhanen@gmail.com
She posted:
Not exactly the post I'd ever thought of writing:
We had an arsonist set our carport on fire this morning at 3:15 am. We live right by the ferry dock. Please contact me if you know of ANY suspicious characters who have been roaming around the Fauntleroy neighborhood. Contact me with any info you may have - the fire and police depts are investigating this.
This person was captured on our security cameras - hard to identify in the dark; a male with medium build, wearing a hoodie. He was first rummaging around the bus stop by the ferry terminal. He then walked up to our house from the south/ferry dock at 3:15 am, stopped outside of our walled-in carport for 2 minutes to start the fire, then continued walking north as the smoke started to pour out. Later, as the fire dept was leaving sometime around 3:50 am, and we're all out on the street, a similarly built Caucasian male, young, wearing baggy clothes, walks by us going south this time, fast, his head down. The same person?? At this point, we had no idea what had happened and how the fire had started, so we didn't pay super close attention to anyone walking by.
We are BLESSED, this could have ended so much worse. My daughter happened to wake up at 3 am, and my husband couldn't sleep and got up, and sees the orange light through the frosted door glass. He's yelling fire, I am shaking and trying to call 911, and get the kids and dogs out of the house. My car is pretty damaged, his car has some damage also.
I am pissed, and in shock, but also count our blessings. We are all ok. I hope this person ends up in jail. Soon. Be safe!
Carport fire in West Seattle
Pia VanHanen