HERBOLD: Sound Transit Board discussions on potential ST3 realignment
HERBOLD: Sound Transit Board discussions on potential ST3 realignment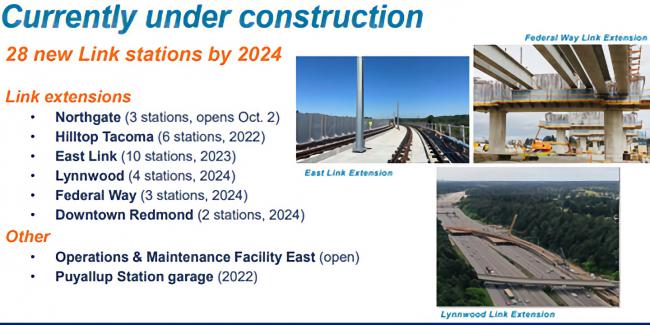 Sat, 06/19/2021
District 1 City Councilmember Lisa Herbold shared this news with her constituents via her week newsletter:
On Tuesday the Transportation and Utilities Committee received a briefing from Sound Transit about potential "realignment" of projects approved by regional voters in 2016, including light rail to West Seattle.
The origin of the discussions is with reduced revenues related to COVID, and subsequent cost increases due to, for example, property becoming more expensive.
Sound Transit currently estimates the revenue shortfall at $1.5 billion, and cost increases at $6.4 billion, for a total gap of $7.9 billion. This is a significantly smaller gap than the $11.5 billion gap identified earlier this year, as revenue has increased.
One approach Sound Transit is considering to address the shortfall is to delay projects. The presentation at the committee meeting shows three scenarios; the current ST3 plan has light rail opening in West Seattle in 2031, delayed 1 year due to COVID.
For West Seattle, the presentation shows:
Scenario 1: to the Alaska Junction by 2035, with a connection to SODO, then a connection to Downtown in 2037
Scenario 2: to Delridge by 2035, and the Junction by 2038
Scenario 3: to the Junction by 2032, with a connection to SODO through 2038, then a connection to Downtown
I asked Sound Transit staff about these options. Staff noted the ST3 plan includes a 5-year spur line between West Seattle and SODO for the first five years.
I emphasized the need for capacity on trains for riders from West Seattle; if riders have to wait at the  SODO station while full trains go by, it will hinder the success of the system.  This highlights the need for close integration and cooperation between Sound Transit and King County Metro and SDOT.
In response, Sound Transit staff noted expansion of the main line is planned to Tacoma for 2032, and at that time additional trips and train lengths are part of their planning for operations, to increase capacity.
Also included are realignment proposals for other Seattle projects, including Ballard, the Graham Street infill station, and the NE 130th station. The presentation did not include information on cost savings for each potential delay.
I also asked, why make a decision before there is clarity on how much federal funding will be available? We receive new updates regularly from Washington, D.C. about a potential federal infrastructure package.
In addition, the Draft Environmental Impact Statement for West Seattle/Ballard will not be published until the fall. What is the rationale for making a decision on realignment before the public has had the opportunity to weigh in on the Draft EIS?
Sound Transit staff noted all options approved to be analyzed in the Draft EIS for West Seattle and Ballard will be included if the Board takes action.
I also asked what work is being done to reduce other costs, such as administration, operations, maintenance, and value engineering.
The next Sound Transit board meeting is on June 24. The presentation notes potential action to adopt a realignment framework in July.
I believe a decision on adopting a realignment scenario at this time is premature.
In the bigger picture, it's worth noting Sound Transit will be opening 28 new stations by 2024,starting with three new stations on the Northgate link on October 2nd.