Rep. Jayapal secures $11.2 to aid funding for West Seattle Bridge
Rep. Jayapal secures $11.2 to aid funding for West Seattle Bridge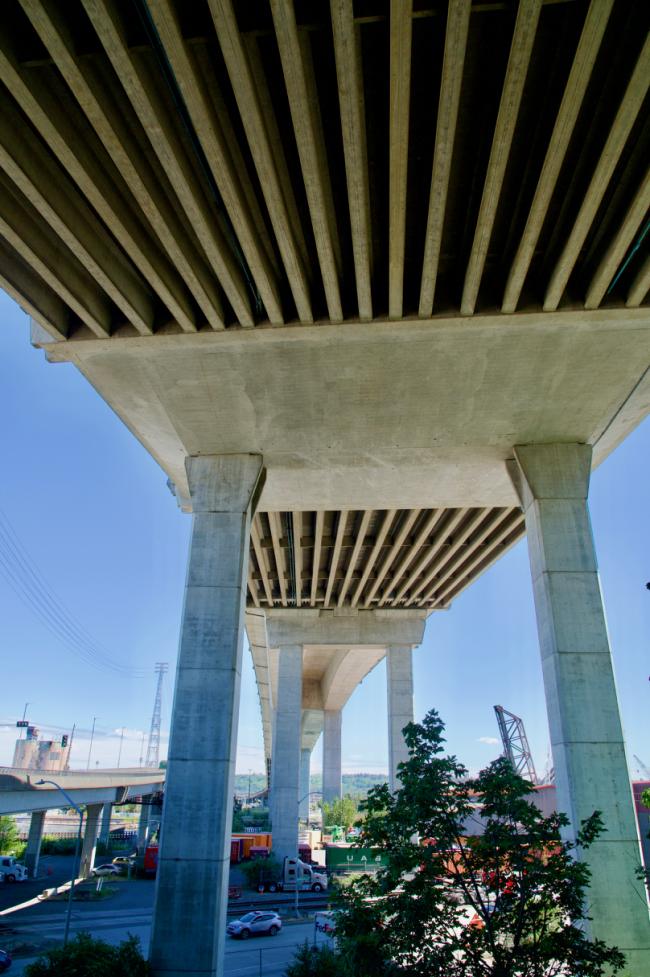 Sat, 06/26/2021
Congresswoman Pramila Jayapal has secured new grant through the INFRA grant program in the amount of $11,250,000 to help fund the repair and rehabilitation of the West Seattle High Rise Bridge. The Seattle Department of Transportation applied for the grant in March and this is roughly half of the $21.6 million they requested.
To completely repair the bride SDOT has budgeted $175 million. They've hired Kraemer North America to handle the remaining work of installing post-tension steel cabling inside the hollow girders and perform other strengthening and reinforcing work. The Low Swing Bridge is also due to see just over $11 million in repairs and reinforcement work over the next year.
SDOT has said the bridge will reopen in Summer of 2022.
Text of the grant award:
NOTICE TO CONGRESS OF DOT DISCRETIONARY GRANT AWARDS: This notification is provided to the Committee pursuant to one of the following requirements governing the public announcement of a Department of Transportation discretionary grant, letter of intent, or Federal Transit Administration full funding grant agreement:
      (1) Currently applicable General Provision of the Appropriations Act, Continuing Resolution, or Supplemental Appropriation governing Department of Transportation appropriations, containing a prohibition on the use of funds made available unless the Secretary notifies the House and Senate Committees on Appropriation at least three full business days before the Department or its operating administrations announces any discretionary grant award, letter of intent, or full funding grant agreement from: (A) any discretionary grant or federal credit program of the FHWA, including the emergency relief program; (B) the airport improvement program of the FAA; (C) any program of the FRA; (D) any program of the FTA other than the formula grants and fixed guideway modernization programs; (E) any program of the Maritime Administration; or (F) any funding provided under the heading "National Infrastructure Investments" in the Appropriations Act; 
(2) Section 311 of title 49, United States Code; 
(3) Section 159(b) of the Wendell H. Ford Aviation Investment and Reform Act for the 21st Century (AIR-21); or 
(4) Section 5334(j) of title 49, United States Code. 
Notice: 
Title: FY18 INFRA (Reallocation) Grant Awards
Grant Amount: $ 11,250,600.00
Description:
The Seattle Department of Transportation will be awarded $11,250,600 to make significant bridge repairs on the West Seattle High-Rise bridge that is currently closed due to structural deficiencies, as well as the Spokane Street Swing Bridge ("low bridge") running adjacent to the High-Rise bridge. The project will provide structural stabilization repairs to reopen the High-Rise bridge and will make repairs related to load rating compliance on the low bridge. Overall project improvements will include replacement of damaged bridge decks, expansion joints, barrier segments, and seismic restrainers. 
 

Congressional members affected:

Pramila Jayapal

Senators affected:

Patty Murray
Maria Cantwell